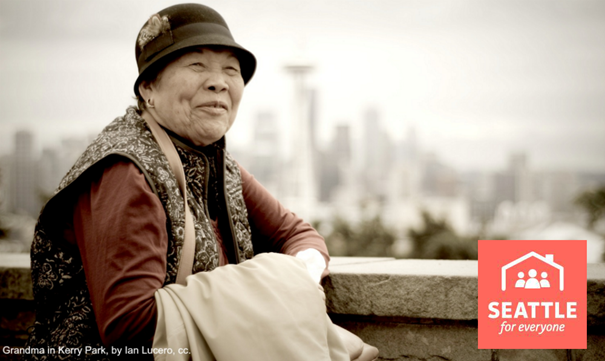 Seattle ranks among America's fastest growing cities. As Seattle continues to welcome new jobs and new residents, we must ensure housing is available and affordable.
Much of Seattle's current housing is already out of reach for tens of thousands of residents. It's critical that housing is affordable for people across the income spectrum. Making this a reality means expanding housing options for people of all incomes and planning for growth in a way that improves everyone's quality of life.
Mayor Ed Murray will soon submit legislation to the City Council to create a Mandatory Housing Affordability program. If passed as envisioned this program will leverage growth in every urban center and urban village in Seattle to create 6,000 new affordable housing units.
Sign the Seattle For Everyone petition: Tell Seattle City Council to adopt the Mandatory Housing Affordability program to address Seattle's housing crisis >>
Every person who wants to live in Seattle, no matter their race, income, or family size, deserves housing that is affordable and sufficient for their needs.
But long-time community members are finding themselves with no other option but to move outside of the city to find suitable housing choices taking them farther away from friends, neighbors, jobs and services. Those who do stay are too often forced into living precariously paycheck to paycheck.
That's why Mayor Murray's proposed Mandatory Housing Affordability program is so important. Under the program, every new building in all our urban centers and villages across the city will create new affordable housing units. To make the program go into effect legally, buildings will be allowed to be a little taller or a little larger to make room for a few more market rate units. Together, these policies represent a win-win for providing more housing options for different income levels and addressing the growing scarcity that's driving up housing costs.
It's essential that your city councilmembers know you support the Mandatory Housing Affordability program.
Sign the Seattle For Everyone petition >>
Together we can create a Seattle For Everyone.
Photo Credit: Grandma in Kerry Park, by Ian Lucero, used under a creative commons license.