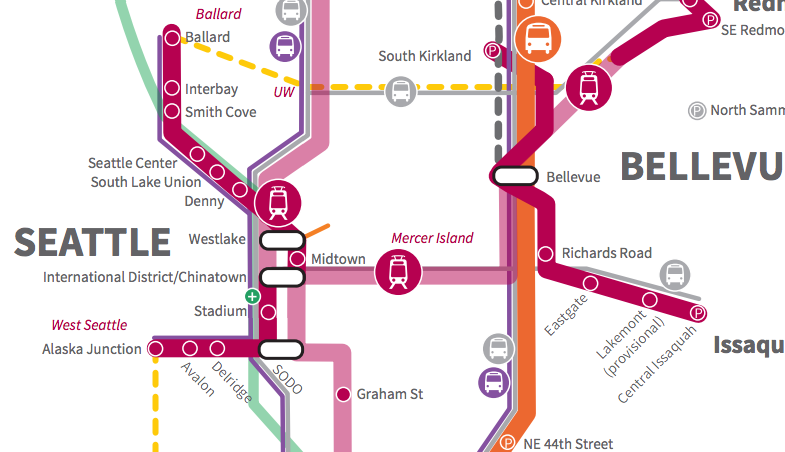 Innovative planning: Capitol Hill Seattle Blog looks at how three projects on Pike/Pine used the historic preservation incentives in their developments.
Don't miss the next wave: By one count, Seattle may have lost out on some 1,500 affordable housing units over the past five years.
Gathering in tragedy: Seattle Bike Blog reflects on this week's memorial walk for Desiree McCloud, a Seattle woman who perished last month after a bike crash on the tracks of the First Hill Streetcar line.
Ambitious targets: Portland passes a 20-year growth plan that would accommodate 260,000 new residents (42% increase) and 140,000 new jobs (38% increase).
Brexit, you buy it: The United Kingdom voted this week to leave the European Union on a thin margin, but the results were very divided along the lines of geography and age.
Hotel boom: Seattle could have 3,000 new hotel rooms built by 2018.
Put on the brakes: Five smaller cities in King County could lose out on transportation funding if they don't slow their growth targets and revise their plans.
Nap time again: Bertha has made it 3,000+ feet and is now taking a maintenance break.
Game on for ST3: In a unanimous vote Thursday, the Sound Transit Board of Directors has put the Sound Transit 3 expansion plan on the November ballot.
Skyscraper city: Downtown Seattle is in a clear boom cycle with 65 major construction projects underway.
Hand over your keys: Ride the Ducks takes another whack at damage, the second time in three months.
Building community: Renters make a huge share of residents in Capitol Hill and new group called the Capitol Hill Renter Initiative is seeking to foster a community, identity, and voice for local renters.
TOD city: Lynnwood is one of three cities in the country to get a grant from the Federal Transit Administration to plan its city center around transit-oriented development.
Link it: A draft environmental impact statement on the "Missing Link"–a stretch of the Burke-Gilman Trail–has been released evaluating a variety of alternatives and endorsing a direct connection.
Airbnb crackdown: Airbnb is not finding a lot of love with major "crackdowns" taking place in many of the biggest destinations.
Map of the Week: Track where and when demolitions are taking place in Detroit.

Stephen is a professional urban planner in Puget Sound with a passion for sustainable, livable, and diverse cities. He is especially interested in how policies, regulations, and programs can promote positive outcomes for communities. With stints in great cities like Bellingham and Cork, Stephen currently lives in Seattle. He primarily covers land use and transportation issues and has been with The Urbanist since 2014.