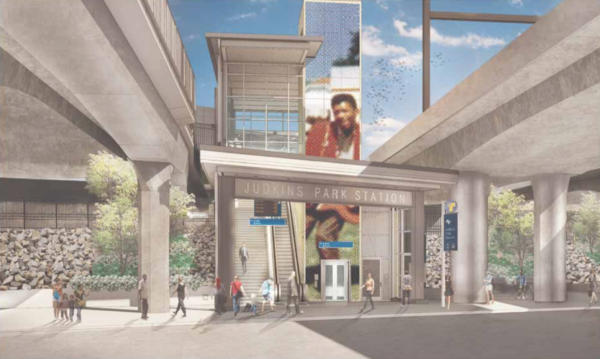 Rockin' station: Designs for the Judkins Park light rail station have been revealed, which partially pay homage to Jimmy Hendrix.
Hostile by design: Subtle design features can make cities feel hostile.
Restoring ties: Germany is opening high-speed rail between Berlin and Munich, which is quite a feat given the history of Cold War division for half a century.
Simulated planning: Data-driven urban simulation models–à la SimCity–promise to help planners make better decisions.
Paved paradise: Rochester, New York is filling in the city's inner loop highway, burying a half-century's mistake.
Robotic heroes: Tree-planting robots could save forests in the Pacific Northwest.
Restorative history: The Harvard Exit is being restored and remodeled, but no theater is to return.
Structurally sound: An Atlanta suburb has decided to limit woodframe construction for new buildings depending on size.
Union housing: Capitol Hill Housing refines their plans for housing at the former Liberty Bank site on East Union.
Build them well: Strong Towns gives advice on how to build successful urban centers.
Mending borders: Donald Trump may want to build a wall, but a planning director who lives in Texas but works across the border in Mexico wants to build a cross-border walking and biking trail.
Transit pass pilot: Capitol Hill EcoDistrict provides insights into Seattle's affordable housing transit pass pilot program.
Towering debate: The struggle over tower spacing and a Downtown Seattle rezone continue.
Directing design: Could Burning Man use some more intentional urban planning?
Tacoma investments: A site near UW Tacoma will get a major $125 million investment for mixed-use development.
Parking benefit districts: Will Seattle adopt parking benefit districts? Recommendations point to no.
Alarming return: White pelicans are returning to Western Washington, likely the result of climate change impacts.
Tech boom continues: Take a peek at Google's future South Lake Union campus.
Map of the Week: Craigslist reveals just how unaffordable places are in the US thanks to aggregated data.

Stephen is a professional urban planner in Puget Sound with a passion for sustainable, livable, and diverse cities. He is especially interested in how policies, regulations, and programs can promote positive outcomes for communities. With stints in great cities like Bellingham and Cork, Stephen currently lives in Seattle. He primarily covers land use and transportation issues and has been with The Urbanist since 2014.