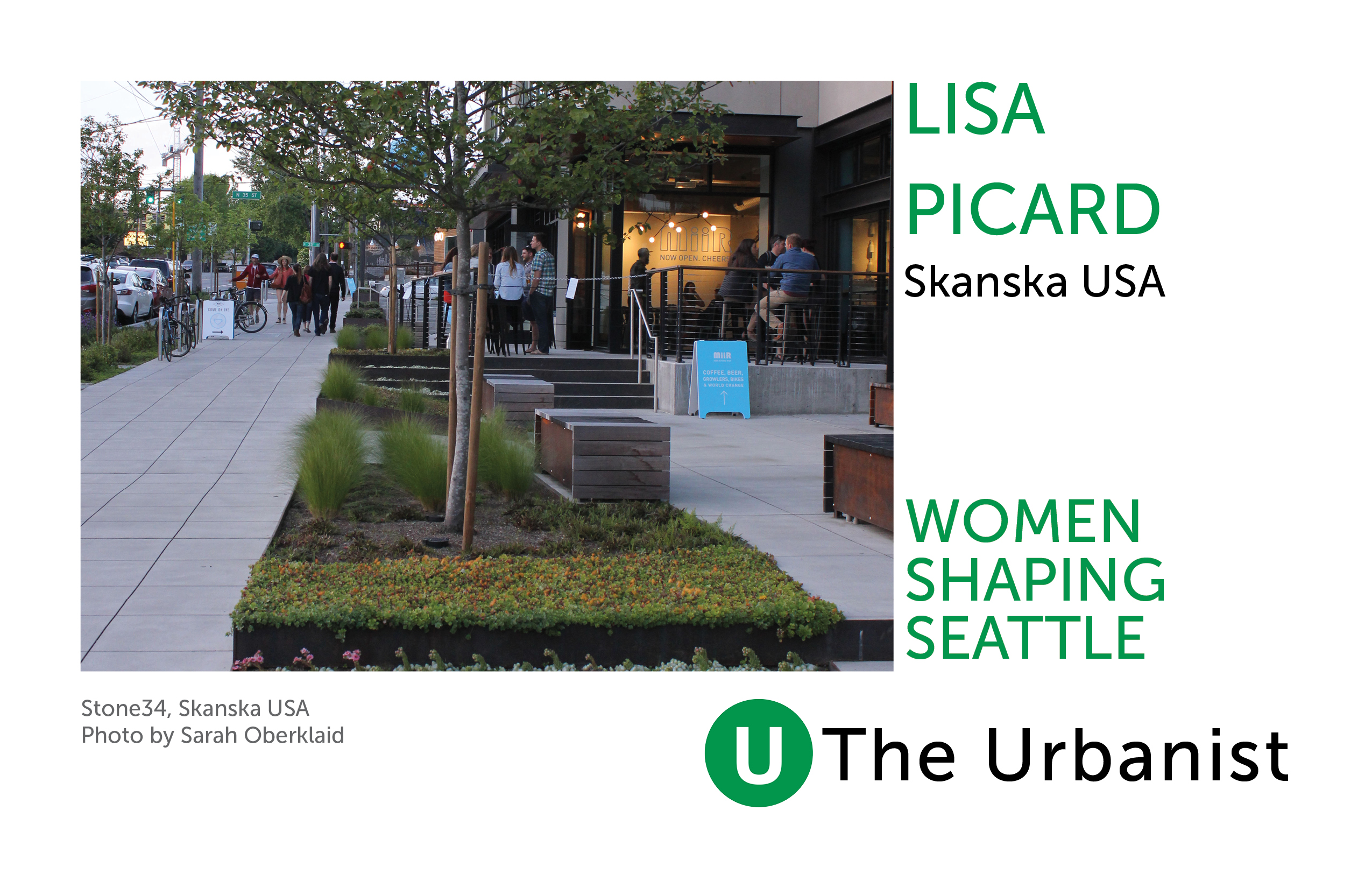 Below is an interview with Lisa Picard, which is part of our Women Shaping Seattle series exploring how women have changed and continue to change the design of the city. 
Lisa Picard is the Executive Vice President and Regional Manager of Skanska Commercial Development USA, one of the largest construction companies in the country. In Seattle, she led the development of Stone 34, the first-market rate project to participate in the City of Seattle's Living Building Pilot Program, and 400 Fairview, a mixed use building which received an Award of Merit from the American Institute of Architects Seattle Chapter in 2015.

The Seattle Design Festival is on at the moment and this year has the theme of "Design Change". If you were to encourage people to visit one place in Seattle where you have observed or influenced change through design, where would it be and why?
One place I know we at Skanska really work to influence and change is feel and function of the work place. The past production of standard corporate offices was largely to create a monument and identity for the company–often to make the worker feel small. We've focused on creating a lifestyle at the office that is a desired workstyle, where neighborhoods exist in and around our projects. We fundamentally look to take the energy of the street and the community and have it dance with the buildings we put on the landscape. Why can't all the things we love about our neighborhoods be at work? If we are passionate about work, we want to love the places we do it. Given the imagination economy and the drive to create new value, we can no longer go to an office tower or an isolated berm campus to do great work. We need the messiness of personal collisions and connections.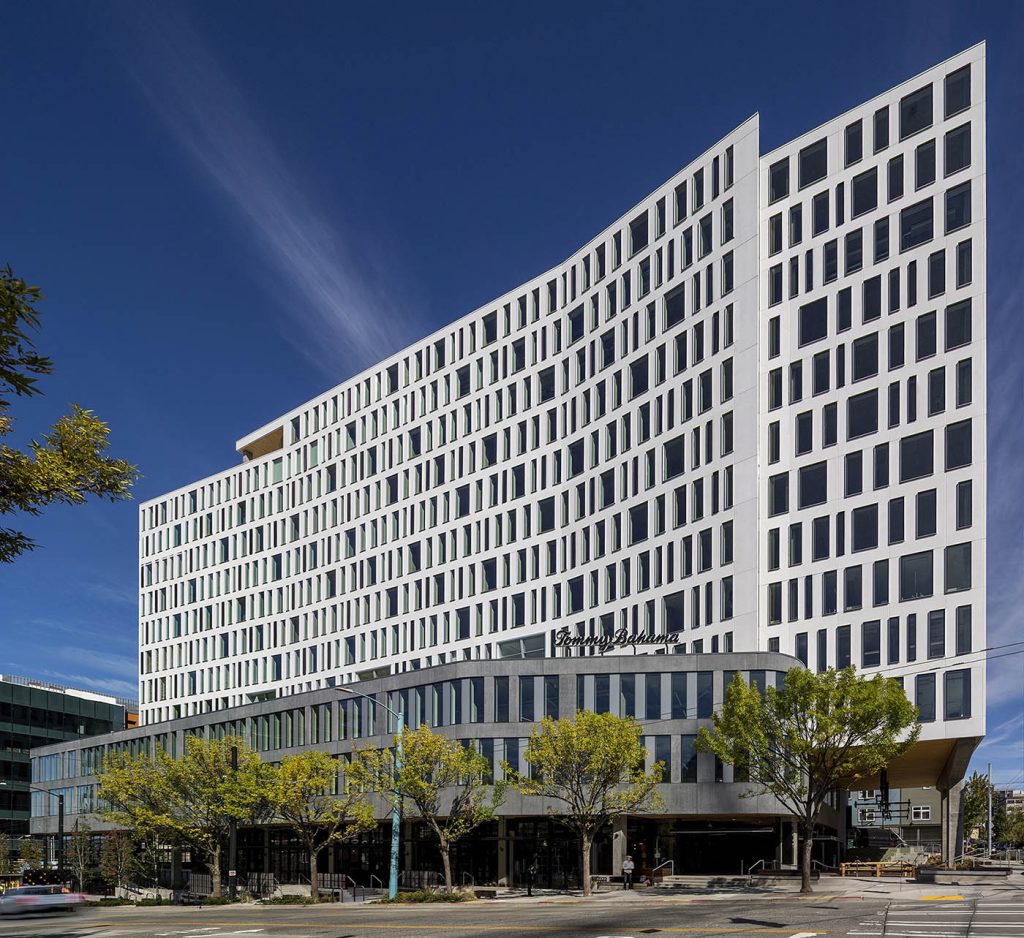 Several of your projects at Skanska are noted for their innovations in sustainability and technology. What are some of the innovations you have brought to your projects and how do you think they may change the way we think about the design of buildings, places, or infrastructure?
I think the biggest focus we have is on values before checklist. We sit back and ask "what do we really value about this project in this location?" Often times it's providing a level of authentic expression because so much of what's built tries to be something it's not. Or we focus on connection. And these values drive decisions in materials, transportation enhancements, etc. When we focus on the values of the project, we always outperform the checklist approach. Other areas are to make alternative commuting fun and convenient. I think we are only going to see a great need for enhancing the structures for bikes, electric bikes, etcetera as our cities are in no way keeping up with the growth happening within its boundaries.
What type of projects have been the focus of your career and what are you presently working on?
Always urban and seemingly in areas where there are complex relationships to the neighborhood and the street. We find that the constraints always make the most interesting projects.
What values, issues, or interests are important to you and how do these inspire your work?
Realizing that real estate development is not a spreadsheet exercise, despite the fact that so many people working in this profession are only experienced in spreadsheet manipulation and fail to focus on the experiences created. Working in the built environment affects people, communities, and future generations. We need to see it as something that requires this level of attention.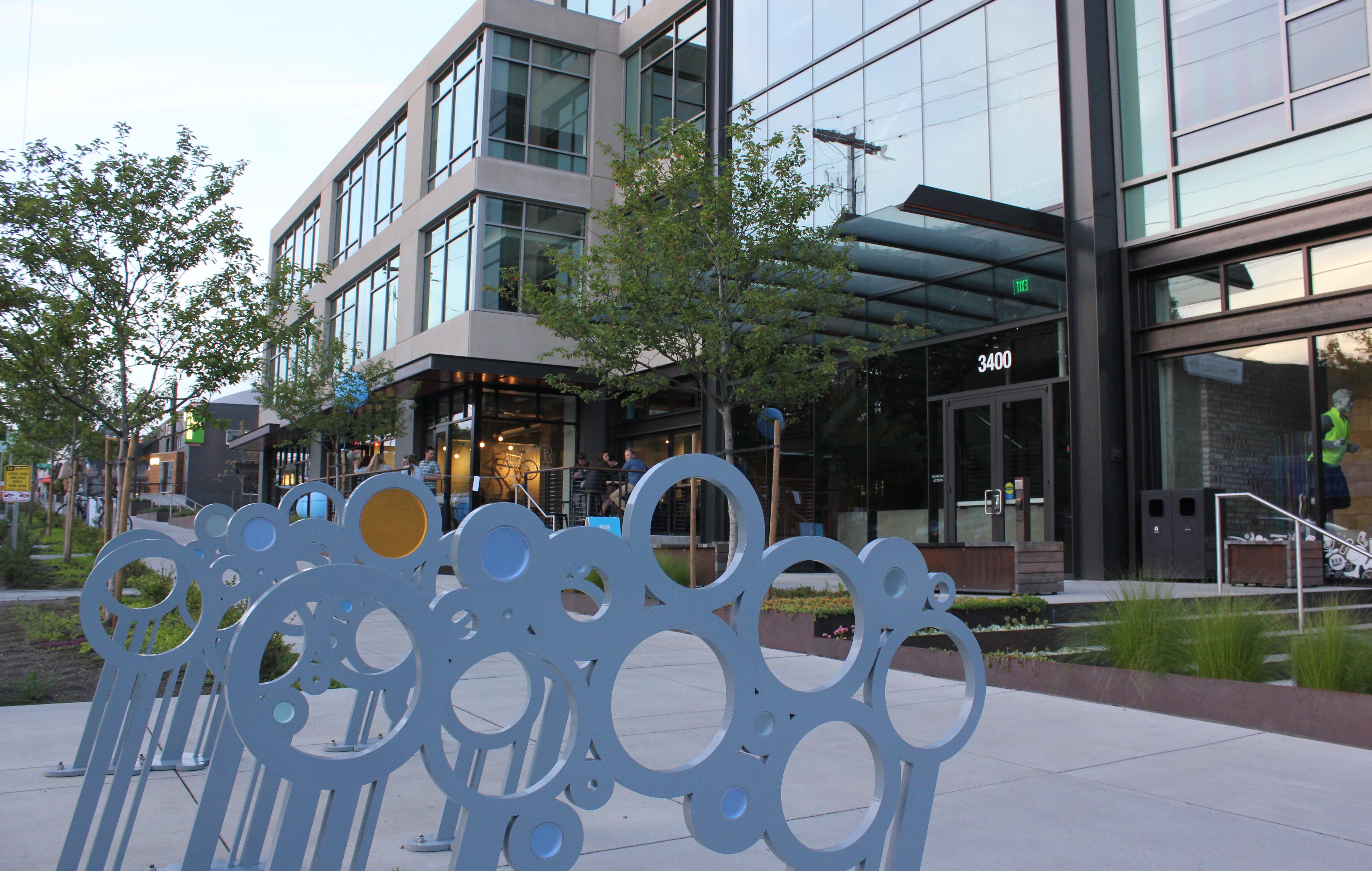 What are the most exciting and most challenging aspects of your work?
That every day is different, and if you realize you aren't punching widgets, you can positively influence other developers and builder to also positively impact communities for generations to come.
What do you see as the most significant challenges facing Seattle and what do you see are the opportunities for design to transform this?
That we have done absolutely nothing about the population growth that just happened over the last five years, and we are going to continue to experience extreme challenges in moving around our city. This will certainly change the dynamics of where it is desirable to live and work, and we are seeing this already. Combine this with the fact that we also have not kept up with new housing, and it's a story that's affecting many other economically successful cities. Our challenge is if we can change before change further happens to us.
Further information about Lisa's work can be found here.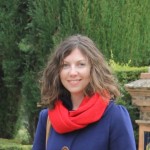 Sarah is an urban planner and artist from Melbourne Australia, currently living in Seattle. She has contributed to diverse long-term projects addressing housing, transportation, community facilities, heritage and public spaces with extensive consultation with communities and other stakeholders. Her articles for The Urbanist focus on her passion for the design of sustainable, inviting and inclusive places, drawing on her research and experiences around the world.