A network of safe bike facilities is gradually growing in Southwest Snohomish County. Verdant Health Commission, the local public hospital district, is collaborating with many local jurisdictions to fill in gaps and upgrade the existing bike network through a $1.9 million grant program. Known as Bike2Health, the program is the result of a partnership among the Verdant Health Commission, Community Transit, local bicycle advocacy organizations, and the cities of Edmonds, Lynnwood, and Mountlake Terrace.
In many communities, building a connected bike network across jurisdictional lines is often a challenge due to differing priorities and funding constraints. The Bike2Health program, however, has become a valuable sounding board and coordination tool for developing a complete local bike network.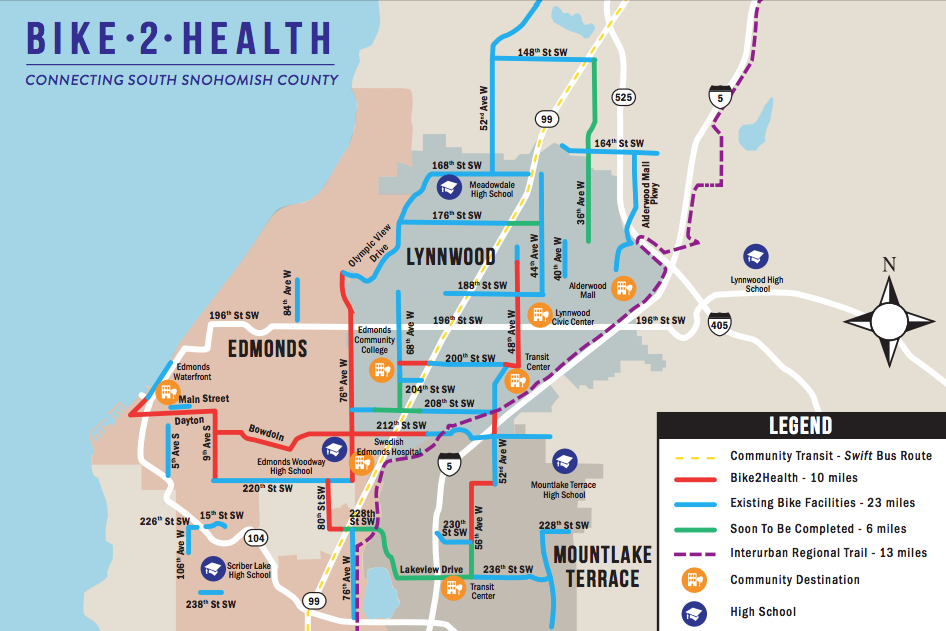 The cities of Edmonds, Lynnwood, and Mountlake Terrace collectively have constructed approximately 23 miles of bike facilities in the past decade. With the exception of the Interurban Trail, most of these bike facilities are discontinuous with very short segments. The strongest sense of a local bike network is located near Meadowdale High School in Lynnwood.
The Bike2Health program is designed to bridge 11 "missing links" in the local bike network, install bicycle wayfinding, and institute a new public campaign focused on the benefits of biking. A total of 10 miles of new bike facilities are planned to be constructed over the next year, in addition to six miles of facilities that are already under construction in Mountlake Terrace and Lynnwood.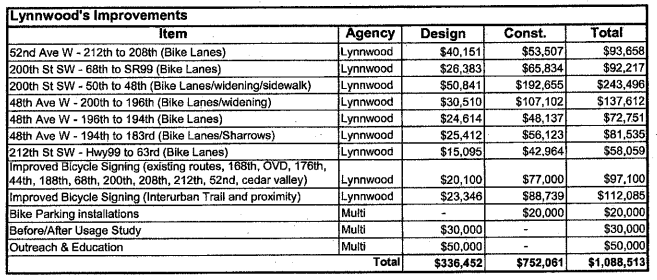 A variety of methods are being used to construct new bike network facilities as standalone bicycle lanes and sharrows, including:
Elimination of landscape strips;
Elimination of "non-essential vehicle capacity lanes"; and
Narrowing existing lanes; and
Minor widening of roadways.
The Bike2Health program will connect key north-south and east-east bike corridors allowing people biking to easily get from neighborhood to neighborhood, and to local destinations such as employers, services, and schools. Key corridors to be constructed include downtown Edmonds to Cedar Valley in Lynnwood, 220th St SW to Olympic View Dr, and a short gap between 220th St SW and 230th St SW in Mountlake Terrace.
Based upon stakeholder feedback, the Bike2Health program envisions two sets of north-south and east-west connected corridors. Lynnwood will form the heart of the network with multiple corridor options to get in and around its city center. Corridors in Edmonds and Mountlake Terrace will reach toward their city centers and neighborhoods. The Interurban Trail will also provide an important backbone to the network bisecting portions of the connected corridors as a bike superhighway across Snohomish County. On the north end near Mukilteo and Meadowdale, the Bike2Health program likely draw people further south since the ride should be much easier. Inevitably like any bike network, local fingers will stretch out into many neighborhoods without intersecting connections, leaving them to dangle as local collectors for now.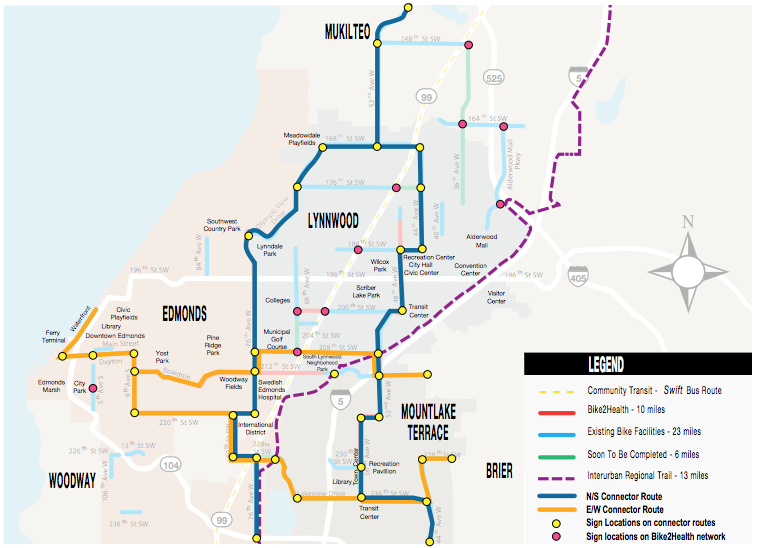 Wayfinding signage will be installed across the Southwest Snohomish County bike network. The signage will be quite identifiable with the Bike2Health branding and serve to direct riders where to go for local destinations and connected bike routes: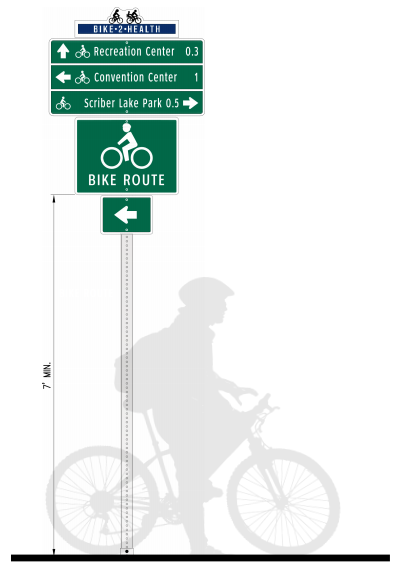 Support for biking in this area of Snohomish County appears to be strong. According to the Verdant Health Commission, 13% of surveyed South Snohomish County residents reported that they used a bike as a regular means of transportation in 2013. But more than 70% of surveyed respondents also indicated that they would like to bike more. Those data points suggest that residents value biking as a transportation mode, but with few riding their bikes on a regular basis, there are likely impediments to doing so, such as safety, lack of facilities, and network legibility.
Construction on portions of the new Bike2Health corridors in Lynnwood have been underway since this past summer. The project schedule indicates that work on stretches of the Bike2Health network in Mountlake Terrace and Edmonds will begin this summer.

Stephen is a professional urban planner in Puget Sound with a passion for sustainable, livable, and diverse cities. He is especially interested in how policies, regulations, and programs can promote positive outcomes for communities. With stints in great cities like Bellingham and Cork, Stephen currently lives in Seattle. He primarily covers land use and transportation issues and has been with The Urbanist since 2014.