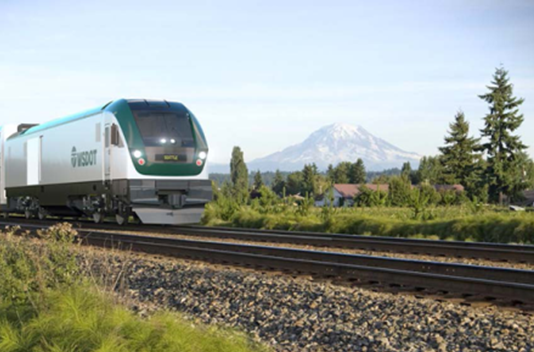 On Monday, Amtrak Cascades showed off one of their new Siemens-designed locomotives via Twitter, which are set to undergo testing. The first Siemens SC-44 Charger locomotives began certification testing last year at the Transportation Technology Center in Pueblo, Colorado after the initial batch rolled off the Siemens production floor in Sacramento, California. The new Amtrak Cascades locomotives are headed to the same Colorado facility. A total of eight such locomotives have been ordered by the Washington State Department of Transportation (WSDOT) to operate their growing Amtrak Cascades passenger rail services between Vancouver, British Columbia and Portland, Oregon. The first locomotives are expected to start running on Northwest rails soon to serve existing scheduled service and provide capacity to add two extra roundtrips between Seattle and Portland.
Nothing quite like that new train smell! Introducing https://t.co/3jDW2aWEqB new locomotive!!! Hot out of the factory! #Trains #Siemens pic.twitter.com/OfItTBQpem

— Amtrak Cascades (@Amtrak_Cascades) March 6, 2017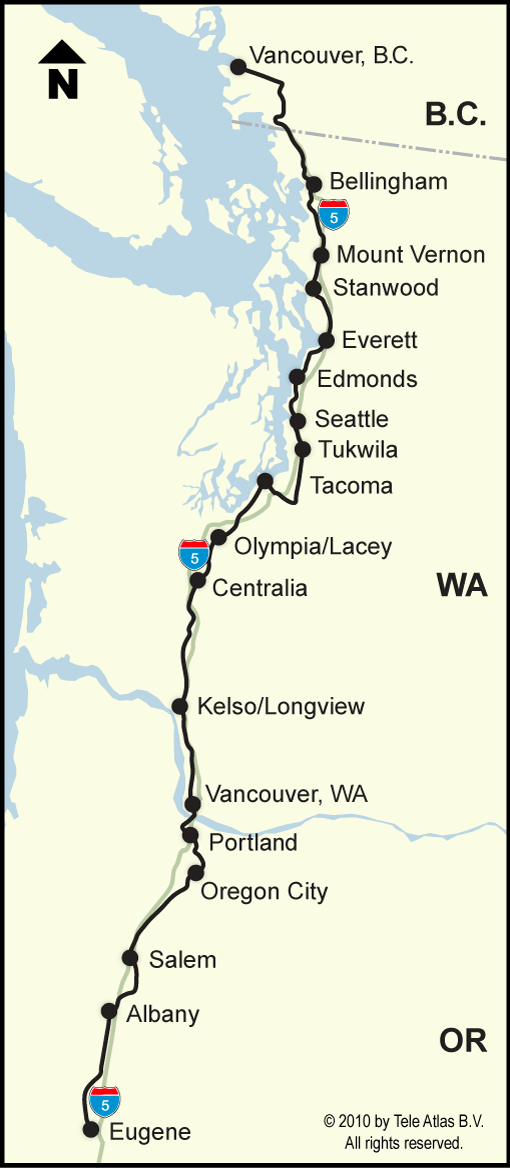 The Charger locomotives are designed to meet new crashworthiness and emissions standards set by Federal Railroad Administration and Environmental Protection Agency. Siemens is constructing the Charger locomotives with higher speeds in mind. Top speeds of 125 mph could be achieved to meet the goal of higher-speed passenger rail service. On Washington's mainline corridor between Portland and Vancouver, speeds are limited to 79 mph, but future improvements could raise that significantly allowing the Charger to offer quicker journeys.
Each locomotive is outfitted with a high-powered Cummins QSK95 engine. These engines stand at eight-feet tall weighing 42,000 pounds and put out 4,400-horse power. Aside from meeting more stringent environmental regulations, they also will provide greater fuel efficiency and a sleeker modern aesthetic over WSDOT's General Motors EMD locomotives currently operating Amtrak Cascades services.
More than a half dozen state Amtrak providers and local agencies are purchasing Charger locomotives. Washington joined the states of Illinois, California, Michigan, and Missouri under a collective purchase contract in 2014. $52 million is going toward Washington's eight-unit locomotive purchase with the funds coming from President Obama's American Recovery and Reinvestment Act (ARRA) of 2008, an $800 million grant. Those funds were won by the state as part of its bid to deliver a higher-speed rail corridor program, which is well underway with targeted safety, capacity, and speed improvements.
The Washington state higher-speed program includes 20 different key project deliverables such as the purchase of the new locomotives. WSDOT says that 14 of the 20 key project deliverables have been completed to date, including new siding tracks at key chokepoints, refurbishment of King Street Station in Seattle, and a new rail trench at the Port of Vancouver on the footsteps of the Columbia River. The Point Defiance Bypass, an inland reroute alignment, is a critical project that will eventually open as a full corridor for passenger rail, shaving off a significant amount of time to trips and improving reliability for trains headed through the Tacoma area. Sound Transit has already completed a key segment for its Lakewood extension on Sounder, but a new double-track trestle near the Tacoma Dome is a major necessary project deliverable currently under construction.
WSDOT plans to begin operating the new locomotives in passenger service this year in Washington, British Columbia, and Oregon–somewhere in the summer timeframe. First delivery to Amtrak Cascades is anticipated in late March or early April.

Stephen is a professional urban planner in Puget Sound with a passion for sustainable, livable, and diverse cities. He is especially interested in how policies, regulations, and programs can promote positive outcomes for communities. With stints in great cities like Bellingham and Cork, Stephen currently lives in Seattle. He primarily covers land use and transportation issues and has been with The Urbanist since 2014.