The Urbanist is delighted to announce the kick-off of our 2017 tour season. We'll be taking to you to the hidden nooks and splendid neighborhoods across Seattle and the greater Puget Sound region.
Our first stop is High Point, a neighborhood in West Seattle built and managed by the Seattle Housing Authority. Beginning in 2003, over 700 units of WWII era public housing units were redeveloped into a mixed-income community with a blend of 425 income-restricted, market-rate, ownership, and rental units. The 120 acre site is eventually planned for 1,700 homes and also boasts an extensive rainwater management system.
Join us with George Németh, a senior developer at Seattle Housing Authority, as we explore how this planned community is working and what lessons it may offer the rest of the city.
The tour is Saturday, March 25, at 10:00 AM. We'll meet outside the main entrance of High Point Neighborhood House, 6400 Sylvan Way SW (corner of SW Morgan Street and Lanham Place SW). Nearby bus routes include the 21 and 128.
Space is limited and on a first-come, first-served basis. Please register online by clicking here.
The Urbanist is volunteer-run and we need your support to provide the best in reporting, organizing, and education. Please plan to bring a suggested donation of $10 in cash or check made out to The Urbanist.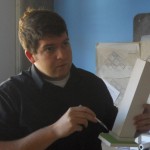 Scott Bonjukian is a car-free urban designer with a passion for sustainable and efficient cities. With degrees in architecture and urban planning, his many interests include neighborhood design, public space and street design, transit systems, pedestrian and bicycle planning, local politics, and natural resource protection. He primarily cross-posts from his blog at The Northwest Urbanist and advocates for a variety of progressive land use and transportation solutions.