The Urbanist's tour series takes you to the hidden nooks and splendid neighborhoods across Seattle and the greater Puget Sound region.
Our next stop is a view of the Seattle seaport by boat! From Belltown we will cut across Elliott Bay and explore the Duwamish River and the East/West Waterways. Along the way we'll learn about the Port's many activities, ongoing projects, and its role in the regional economy. Join us with Matthew Mateo and George Blomberg, environmental planners at the Port of Seattle.
The tour is Saturday, April 29 and is offered at two times, either 10:00am for the first heat or 12:00pm for the second.
Space is extremely limited and will be on a first-come, first-served basis. Keep an eye out for the registration form going live the morning of Wednesday, April 12; we'll provide notice by email and it will be posted on the front page of our website.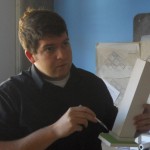 Scott Bonjukian is a car-free urban designer with a passion for sustainable and efficient cities. With degrees in architecture and urban planning, his many interests include neighborhood design, public space and street design, transit systems, pedestrian and bicycle planning, local politics, and natural resource protection. He primarily cross-posts from his blog at The Northwest Urbanist and advocates for a variety of progressive land use and transportation solutions.