Please join us this Tuesday, December 11th from 5:30pm to 7:30pm at The Elephant and Castle (1415 5th Ave) for our monthly meetup. This social event is free and open to everyone. Come by if you want to meet other people who care about our city, network, or hear from an inspirational speaker at a local pub. You can find us in the billiards room on the lower level, and our guest speaker starts at 6:30 PM.
This month we will be joined by Bryce Yadon, the policy director at Futurewise. For more than 25 years, Futurewise has worked to prevent sprawl in order to protect our state's resources and make our urban areas livable for and available to all. Founded to help support implementation of the first-in-the-nation Growth Management Act, they focus on preventing the conversion of wildlife habitat, open space, farmland, and working forests to suburban subdivisions, while directing most growth into our urbanized areas. Their mission also incorporates an important focus on livability, housing, transportation, social justice, environmental justice, and environmental quality in our urbanized areas. Bryce will discuss Futurewise's vision, its 2019 policy agenda, and take your questions.
We hope to see you there!
If you're looking to bone up for the event, make sure you're caught up on Wonkabout Washington, the Futurewise's monthly news roundup published on The Urbanist. If you missed November's that's because there wasn't one. Sorry, Thanksgiving break and all!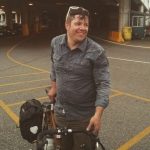 Patrick grew up across the Puget Sound from Seattle and use to skip school to come hang out in the city. He is an designer at a small architecture firm with a strong focus on urban infill housing. He is passionate about design, housing affordability, biking, and what makes cities so magical. He works to advocate for abundant and diverse housing options and for a city that is a joy for people on bikes and foot. He lives in the Othello neighborhood with his fiance and kitty.