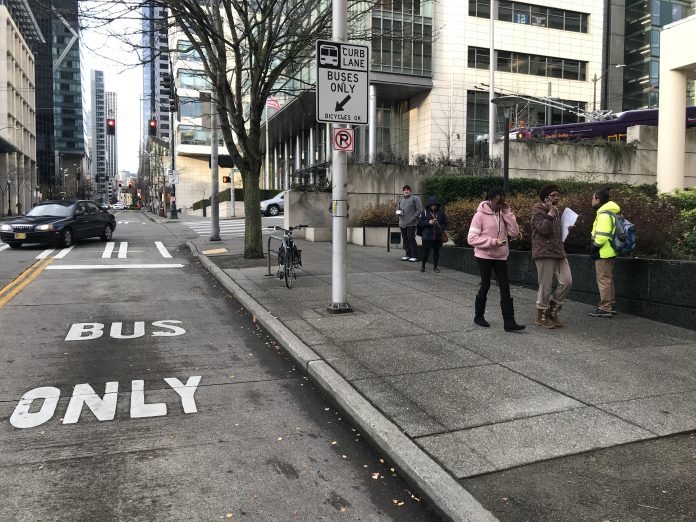 In time for the spring service change on March 23rd, the Seattle Department of Transportation (SDOT) will roll out a new transit pathway for buses operating on surface streets in Downtown Seattle. This is important because nearly another half dozen bus routes will be permanently relegated to surface streets as the Downtown Seattle Transit Tunnel becomes an exclusive haven for light rail vehicles, increasing demand for limited street space to be dedicated to buses. After an elaborate One Center City planning exercise with its partners, the city settled on a new transit pathway using Fifth Avenue and Sixth Avenue. Unfortunately, it appears the pathway will only be bus-only at afternoon peak, reducing its usefulness.
As planned, the transit pathway would be extend from where an existing bus-only lane terminates Cherry Street. On Sixth Avenue, a contraflow bus-only lane would be extended two blocks north to Marion Street before turning right for a block and then continuing north on Sixth Avenue all the way to Olive Way. Three new bus stops would be constructed to complement the new transit pathway. These would be located at:
Just south of Marion Street on Fifth Avenue;
Just south of Union Street on Sixth Avenue; and
Between Seventh Avenue and Eighth Avenue on Pike Street.
The transit pathway is primarily designed to help move peak-hour evening buses north through Downtown Seattle to reach I-5. That means it will mostly benefit Routes 74, 76, 77, 252, 255, 257, 301, 308, 311, and 316.
SDOT also plans to make several other improvements, including three new right turn signals to facilitate bus movements at key intersections and removal on-street parking. Some on-street parking with be permanent, but much of it will come in the form of temporary restrictions–3pm to 7pm Monday through Friday–with the hope that buses using the transit pathway can whisk though afternoon congestion–while leaving buses to fend for themselves otherwise.
Given that the entire purpose of the transit pathway is help keep buses moving freely at peak hours, it is curious that the operational hours are so limited. Several routes could benefit from the kind of priority that the bus-only lanes provide if the hours were extended. This also begs the question of why additional priority is not being extended to other surfaces streets more broadly in the city center like Fourth Avenue and Fifth Avenue, which see high volumes of buses that are clogged in congestion at peak hours and wasting gobs of valuable service hours.
Nevertheless, this small set of improvements could prove high value to the routes benefiting from them, saving riders time, improving reliability, and literally buying back a lot of extra service hours. Imagine if we were rolling out bus lanes more concertedly.

Stephen is a professional urban planner in Puget Sound with a passion for sustainable, livable, and diverse cities. He is especially interested in how policies, regulations, and programs can promote positive outcomes for communities. With stints in great cities like Bellingham and Cork, Stephen currently lives in Seattle. He primarily covers land use and transportation issues and has been with The Urbanist since 2014.