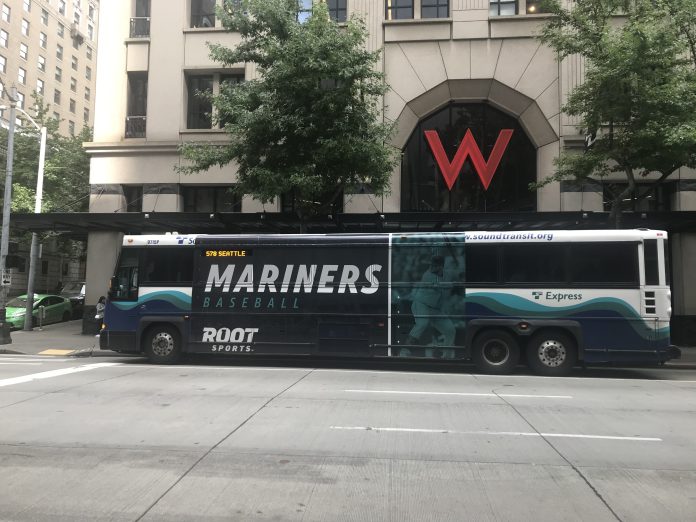 Sound Transit's 2020 Service Implementation Plan is now open for public comment. The plan was released last week with only three notable proposed changes to service for next year. The transit agency plans to consolidate Routes 540 and 541 into a new route, revise Route 577 service, and delete several stops on Route 566.
Consolidation of Routes 540 and 541
Sound Transit is proposing the consolidation of Routes 540 (University of Washington-Downtown Kirkland) and 541 (University District-Overlake Village) into New Route 544 (South Lake Union-Overlake Village). Both routes currently provide bi-directional, peak-hour service across Lake Washington via SR-520.
The service change is being sought to build upon the North Eastside bus restructure that King County Metro will implement next year, which will affect cross-lake Route 255. That route will terminate service at University of Washington Station beginning in March, forcing transfers for riders seeking to reach Downtown Seattle. Other connections to local bus routes (e.g., Routes 31, 32, 43, 44, 45, and 48) are available at or near the station.
Route 255 currently spends a substantial amount of time stuck in traffic between Montlake and Downtown Seattle on I-5 and SR-520. Truncating it at University of Washington Station should save most riders time, even with inevitable transfer penalties, and allow more service with saved service hours. Since Route 255 will run from Downtown Kirkland to University of Station, Sound Transit considers Route 540 to be redundant.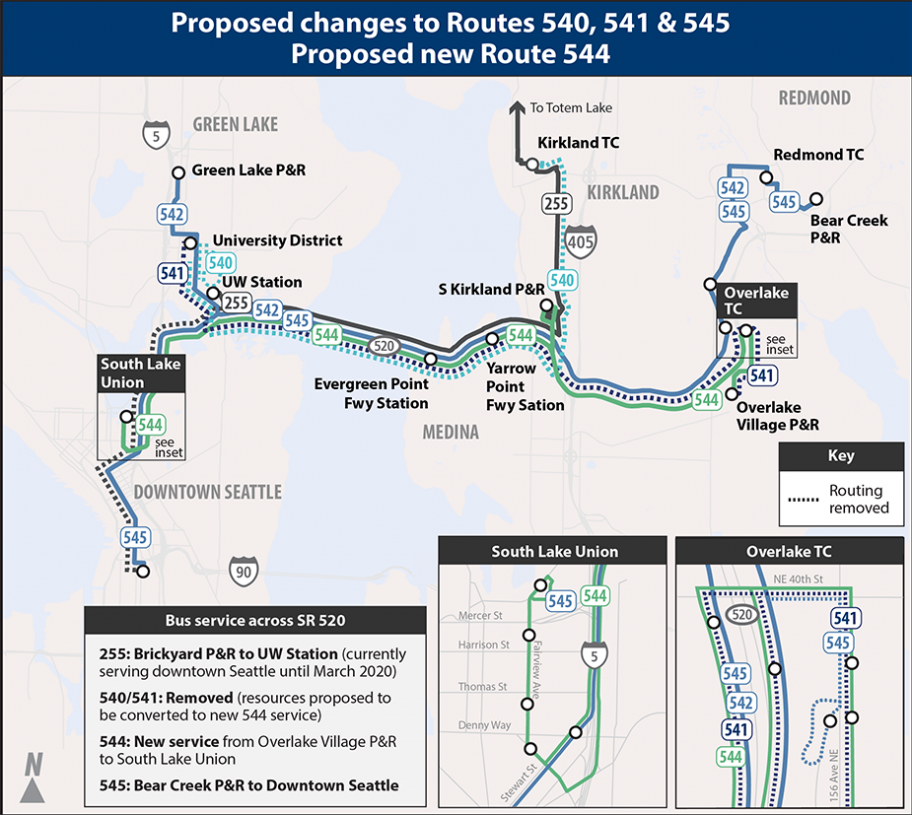 Consolidating Routes 540 and 541 into new Route 544 will allow service to operate more frequently between Overlake Village and Seattle with service every 15 minutes during peak times on weekdays. The new route would open up a new connection for Seattle and Eastside passengers who might want to reach South Lake Union. Stops in South Lake Union would be located along Fairview Ave N between Ward Street and Stewart Street. In Redmond, the route would serve stops currently use by Route 541 to reach Overlake Village. Passengers will also be able to transfer to other local and cross-lake routes at Evergreen Point Freeway Station.
Route 577 service revisions
For weekends, Sound Transit is proposing that existing Route 577 trips be served by Route 578 instead. This would extend existing Route 577 trips further between Federal Way Transit Center and Auburn Station. Existing Route 578 would remain the same on weekends, which provides service between Puyallup Station and Downtown Seattle. The extra Route 578 trips provided by the Route 577 trip conversion would be in addition to those already provided by Route 578.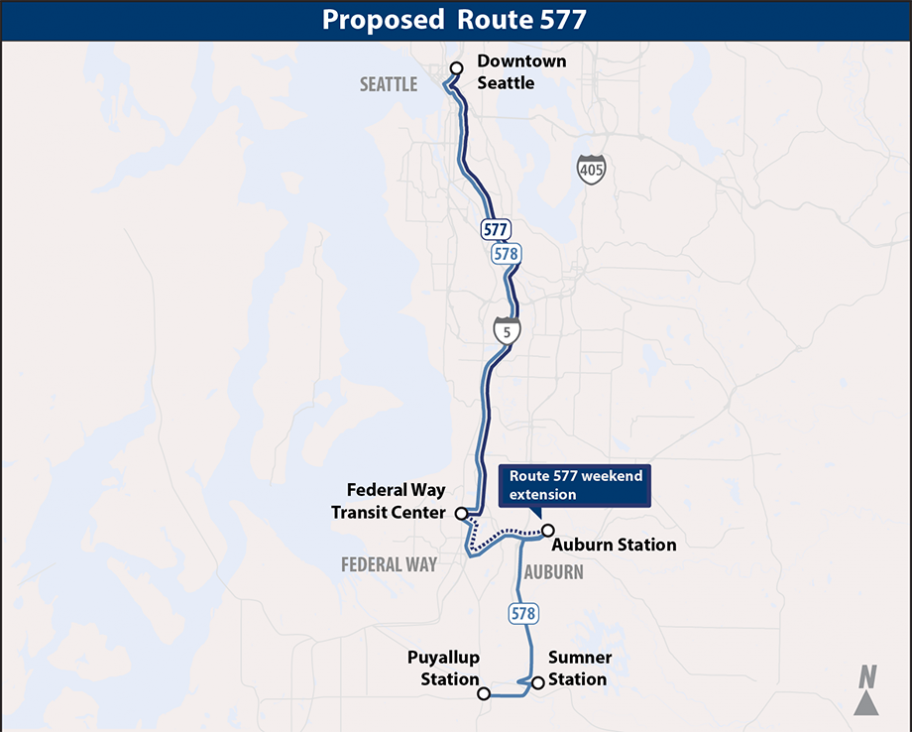 The change would essentially double service between Federal Way Transit Center and Auburn Station on weekends, providing half-hourly service instead of hourly service. Points south of Auburn would continue to have hourly service. All Route 578 service would use the current Route 578 pathway (Olive Way and Stewart Street), which means on weekends that the Route 577 pathway via Pine Street would be eliminated in favor of the Route 578 pathway. That ultimately mean more coverage and access to Downtown Seattle and South Lake Union.
Stop deletion on Route 566
For Route 566, Sound Transit is proposing the elimination of two stops between Bellevue and Renton. The stops were added, according to Sound Transit, to compensate for the impacts of East Link light rail construction. The stops at the Newport Hills and Kennydale Freeway Stations are only served by the route during off-peak hours. During peak hours, the route skips over them in favor of a speedier ride for commuters. The stops are fairly unproductive having only about 16 daily boardings, which may suggest that this service pattern is unknown to passengers or not seen as useful. Servicing the stops also adds delay to the route.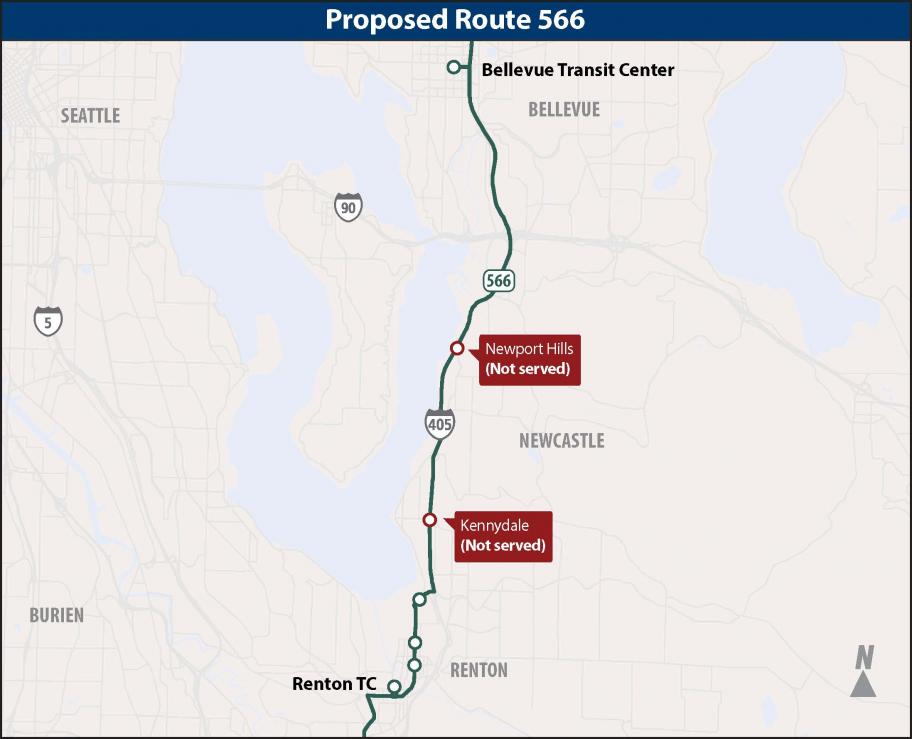 If the stops are deleted from the route, they will still be served by Route 560 and several other King County Metro routes. Passengers who rely on Route 566 to reach these stops can transfer to and from Route 560.
Public participation opportunities through October 7th
Sound Transit plans to hold a public hearing next week at the transit agency headquarters. The hearing will begin at 12.30pm on October 3rd in the boardroom at Union Station. Alternatively, an online survey is open through October 7th.
It's our fall subscriber drive. Please consider becoming a monthly donor to further our coverage and advocacy.
2019 Fall Subscriber Drive

Stephen is a professional urban planner in Puget Sound with a passion for sustainable, livable, and diverse cities. He is especially interested in how policies, regulations, and programs can promote positive outcomes for communities. With stints in great cities like Bellingham and Cork, Stephen currently lives in Seattle. He primarily covers land use and transportation issues and has been with The Urbanist since 2014.