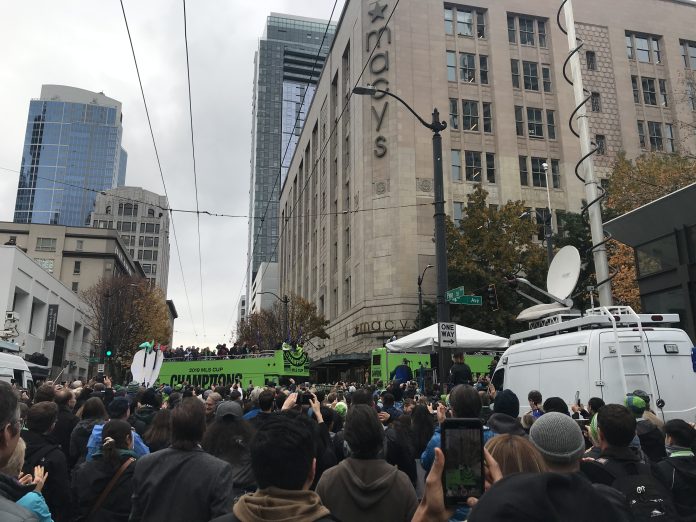 Constitutional: Seattle's "first in time" regulation of landlords passed constitutional muster this week before the Washington State Supreme Court and appears to have significant implications to takings law in the state.
Rising cost: Rising program costs could spell the end for Phoenix's recycling program if nothing is done.
New SFMTA head: Jeffrey Tumlin, a progressive transportation consultant, has been picked as San Francisco's new transportation head.
Urban fabric: Advertising in public spaces shapes cities and how we see them.
Health crisis: Air pollution is now linked to brain cancer.
Housing for all: Representative Alexandria Ocasio-Cortez and Senator Bernie Sanders have unveiled a comprehensive Green New Deal plan for public housing.
Wrong direction: Maryland and Virginia want to rebuild and expand a Beltway highway over the Potomac River rather than build transit.
Rebrand: Sound Transit is dropping the "Red Line" name for its preeminent light rail line after community concerns.
Climate in action: Venice is struggling with record flooding that has devastated the city.
Trail blazing: King County has obtained its final permit to complete construction of the East Lake Sammamish Trail in Sammamish.
Emissions penalty: In Montréal, SUV drivers wishing to park in a neighborhood may have to pay more than others for permits.
Euro bus: A cheap European intercity bus company is launching service between Portland and Seattle as well as many other Pacific Northwest destinations.
Free in KC: Kansas City is looking into making transit fare-free.
Destructive energy: New York City is hoping to close a deal with Quebec for hydroelectricity.
Fine grained economic development: Tailored place-based policies may be most successful in reducing regional inequality.
Destructive energy: New York City is hoping to close a deal with Quebec for hydroelectricity.
Wrong priorities: Transit police appear to be targeting private food vendors at transit facilities, but why?
Elections matter: The Trump administration is handing out $900 million in BUILD grants, which are historically disproportionately going to highways.
Effect of airline deregulation: Richard Florida explains how airline deregulation may have fueled to regional economic inequalities.
Methanol capital: Will little Kalama, Washington become home to the world's largest methanol plant?
More progressive: With Democrats having a full lock on Virginia, what does that mean for housing and transportation?
Ban slip lanes: Slip lanes are dangerous and they shouldn't exist.
Comeback city?: Detroit's reputation is improving, but has it fully turned back from the brink?
More vendors: New York could end up lifting the cap on street vendors in New York City.
War on biking: A federal panel apparently wants mandatory helmet laws in face of all relevant data on the issue.
Elephant in the room: Democrats appear to be forgetting transportation emissions when coming up with climate plans.
Vision Zero: Is the nation's capital finally getting safer streets?
Failed business model: Despite continued massive losses and a third quarter hit of $1.16 billion of new red ink, Uber's leadership somehow believes that the company will be profitable in 2021 ($).
Cautionary tale: Virginia demonstrates how not to build an intersection.
Map of the Week: See the block by block wealth of Victorian London.

Stephen is a professional urban planner in Puget Sound with a passion for sustainable, livable, and diverse cities. He is especially interested in how policies, regulations, and programs can promote positive outcomes for communities. With stints in great cities like Bellingham and Cork, Stephen currently lives in Seattle. He primarily covers land use and transportation issues and has been with The Urbanist since 2014.