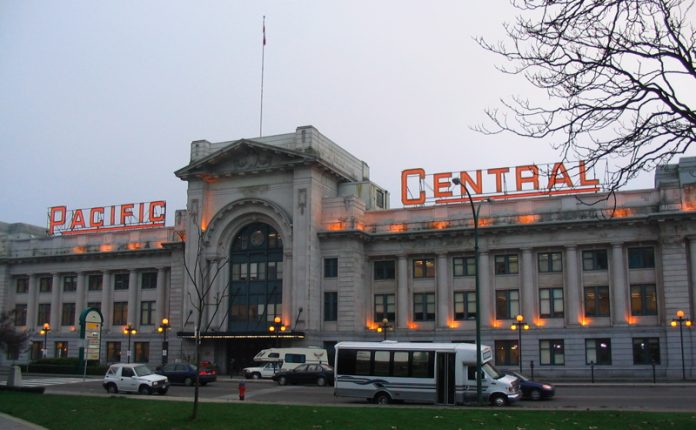 Amtrak is hoping to improve service from Vancouver, British Columbia for its Amtrak Cascades service. At a briefing Wednesday, Ron Pate of the Washington State Department of Transportation (WSDOT) told the state Senate Transportation Committee that Amtrak requested preclearance for its services departing from Pacific Central Station in Vancouver last month. The request was made to the United States Customs and Border Protection (CBP). If successful in attaining preclearance at the station, Amtrak could wind up saving 10 minutes or more per return trip when crossing into the United States. The service is popular generating 165,000 in annual ridership and more than $4 million in annual revenue.
For context, Amtrak Cascades makes two daily roundtrips to Vancouver. One of those originates and terminates in Seattle, and another originates and terminates in Portland. Trips to Vancouver run across the border and through the Canadian frontier, a 30-mile or so journey, without stopping until terminating at Pacific Central Station. When passengers arrive, they enter a secure caged area at the station and proceed through Canadian customs. Passengers are checked by Amtrak staff for proper documentation before proceeding from Bellingham (in the United States) to Vancouver. Procedures from Vancouver back to the United States are different.
When departing from Vancouver, passengers receive partial inspections by CBP and Canadian agents at Pacific Central Station. This allows them to then enter a secured area and board the train. Again, without stopping in the Canadian frontier, the train proceeds to the United States. However, the train stops at Peace Arch in Blaine (in the United States) so that armed CBP officers can search the train, again inspect passengers, and then collect their customs declaration forms. This process typically takes about 10 minutes, but requires the train to make a full stop while it is carried out.
The process is essentially redundant and can result in cascading delays if the inspection process takes longer than 10 minutes. This can affect both the train and other trains that operate along the corridor, which is highly congested and limited in track availability. For Amtrak, it also means that schedules must be padded with extra time and functionally reduces the time competitiveness of Amtrak Cascades to other cross-border options.
Anton Babadjanov, a rail advocate with All Aboard Washington, told The Urbanist that the time savings could be much greater than just 10 minutes. "Currently the Amtrak Cascades scheduled travel time is 4 hours from Seattle to Vancouver and 4 hours and 25 minutes from Vancouver to Seattle," he said. "The extra 25 minutes are the provision for the inspection process taking place in Blaine. While Pate's presentation stated that travel time will be reduced by 'at least 10 minutes', that is likely a very conservative estimate as ideally the travel time would be made consistent in both directions and thus be reduced by 25 minutes going south."
Preclearance would essentially fold all of the inspection process into departure at Pacific Central Station. The practice is widely used at other ports of entry across Canada and other closely allied nations with the United States. Vancouver International Airport offers preclearance for all flights into the United States, which essentially makes them a domestic flight upon return to the United States. The same would be true for Amtrak Cascades.
To accommodate the change is mostly an effort in small procedural changes by CBP. Pacific Central Station was already upgraded for the current customs procedures and security as part of the 2010 Vancouver Winter Olympics preparations. It is possible that there could be small funding requirements for implementation, but WSDOT believes preclearance could begin by 2021 if approved by CBP. WSDOT is also working on a similar preclearance effort for Washington State Ferries operations between Anacortes and Sidney, British Columbia that could be implemented in a similar timeframe and would provide more operational flexibility for state ferries.
Both preclearance efforts are made possible by a new bilateral agreement between Canada and the United States that came into force in August, known as the Agreement on Land, Rail, Marine, and Air Transport Preclearance. Ultimately, preclearance of custom procedures would be a net benefit for the region's intercity transit riders and make them even more attractive options to reach destinations across borders.

Stephen is a professional urban planner in Puget Sound with a passion for sustainable, livable, and diverse cities. He is especially interested in how policies, regulations, and programs can promote positive outcomes for communities. With stints in great cities like Bellingham and Cork, Stephen currently lives in Seattle. He primarily covers land use and transportation issues and has been with The Urbanist since 2014.