Land use wonks and laypeople alike are rejoicing over the recent spate of proposals coming out of the state legislature related to increasing the building supply. Recognition of the overly limiting effect of single-family zoning, and its contribution to the housing crisis by suppressing the supply of housing over decades, has finally hit the mainstream—and legislators are keen to attach their name to a solution.

One such draft bill getting a lot of attention is Rep. Nicole Macri's HB 2780, which re-legalizes "missing middle" styles of housing such as duplexes and triplexes in single-family zones.

"Exclusionary zoning is hurting families and communities in every corner of our state," Rep. Macri said in a statement." We simply don't have enough housing options to keep up with demand. I hear from people all the time who feel that the status quo of development caters only to newcomers at the expense of longtime residents. People are experiencing more competition, wait lists, and bidding wars for unaffordable homes, or having to move further and further from work to find a place they can afford."

While urbanists may be cheering, many public officials and city administrations across the state are likely bristling at the prospect of such a sweeping intrusion into home rule and corresponding loss of control. And that bristling can't be waived away. If history is any guide, a statewide rezoning bill will face a tough fight. Last year, former Sen. Guy Palumbo put forth a minimum density bill that ended up stalling out in committee. Without converting some of the skeptics, this year's bill will also peter out.

So here's a plan to allay some of the concerns local jurisdictions and skeptical lawmakers are likely to make. In addition to a few items that can be improved, the following analysis includes a recommended compromise that may help push it through. Passing legislation requires coalitions, and these fixes might make this bill's a little broader.

Define "unreasonable" fee or delay
Let's start with an easy fix for those familiar with the development process: Section 4, requiring that cities not regulate these forms of missing middle housing "in such a way as to discourage development through unreasonable costs, fees, or delays" is unworkable as written. The intent is good, but unreasonable cost or delay are not real metrics, because those things are moving targets.

In recent years, Seattle's design approval process has bumped construction timelines out literal years in some egregious cases—is that now considered reasonable, and any longer would be unreasonable? Some argue that costs and delay in place today are unreasonable. A better approach might be "cannot regulate substantially different from how single-family is regulated." This would allow cities to transform their single-family regulations into regulations that accommodate increased density, using what's on the books as a sort of template (i.e., if a city already has design review in single-family zones, they could use the same or similar design review and not wonder if that "adds unnecessary cost or delay.")
A tighter definition for courtyard apartment
Here's a personal beef: the bill attempts to permit "duplexes, triplexes, quadplexes, sixplexes, stacked flats, townhouses, and courtyard apartments." Unfortunately, courtyard apartments are an amorphous not a term–and the glossy version is not what would get built in most places. The authors attempt to define "courtyard apartment" to mean "five to twelve attached apartment units arranged on two or three sides of a central courtyard or lawn area." However, that definition may not be specific enough to hold water. There is no agreed upon definition, and what everyone is picturing is not what would get built in most places.

What people want is the cute little courtyard apartments that were built in Seattle (without parking) in the early 20th century–some by master builders like Fred Anhalt. That was ages ago, and development differs significantly now. Specifically, even aside from regulations, the market will build parking in most non-Seattle locations (and in some Seattle ones) because they will say they can't rent it out without parking.

So apartments oriented around a courtyard may not be built as the two-story cottage-looking, opening-onto-a-lawn that everyone agrees is "good density"—you'd get parking lots dominating some if not all of the courtyards. Capping the parking ratio and clearly defining the courtyard as a green space (not parking) may alleviate those issues. Without striking upon a tighter definition laying out a form that really can get built, I would suggest it should be removed.

Scaling back in smaller jurisdictions
Alright, let's get into the core function of the proposal. The bill would have a much better shot of passing if it focused on duplexes. Allowing duplexes everywhere single-family homes are allowed is a pill that cities with a lot of single-family (SF) zoning may be able to swallow. There will be a lot of questions (like, does all our SF-6 zoning now change to SF-12?) and implementation will of necessity be iterative, with challenges likely.

But to begin to undo the ills of single-family zoning, which are well documented (and which are difficult to tackle locally), this state-level policy intrusion into home rule is actually helpful and therefore needs to be within the realm of what cities can reasonably accommodate. (Cities and counties need to not just change regulations but growth targets as well—it's not hard to imagine many conflicts with existing implementation of state law.) If single-family zones suddenly quadruple in allowed density, cities will be scrambling to update infrastructure plans and comprehensive plans in a massive way, and that translates to a lot more grounds for appeal. I would argue that a change that big should only be contemplated if coupled with tax reform to give cities the ability to fund the infrastructure needed to support such dramatic change. I know, wishful thinking.



In the meantime, duplex-level density may not require massive new revenue, because the change would be more incremental: doubling versus quadrupling allowed density is a big difference. It should be noted that Oregon's version of this law focused on duplexes statewide, with higher levels of density only in more urban jurisdictions and on sites meeting certain criteria. Washington could follow Oregon's lead and keep the higher threshold of changes for the largest cities. For example, setting the population threshold at 140,000 would target only Seattle, Tacoma, Spokane, Vancouver, and Bellevue for heightened densities, while leaving the duplex standard in smaller cities.

That said, I think the market actually responding to these changes (whatever they end up being, whenever something like this does pass) will not be as sweeping as many fear, particularly for urbanizing suburbs in the Seattle metro. Within the urban growth area (UGA), many jurisdictions' single-family zones are largely built out, so this bill wouldn't affect those neighborhoods until the stock has aged to the point of individual tear-downs. And, with the existing configuration of land and roads out there, the likelihood of many more units developing is low because the lot sizes won't support it until folks are able to assemble.

For those who are still skeptical, another way to look at it is that single-family homeowners would be selling at higher land prices—meaning wealth building for the middle class.

Sure, some neighbors will not like it because generally most people oppose increased density in their neighborhoods—but it will be analogous to when the Growth Management Act and the urban growth boundary were passed and over the last 30 years a new level of density becomes the reality, some people hate it, most people adjust, and over time single-family zones evolve into more dense places that better support urban services and amenities. Let's climb out of the fiscal and environmental nightmare that is single-family zoning, one duplex at a time.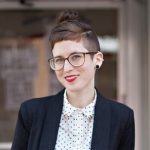 Hayley Bonsteel is a municipal long-range planner working in south King County. She has been an advocate for walkability, livability, and progressive planning in the Pacific Northwest for nearly seven years. Hayley is a daily Seattle pedestrian and transit rider, and serves on the Seattle Pedestrian Advisory Board. Thanks to a long Link+Sounder commute, she read 85 books last year.