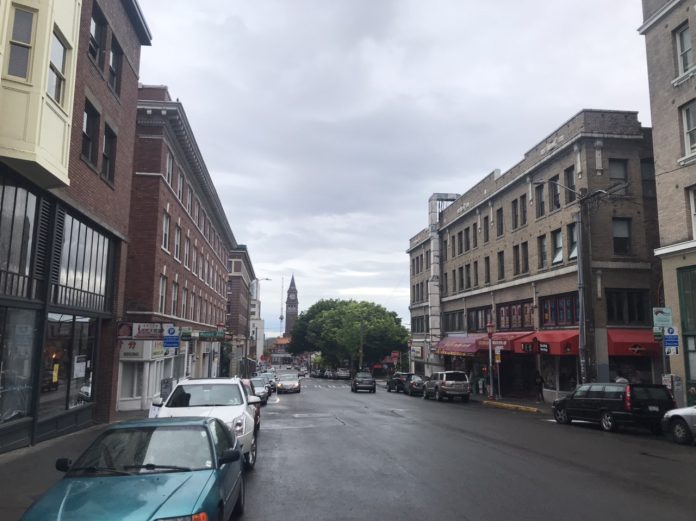 International fraud ring: Washington has probably lost hundreds of millions of unemployment insurance dollars ($) to international fraud.
Long haul: Even if Snohomish County could go to a Phase 2 reopening in early June, local officials appear poised to delay such a reopening ($). Other counties may not move to Phase 2 in early June($), too.
De-car-ing Edmonds: Rick Steves, the travel guide legend, suggests that his hometown in Edmonds should open some streets to just people, not cars.
Bike boom: Electric bike sales are skyrocketing and cities are beginning to rethink their street priorities.
Dichotomy: With the pandemic in motion, many prisoners have been released to reduce transmission of COVID-19, but many are struggling to find stable housing.
Broken utilities: Most utility companies are not structured to serve in the interest of customers or environmental goals.
Four is better: New Zealand's government is looking to shorten the work week to recover from the pandemic.
Life of airports: Why do many airports seem to die?
Squeezed: In some cases, new outdoor dining is squeezing the sidewalk, making new challenges for pedestrians in limited sidewalk spaces.
Staying housed: How is Vancouver, British Columbia keeping renters in their homes amidst the pandemic?
Trailing: A 41-mile trail in Richmond, Virginia could be delayed due to the pandemic.
Climate leadership: In the oil and gas capital of America, can Houston become a climate policy leader?
Top 6: Seattle is no longer in the Top 5 cities in America for population growth ($), but how did it round out the decade?
ADUs in Chicago: Chicago is the next big city contemplating accessory dwelling unit reform.
App for that: If you're missing the New York City Subway, there's an app for that.
London de-car-ing: London is going to double down on getting cars out of the city center ($) in a bold program.
Retrofitting the suburbs: The suburbs can be retrofitted, but what should be the priorities in doing so?
In-street biz: Portland will allow in-street commerce to help businesses during the pandemic.
Elevator health: Elevators enabled the rise of tall buildings, but will COVID-19 change future elevators?
Budgeting missteps: Everett is axing 160 city staff as revenue challenges persist ($) and are accelerated by the pandemic.
Summer vacation cancelled: With people staying close to home, resort towns could be in for a very difficult summer.
Masks can be effective: A new study suggests that if at least 80% of Americans wore face masks, COVID-19 transmissions could plunge.
Bristol de-car-ing: Bristol plans to keep the city's historic center pedestrianized even after the pandemic lifts.
Quieter NYC: The coronavirus has quieted New York City a lot since the same time last year. What sounds are left in the city ($)?
Rise of the bike: Bike counters in Seattle show that biking has been spiking during the pandemic.
Map of the Week: Where can't people get evicted in America right now?

Stephen is a professional urban planner in Puget Sound with a passion for sustainable, livable, and diverse cities. He is especially interested in how policies, regulations, and programs can promote positive outcomes for communities. With stints in great cities like Bellingham and Cork, Stephen currently lives in Seattle. He primarily covers land use and transportation issues and has been with The Urbanist since 2014.