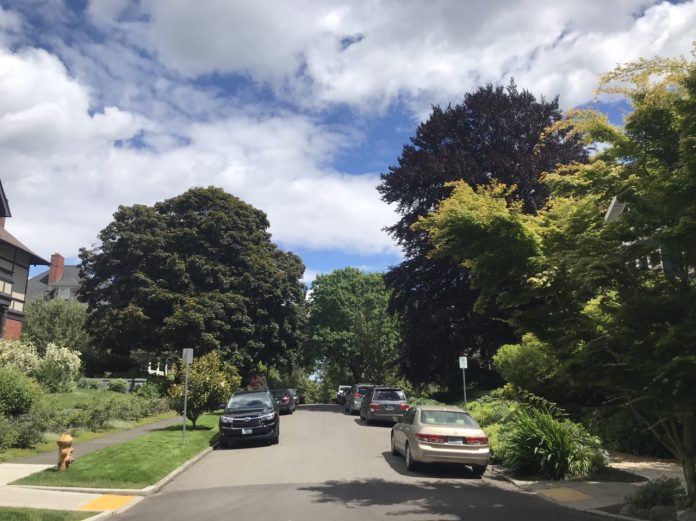 Bus project scope creep: Despite bigger plans for bus priority on North Lake Shore Drive in Chicago, officials have thrown up their hands for lower quality upgrade.
Walk and bike NYC: Big and better changes for bikes on the Brooklyn Bridge are under discussion in New York City. Meanwhile, a new pedestrian and bike bridge is proposed between Queens and Manhattan ($).
Brown envelopes: A Los Angeles councilmember has been arrested for corruption charges related to development.
Cafe streets: Bike Portland highlights how restaurants are taking over former car streets in Portland.
Philly trail connector: A new Philadelphia trail could be added along the Schuylkill River and offer a new car-free crossing.
Bike Portland: Portland has a plan to heavily invest in bike facilities in Northwest Portland.
Anti-racist planning: A Vancouver urban planner has recommendations for anti-racist urban planning reform.
Mandatory quarantine: New York, New Jersey, and Connecticut are imposing a 14-day mandatory quarantine for people coming from out of state in hotspot Covid-19 areas ($).
Big investments: Democrats in Congress have approved a $1.5 trillion infrastructure package in the lower house.
Bay Area best: Fremont, California's new bikeway is hailed as best in the Bay Area.
Still struggling: One in five renters in Seattle won't be able to make full rent payments in July ($), but that is still better than most major metropolitan areas across the country.
Accessible transit app: A new accessible transit app is now available for people with cognitive disabilities.
Long time coming: Balitmore's 147-year-old rail tunnel is one of the most important in America for passenger rail service and could be headed for replacement.
Miami 31: Ten years ago, Miami made innovative form-based code zoning changes as part of Miami 21, and now further changes could be on the way.
Two Bellevue real estate investors are being sued for allegedly duping other investors into a ponzi scheme ($).
Phase 2: King County is now in Phase 2 of the recovery process, but the county is probably stuck there for quite a while. Cases in the county keep increasing.
Street safety: If the "abolishing the police" is successful, what could that mean for the future of street safety?
Gowanus stalled: A rezoning effort in Gowanus, Brooklyn has been caught up in the pandemic slowdown, but advocates are pushing for it to wrap up.
Artists wanted: Cities need artists now more than ever, Strong Towns says.
Naming rights: Amazon has bought naming rights to the arena ($) at Seattle Center.
Institutional failure: Greater Greater Washington takes a deep dive into public housing and how policies have set it up to fail people.
Permitting recovery: England wants to jumpstart the economy by speeding up permitting approvals.
Fantasy come true: San Francisco is finally shaking up Muni Metro to be the system it should be.
Changing priorities: Portland's Trimet is moving policing funding to community-based programs.
Early assessment: How are Opportunity Zones performing in the equitable development realm?

Stephen is an urban planner with a passion for sustainable, livable, and diverse cities. He is especially interested in how policies, regulations, and programs can promote positive outcomes for communities. With long stints in great cities like Bellingham, Cork, and Seattle, Stephen currently lives in Kenmore and primarily covers land use and transportation issues for The Urbanist.