The Urbanist Elections Committee invited candidates in the Seattle metropolitan region to fill out our questionnaire and participate in our endorsement process. We based our endorsement decisions on the responses and follow-up interviews.
Below is the response from T'wina Nobles, who is running for State Senate in District 28.

What lessons about government revenues and fiscal priorities from the wake of 2008 would you apply in responding to the Covid-19 crisis? (200 words or less)
When we respond to the COVID-19 crisis, our fiscal priorities must be focused on ensuring that working families and small businesses get back on their feet. If we continue to bail out large corporations (or banks as was the case in 2008), we are creating barriers to widespread economic recovery. We must also consider revenue sources that do not unduly burden working families. I will work with the Urbanist to ensure that our funding source is equitable and does not require more of our working families. We should make sure we are considering the various loopholes in our tax system that unfairly benefit big corporations and special interests. I am also open to new forms of revenue that may ask our wealthiest citizens to pay a little more in taxes

Would you vote for a bill that ends the ban on rent control in Washington? Why or Why not? (50 words or less)
Yes. I would support ending the ban on rent control because we need to create affordable housing solutions. I would invite community members, housing advocates, landlords, and developers to the table so that we create a sustainable housing policy following the end of the ban. Localities should be able to decide the best policies for their citizens based on the conditions on the ground.

What role do you see the state playing in enacting land use reform, and what should that reform prioritize? (200 words or less)
In enacting land use reform, it is the role of the state to ensure that all reforms are equitable. Moreover, all reforms must be environmentally just and created with the health of communities in mind. Additionally, land use reform ought to prioritize meeting pressing needs such as housing affordability. This may look like advocating for multifamily housing and duplexes to allow more folks to be able to reach homeownership.

What should be the major components of a climate package? (50 words or less)
Equity, justice, and creating pathways for workers should be the major components of a climate package. As we transition to blue/green industries, we need to create opportunities for just transitions. This includes advocating for funding for apprenticeship programs for workers in carbon intensive industries.

What should be the top strategies for the state to fix the cycle of segregation, disinvestment, gentrification, and unaffordable housing in our cities? (200 words or less)
We need to create more pathways for homeownership in Washington state. In order to create more pathways, we need to advocate for more affordable housing options. This looks like advocating for legislation like Senate Bill 6536 in order to create avenues for multi household homes/duplexes. When there are restrictions that ensure that communities stay single-family, we are creating communities that are exclusive and unattainable for many. By allowing for more density in our communities, we will allow for more equity and provide solutions to housing affordability and gentrification.Advocating for more affordable housing options will also enable us to work toward closing the racial wealth gap. Home ownership is a significant way that Americans accumulate generational wealth. Due to redlining and other racist practices, there have been less opportunities for African Americans and folks of color in general to acquire homes. By addressing this fundamental issue of affordable housing options, more community members will be able to ascend into home ownership.

What's your roadmap to fixing educational inequities in Washington state? How can Washington state comply with its constitutional duties regarding education? (200 words or less)
I am a former educator, PTA mom, and twice elected University Place School Board Member. I ran for the school board because my experience in education showed me there was a need for radically equitable and inclusive schools in our communities. I knew that I could step up and meet these needs. On the University Place School Board I work to make sure every child has an equitable opportunity to succeed. For example, today I am prioritizing educational equity as a University Place School Board Director by ensuring that all families have the technology they need to complete at home schooling. I have also been a strong advocate for equity and inclusion by pressing our school administrators and the school board to consider how we can bring more diverse content to our student body in our core classes and required reading materials. Once elected, my roadmap will be to continue to ask tough questions to ensure we are always moving toward more inclusive schools. Washington state can comply with its constitutional duties regarding education by taking a complete look at the ways in which schools are currently inequitable serving students.

Do you think Washington state should have an income tax? If yes, what is the legislative path? If not, would you pursue any tax reform? (100 words or less)

I am in favor of fixing our regressive tax system and believe that Washington state should have a tax system that reduces the burden on working families and asks big corporations and the wealthy few to pay their fair share. I will work with the Urbanist and other expert organizations to come up with a legislative path that is equitable.

While California and Oregon have passed a clean fuels standard aiming to meet their climate goals, Washington did not, as the bill stalled out last session. Would you vote for it? If not, what is the route to meeting our climate goals? (150 words or less)
Yes, I would vote for a clean fuels bill.

What percentage of the state's transportation budget should be for alternatives to cars, such as transit, biking, and pedestrian infrastructure? (100 words)
I would work with the Urbanist and other organizations to come up with the right percentage. I am an advocate for finding transportation solutions that are both equitable and environmentally just. I want to see the legislature prioritize transit, biking, and pedestrian infrastructure.

What should be a higher priority: electrifying personal vehicles or reducing the number of trips made in personal vehicles? Explain how to achieve your priority. (50 words).
We should prioritize equitable solutions that benefit the greatest number of community members. As a state government, that may look like prioritizing sustainable community transportation options to reduce the number of trips made in personal vehicles ahead of assisting community members with electrifying personal vehicles.
The Urbanist Elections Committee's Take: Vote Nobles
Read our full endorsement here.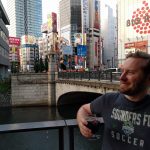 Owen is a solutions engineer for a software company. He has an amateur interest in urban policy, focusing on housing. His primary mode is a bicycle but isn't ashamed of riding down the hill and taking the bus back up. Feel free to tweet at him: @pickovven.