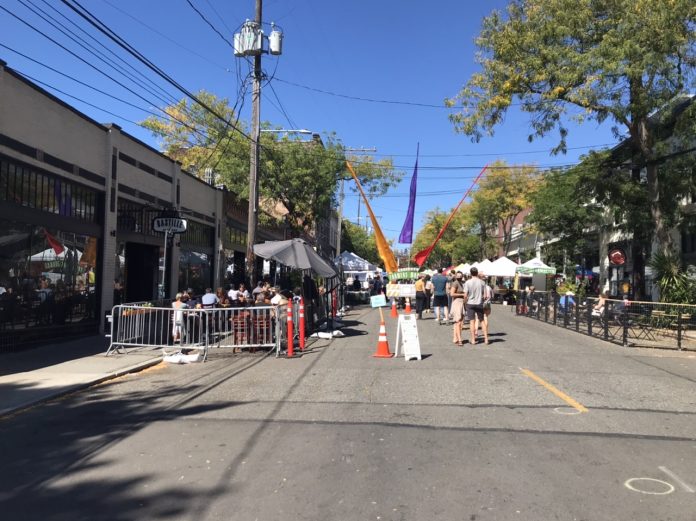 Slow start: Two years later, Minneapolis' zoning reform is slow to deliver on triplexes.
Over-talked narrative: The media is obsessed with the "death of the city" narrative.
Cafe streets: Streetsblog Chicago says that Chicago's cafe streets have been a huge success and should stay.
Arena district redevelopment: A Philadelphia sports team is looking for more than an arena development in Penn's Landing with a district plan.
Raise gas taxes: New Jersey's unique gas tax system is resulting in a gas tax increase due to fewer miles being driven by drivers.
Bay Area tolls: Should all freeways in the Bay Area be tolled?
Where housing bills die: A California bill to more easily allow duplexes in cities across the state died for the year ($). California unions also came out against affordable land use and housing bills ($).
Preventing outbreaks: Wastewater testing at universities like in Arizona has helped in preventing Covid outbreaks.
Covid safe: Washington Governor Jay Inslee is allowing limited capacity openings of museums, but will that be enough for them to survive?
Outdoor education: New York City is approving hundreds of outdoor activities in city streets and parks for schools.
Cosmetic cleaning?: The Metropolitan Transportation Authority in New York City has spent hundreds of millions of dollars on cleaning to stop Covid but is all of it necessary?
Vacancy rates: What do and don't vacancy rates tell you about a housing shortage?
Environmental justice: The Trillion Trees Initiative is trying to plant trees in American cities to fight climate change and address inequity in communities.
Smoked out: Wildfires are raging in much more than just California and a few big nearby cites, vastly impacting public health and the environment.
Stuck at home: A study suggest that millions of seniors may be stuck with very expensive and unsellable homes.
Everett streateries: Everett is setting aside parking spaces for streatery and other outdoor business uses ($).
Metra faring better: Chicago's Metra Electric commuter rail line has seen ridership boom with fares being suspended comparatively to other services.
Wrong priorities: Vice Magazine looks at how outdated transportation planning models lead to broken transportation investments.
Feeder routes: Should select Seattle-oriented commuter routes from South King County be brought back as feeders to Link light rail?
Ending traffic violence: Vice President Joseph R. Biden and Democratic nominee for president lost family to traffic violence. Could he become the first president to do something to stop it?
Ballooning prices: Seattle area home prices continue to rise as younger buyers bid for housing ($).
Challenges ahead: Charlotte and Sun Belt cities are fast growing places in America, but they have their own share of challenges to address.
Linkage fee: San José has adopted a development linkage fee for affordable housing ($).
Under water: The Hudson River rail tunnel costs continue to rise.
Fascist policy: America's fascist president is trying to defund cities that he doesn't like even though it's probably not constitutional.
Vehicle rampage: Bike Portland critiques Portland's response to vehicle rampage by white supremicists.
Ban sidewalk parking: Parking on sidewalks could become illegal throughout the United Kingdom.
Covid-safe play streets: How do cities design play streets for the Covid era?
Streetcar Named Desire: What's so great about streetcar suburbs?
Valuing climate change: Should property valuations consider the impact of climate change?
First Hill highrise: Capitol Hill Seattle Blog profiles a 25-story tower planned for First Hill.
Transit devastation: Baltimore's transit authority is proposing devastate bus and rail cuts.
Freeway revolt: A Boston community does not want a higher rebuild of I-90 viaducts, instead hoping for a gentler option that makes walking and biking through the area better.
Bonding for housing: Atlanta looks to $100 million bond sale for affordable housing.

Stephen is a professional urban planner in Puget Sound with a passion for sustainable, livable, and diverse cities. He is especially interested in how policies, regulations, and programs can promote positive outcomes for communities. With stints in great cities like Bellingham and Cork, Stephen currently lives in Seattle. He primarily covers land use and transportation issues and has been with The Urbanist since 2014.