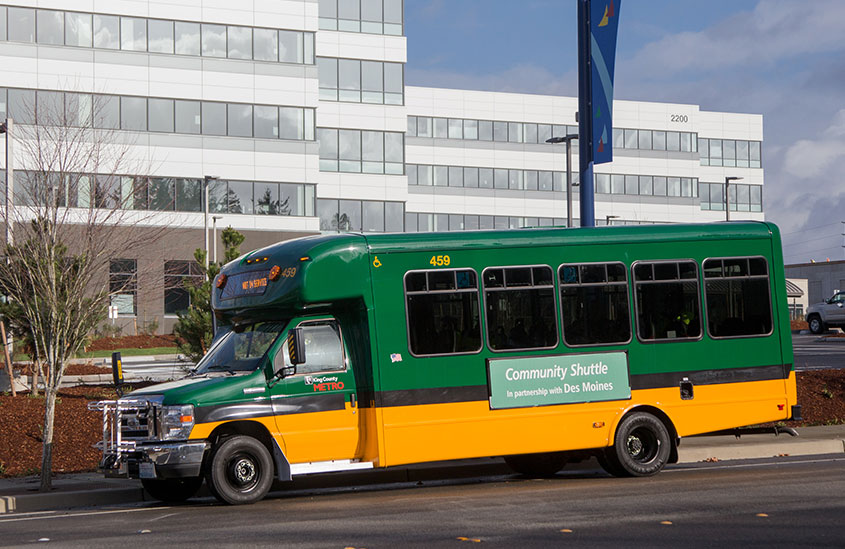 Community Transit is looking toward microtransit solutions in Lynnwood ahead of light rail and seeking feedback on concepts. Two areas are being evaluated for service in partnership with the City of Lynnwood that would complement the agency's traditional fixed-route bus service. Service would initially start in spring 2022 as a one-year pilot, allowing the agency to learn about riders' needs before charting next steps.
This effort is Community Transit's first foray into microtransit, joining the ranks of King County Metro which offers several flavors of it. Two microtransit options are being put forward by Community Transit: flexible van service that riders request for pickup and drop-off in a defined service area and a community van service.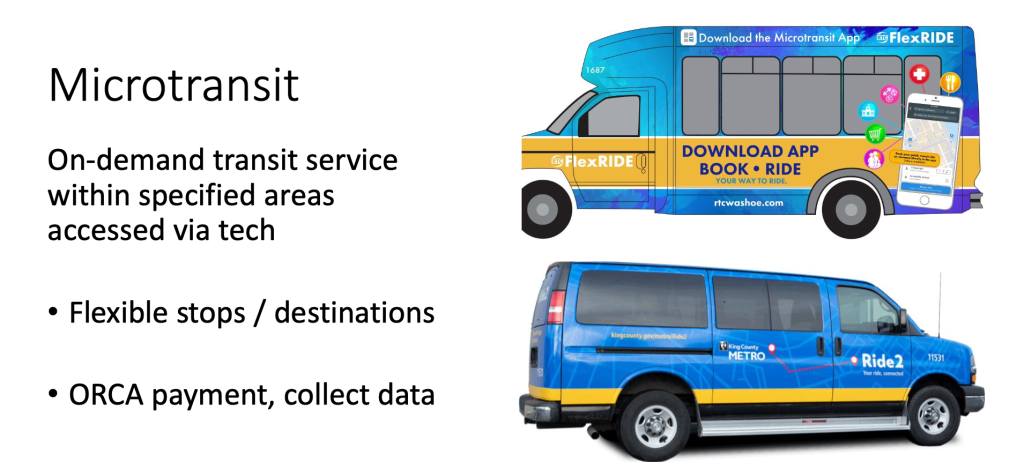 For the flexible van service, riders would use an app or calling to request a ride within the service area during the normal hours of operation and pay the applicable fare. In this case, regular local fares are $2.50 per trip and could be paid with an ORCA card. A specific type of vehicle has not been identified yet, but Community Transit's concept images suggest airport-type shuttle vans and all vehicles will be wheelchair accessible. It's not clear, however, if bikes would be accommodated.
The two areas under evaluation for the flexible van service are focused in Alderwood and along the 188th St SW/68th Ave W corridor.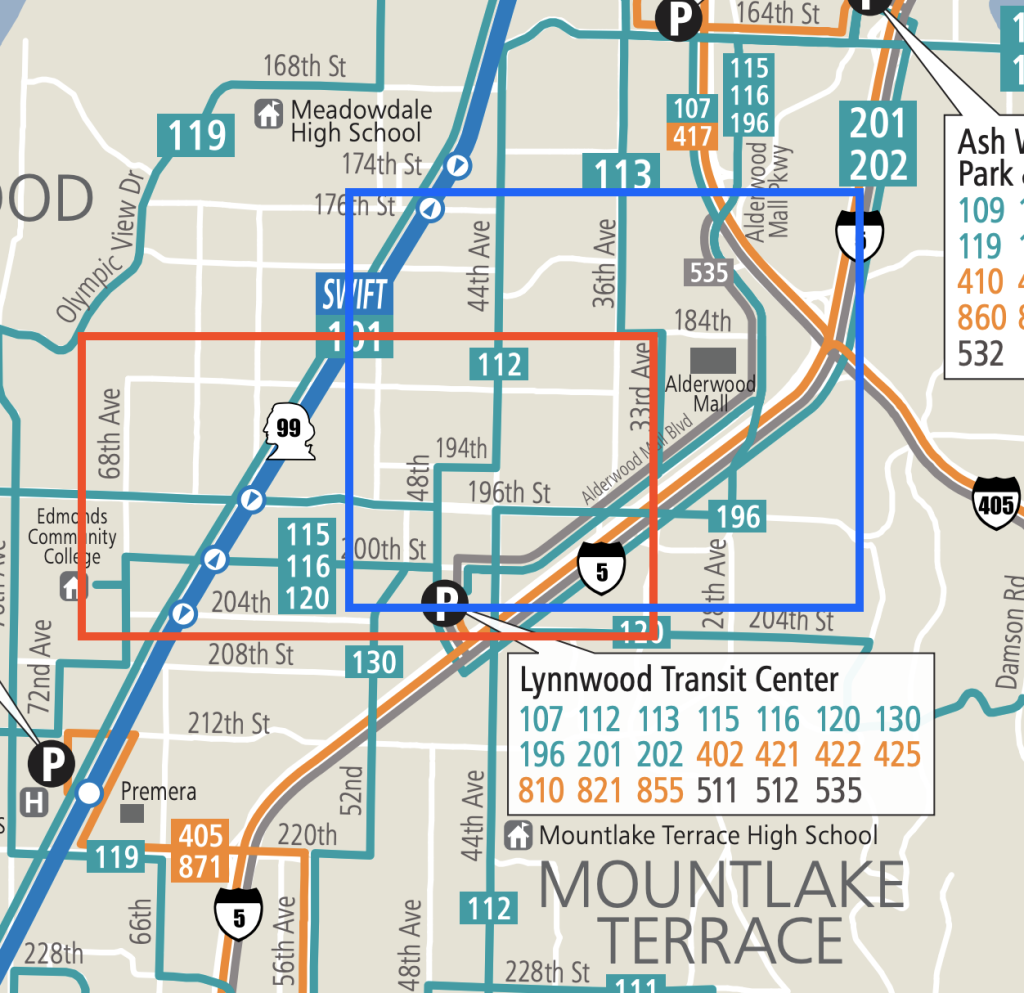 The Alderwood service area would generally cover the city center, mall area, and — at its southernmost — the transit center, overlapping with a bunch of local bus routes (e.g., Swift and Routes 112, 113, and 196) as well as regional bus service at the Lynnwood Transit Center — future terminus of the Lynnwood Link extension in 2024. These areas are heavily commercial and multifamily, providing a growing and dense service area within the city.
The service area map charts a primary circuit for the route along Alderwood Mall Blvd, Alderwood Mall Pkwy, Maple Rd, and 44th Ave W, dancing around the mall and hitting some key public facilities (e.g., library and recreation center). But as a flexible service, the loop is not by any means fixed is merely illustrative. Community Transit's Alex Mehn told The Urbanist that "even the service areas themselves are mostly illustrative — depending on the survey results and analysis, those zones may grow or change slightly (and likely wouldn't be a crow's-fly half-mile extension from a sample route line)."
As for the 188th St SW/68th Ave W flexible van service area, microtransit could serve areas within six or so blocks of the primary path between Alderwood Mall and Edmonds College. Along the way, destinations like the library and recreation center could also be served and nearly a dozen local bus routes would overlap with the coverage area. 188th St SW/68th Ave W was a corridor that Community Transit had planned to serve with an extended Route 111 this year since it's considered a service gap by the agency, but those and other service change plans were dashed with the pandemic. Regardless of whether the microtransit experiment succeeds or fails, this corridor certainly deserves fixed-route bus service.
In addition to these, Community Transit is considering a community van program similar to Metro's. This would allow for groups within the community to request a trip or join a group for a community-driven van service provided by volunteers. Trips would involve two or more riders. All vans would be wheelchair accessible and capable of carrying bikes. Service would be available at any time of day and only cost riders $2.50 or less in fares per trip with gas and insurance being fully covered. Community Transit expects that vans would ordinarily be parked a public facilities like Edmonds College or Lynnwood City Hall.
Not mentioned in the survey is on-demand ridehailing. In April, staff had suggested that a partnership with ridehailing (often referred to as "transportation network companies") providers like Uber or Lyft could be forged as part of the pilot program. That type of service would be run primarily through mobile apps and have flat fares, but the pilot being put forward now doesn't appear set to pursue ridehailing.
The overall pilot program is funded as part of a $1 million federal Congestion, Mitigation, and Air Quality (CMAQ) grant. Through June 18th, Community Transit is running a survey on community priorities for the pilot program.

Stephen is a professional urban planner in Puget Sound with a passion for sustainable, livable, and diverse cities. He is especially interested in how policies, regulations, and programs can promote positive outcomes for communities. With stints in great cities like Bellingham and Cork, Stephen currently lives in Seattle. He primarily covers land use and transportation issues and has been with The Urbanist since 2014.