Let's consider the lunacy of the journey foisted on public transit users: after riding at least 80 minutes from Capitol Hill or Downtown Seattle in order to reach Tacoma, riders must disembark Link light rail and await an untimed transfer with the T streetcar line — for an additional 15 to 25 minutes of travel time — all to reach the UW Tacoma campus, the city's premier museums, key bus transfers, inner-city neighborhoods, and the workplaces of the downtown.
To any reasonable person unfamiliar with the current rail arrangement in Tacoma, this would be deeply illogical rail planning. And yet this will be Tacoma's rail transit future, the consequence of early 1990s urban planning for a then-stricken community, financed in 2016 for a city on the rebound, then not opening for service until 2032 (or later) for a city that has since been utterly remade.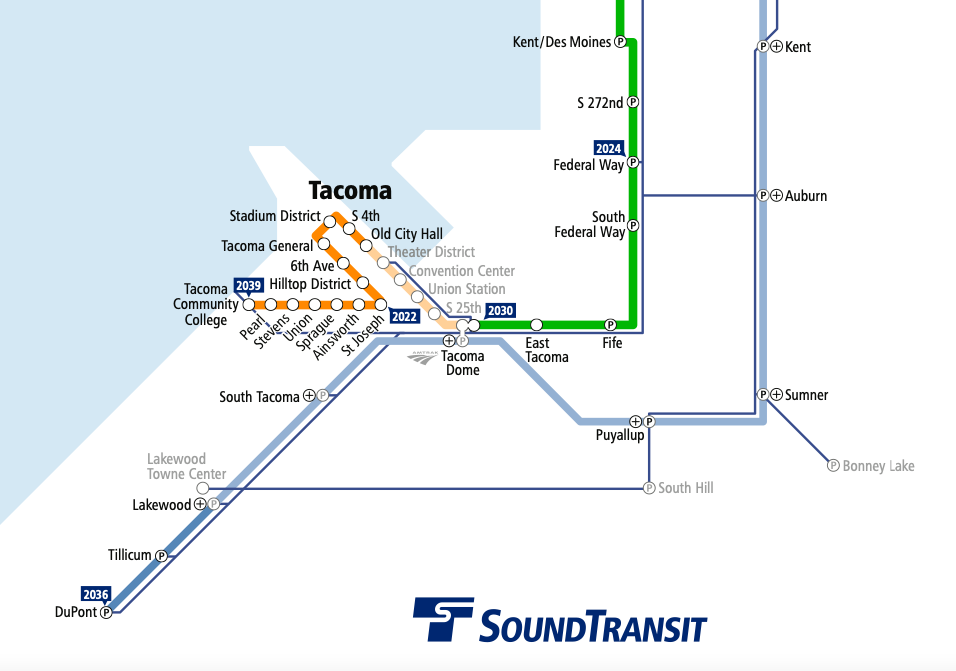 Sound Transit should strongly consider extending Link light rail into Central Tacoma. The agency should advance such an alignment not only because it makes the most sense from a community and transit-planning perspective, but also because rail investments of this sort clearly have a dramatic impact on their adjacent neighborhoods. Tacoma is primed to accept new urban development and continue to grow into a regional urban showcase—as long as the rail facilities are provided.
However, Sound Transit's Tacoma Dome Link Extension (TDLE), a conceptually dubious megaproject already beset by a two-year realignment delay and steadily rising costs (now approximately $340-million per mile), marches inexorably forward with a fatal flaw. While corridor planning continues within the larger DEIS (draft environmental impact statement) framework, which is to be released in mid-2022, none of that work will actually allow for trains to travel into Central Tacoma. The current TDLE alignment alternatives will forever preclude an extension into Downtown, bringing urgency to the selections now under review.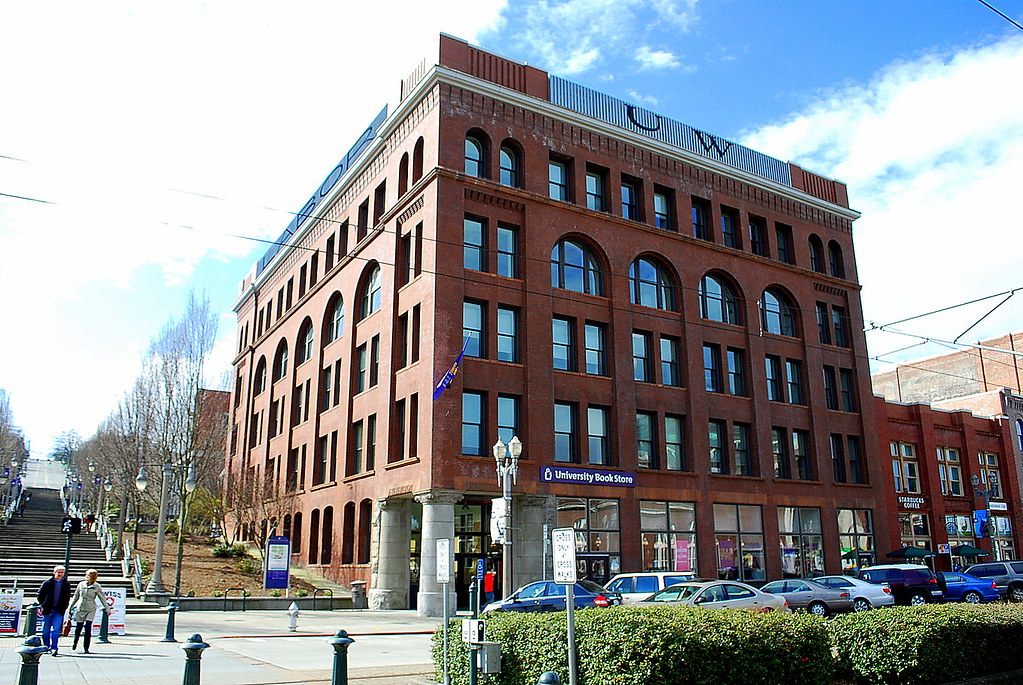 After spending vast sums of public funds to route a rail corridor into the South Sound, Link light rail will miss its economic and cultural heart. Instead, the TDLE will terminate in a suburb-focused transfer center that is within walking distance of large swaths of permanent surface parking and a drive-in movie theater. Places ignored entirely by the rail line include the transformative University of Washington Tacoma urban campus, a sophisticated museum center and pedestrianized waterway, a revitalized Downtown with the largest office center in Washington State outside of Seattle or Bellevue, and innumerable local transit connections. TDLE proposes to mandate transfers to access these critical points of interest that, for any other sensibly planned rail corridor, would be on the main line.
The fact that TDLE is to end at its namesake Dome Station is not exclusively the fault of Sound Transit. Tacoma Dome has been very intentionally planned as a major transit node since at least the early 1990s by a variety of civic and institutional players, and there has been success in implementing these plans and improving the immediate neighborhood. With the construction of a nearby apartment building already complete and more in the pipeline, the Dome District (or old Hawthorne neighborhood) might very well achieve some prominence in due time, even with its constrained tracts of developable parcels. Still, the Dome District is unequivocally not Downtown Tacoma, and this will always be the case regardless of the presence of a few new residential structures.
Much like how Northgate is neither the equal of Westlake nor of University Street in Downtown Seattle, it would be nonsensical to prevent the newest rapid-transit rail line of the Puget Sound from accessing the urban core of Tacoma. Long neglected and overlooked, Central Tacoma has worked hard to secure decades of thoughtful urban rehabilitation, and the product of that effort is a historic city that is thriving in all of its corners. The Tacoma of the 1980s and 1990s is not the Tacoma of today, and the future of the city is no longer in doubt—indeed, the success and well-being of the place is generally understood as certain. With the heyday of urban Tacoma no longer relegated to the distant past, its urban core should not be treated with the disdain exemplified by the termination of critical rail services one mile or more from its primary destinations.
Central Tacoma Link Extension (CTLE): The Mapped Proposal
The imminently feasible option for extending Link to the heart of Tacoma is outlined in my plan, the Central Tacoma Link Extension (CTLE). The proposal details a Link alignment superior to the current Sound Transit effort to terminate the line at Tacoma Dome Station. Instead of a route that requires overly complex engineering and civil structures to serve only a transit facility tailored to the suburbs, this is a plan that sensibly brings trains to Downtown Tacoma on a simplified alignment.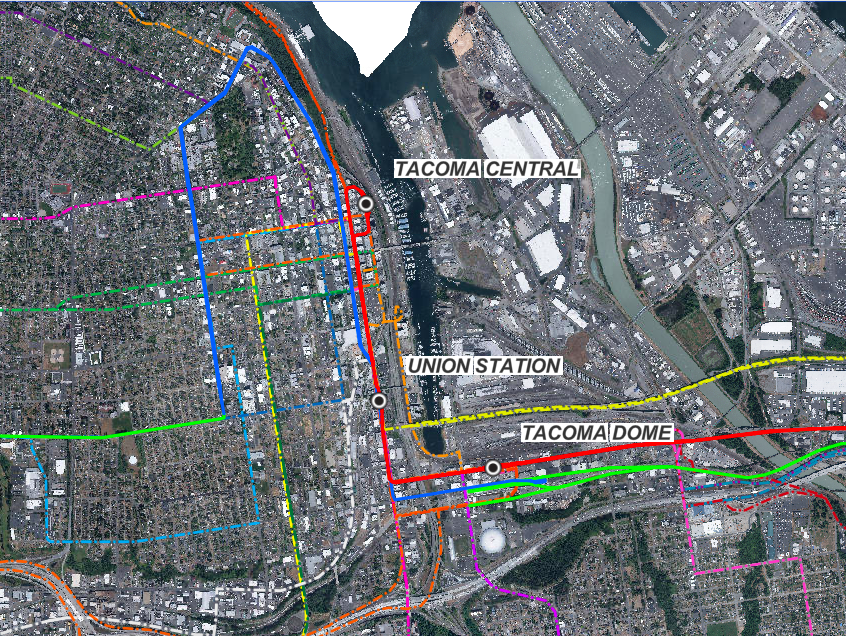 The CTLE is classical railway infrastructure design. Indeed, the alignment proposed here is a modern refinement of the Puget Sound Electric Railway, otherwise known as the Seattle-Tacoma Interurban. This was a tried-and-true passenger railway designed by Golden Age railroad professionals that efficiently served Tacoma for decades—and which never should have been dismantled.
The trackways of the CTLE feature strict separation from vehicular traffic on wide roadways. The prototype of the at-grade sections can already be found on Pacific Avenue itself, as well as in the Rainier Valley. The CTLE also takes advantage of existing rail rights-of-way, inclusive of existing T Line infrastructure (Tacoma's existing streetcar system) through Union Station. This will not impair T Line operations and instead will complement them. The two systems' differing DC electrical voltages are resolved in a straightforward manner by dual mode technologies and related design solutions. This shared trackage provides for the real prize of this proposal: securing rail access to UWT / Union Station and its many community and transit connections.
Link trains are then sent north toward Downtown and Central Tacoma Station, after which they are turned around on a balloon loop. The two track station and loop allows for a less disruptive single-track alignment in a sensitive area of Downtown and streamlines rail operations.
Unless Tacoma was able to fund a tunneling effort somewhere downtown—which it probably could not afford and really does not need—or acquiesced to a complex aerial alignment into its core, rail services do not get much better than what has been proposed and mapped here.
The Costs: Real and Opportunity
This approximately 1.85-mile extension proposal would cost at least two-hundred-million additional dollars to construct on top of cost estimates for the Tacoma Dome Link Extension (a rough estimate developed from present Hilltop Extension costs). Conversely, potential cost savings are obtained over preferred Sound Transit alignments by simplifying the western approach into the City via the Pacific Highway and Puyallup Avenue. The deletion of East Tacoma Station, too, could further reduce costs, considering the limited TOD and transit connection potential there.
For people who believe that the T streetcar line already serves the CTLE corridor effectively, the value of this extension would be limited or even detrimental. To be clear, there are real physical and monetary costs to constructing this largely at-grade extension into Tacoma's city center. The potential benefits of the CTLE, however, could not be clearer to those who value a comprehensive rail system that does not unnecessarily impose transfers, nor avoid essential urban destinations wholesale.
The benefits, altogether, lend the proposal more merit than other costly alignment deviations and rail connections under consideration by Sound Transit today. Tacoma deserves more than what it will receive from TDLE, and time is running out to change course. From here, I'll let my plan speak for itself. Please review my blog piece for more technical details on this proposal.
Central Tacoma Link Extension (CTLE) Project Maps
ArcGIS Interactive Map, detailing the whole of the CTLE project on a viewer-friendly map.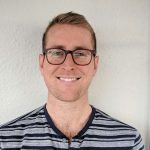 Troy Serad (Guest Contributor)
Troy Serad is a site development engineer with a background in land surveying, cartography and urban planning. Throughout his career, Troy's contributions have helped advance many critical transportation infrastructure projects across the Puget Sound region, from Hilltop Link Extension to Madison Street BRT. Along with six years of experience in local passenger rail operations, he brings a unique and holistic perspective to transportation planning. Troy is also currently an appointed member of the Transportation Commission of the City of Tacoma, where he is also a resident.