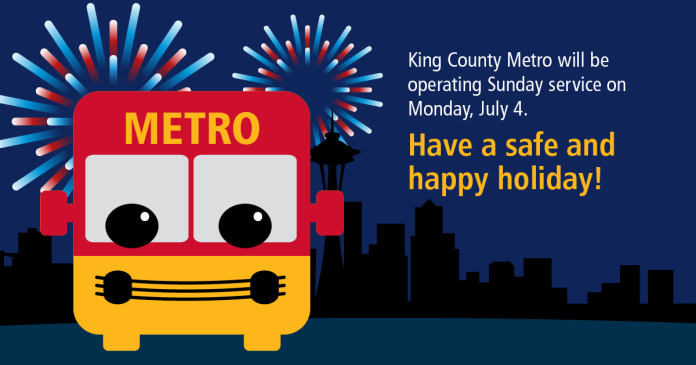 The Fourth of July holiday is coming up and Puget Sound transit agencies are planning a mix of service plans on the weekday holiday. Here's a roundup of service around the Sound:
| | |
| --- | --- |
| Agency | Service Plan |
| Sound Transit | Mixed service operation, including: Sunday service on the Link 1 Line with extended 15-minute service in the evening with the last northbound train departing from Angle Lake Station at 1:41am and southbound train departing from Northgate at 1:42am; Sunday service on ST Express bus routes and Link T Line; and no service on Sounder S and N Lines. |
| King County Metro* | Sunday service with some extra trips and extended services: Trailhead Direct will operate; there will be extra trips on some routes for Gas Works Park and Lake Union fireworks, but expect reroutes and delays; the South Lake Union Streetcar will operate later with the last trip leaving southbound from the Fairview/Campus Drive station at 11:15pm; and Via to Transit will run until 1:00am on Tuesday, July 5th. |
| Community Transit | Sunday service. |
| Pierce Transit | Sunday service. |
| Kitsap Transit | No service. |
| Intercity Transit | Weekday service. |
| Everett Transit | No service, except a free shuttle between Everett Community College and Legion Memorial Park from 3:00pm until late. |
| Whatcom Transit Authority | No service. |
| Skagit Transit | No service. |
| Island Transit | No service. |
| Mason Transit | No service. |
| Seattle Monorail | Reduced weekday service from 8:30am to 9:30pm. |
*Includes King County Water Taxi, Seattle Streetcar, and other Metro-operated services

Stephen is a professional urban planner in Puget Sound with a passion for sustainable, livable, and diverse cities. He is especially interested in how policies, regulations, and programs can promote positive outcomes for communities. With stints in great cities like Bellingham and Cork, Stephen currently lives in Seattle. He primarily covers land use and transportation issues and has been with The Urbanist since 2014.