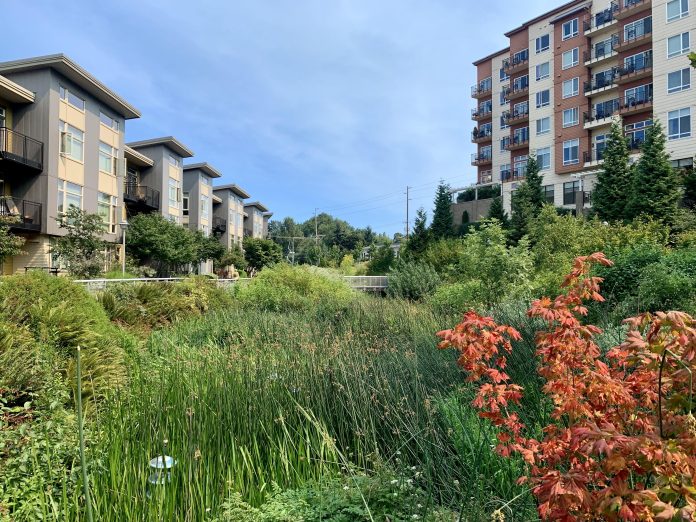 Some experts believe the concept may be the best and cheapest way for cities to adapt to climate change.
Numerous cities are dealing with two seemingly unrelated challenges: flooding and drought. These two issues, however, are not as disconnected as they appear, and California suffered from both simultaneously throughout 2022 and into 2023. Usually, cities suffer from times of high temperatures, exacerbated by urban heat island effects, while at other times they experience high levels of sudden rainfall, with stormwater runoff systems unable to handle the quantities of water. As cities expand traditional infrastructure, increased "coverage" with asphalt and concrete increases the impervious area, which reduces the space for water to run off or drain away into, and escalates urban heat. Climate change in turn makes both issues worse.
Sponge Cities are one way to alleviate these issues. The term "Sponge City" first arose in China, in a number of coordinated projects approved by the central government. A Sponge City is one that relies on the installation of additional green areas and replaces concrete with permeable surfaces. These surfaces absorb water during times of rainfall. Then, when hot weather predominates, the water evaporates and cools the city down.
What defines a Sponge City?
The Sponge City concept has a number of key components. Dr. Heiko Sieker, Honorary Professor for Urban Hydrology at the Technical University of Berlin notes that it is important to remember that the Sponge City is "not one single technology, it's more like a toolbox." Different water storage technologies, that he describes as "mostly low-tech", can be applied depending on the circumstances to bring together a complete Sponge City approach.
These tools and technologies include absorbent surfaces such as green roofs, green facades, and swales. Swales are areas of greenery with permeable soil layers underneath, and they act as shallow drains to capture rain and stormwater runoff. Dr. Sieker explains that from a technical point of view all Sponge City technologies are simply "water storage, much like a cistern or a reservoir." In addition, absorbent green areas can clean polluted stormwater from streets to ensure that it does not reach drinking water sources or other water bodies including rivers, streams, and lakes.
Sponge City technologies are intended to integrate with the natural city environment to the point where they are often unnoticeable. In some cases, "normal people, i.e. not urban hydrology experts, don't necessarily realise that it's a Sponge City district. The interventions are always created in a multi-functional way."
The term "Sponge City" is not used everywhere. However, the same concept is applied in numerous places internationally, and it is becoming an increasingly popular method for alleviating the urban heat island effect. The concept is known as Water Sensitive Urban Design (WSUD) in Australia and the Middle East, Sustainable Urban Drainage Systems (SuDS) in the UK, and Natural Drainage Systems in Seattle.
China: Chongqing
Many of the original Sponge Cities projects in China were kicked into action after flooding in Beijing in 2012. Kongjian Yu, now dean of Peking University's College of Architecture, managed to win the buy-in of China's central government and get the concept more attention: in 2014, the central government decreed that by 2020, in 20% of urban areas, 70% of rainwater runoff should be recycled. By 2030, this should be 80%. In cities including Wuhan, Chongqing and Xiamen, Sponge City pilots kicked off.
The Chongqing Sponge City project is one example of a successful pilot: in 2020, 24.2% of the urban area of the city had been transformed. By 2025, they hope to have more than 45% of the city meeting the requirements of the Sponge City.
Berlin: Rummelsberg
Another city with extensive Sponge City projects is Berlin. Berlin is one of the few cities in Germany that does not pipe water in from springs or other sources. Instead, all of Berlin's drinking water is sourced from groundwater within the city boundaries. This means that water management needs to be done carefully, as there is potential for wastewater and stormwater to contaminate drinking water and other water bodies.
Most water flows out through the Spree, the main river that cuts through the city. However, the rate of flow is slow. This means that when heavy storm surges occur, water cannot move through the pipes and drainage systems quickly, resulting in flooding. Dr. Sieker explained that after flash flooding in 2017 a political commitment took place to require Sponge City concepts to be applied to "every new development" in Berlin by law. The project in Rummelsburg highlights the Sponge City approach that has been taken in Berlin to date.
Seattle: South Thornton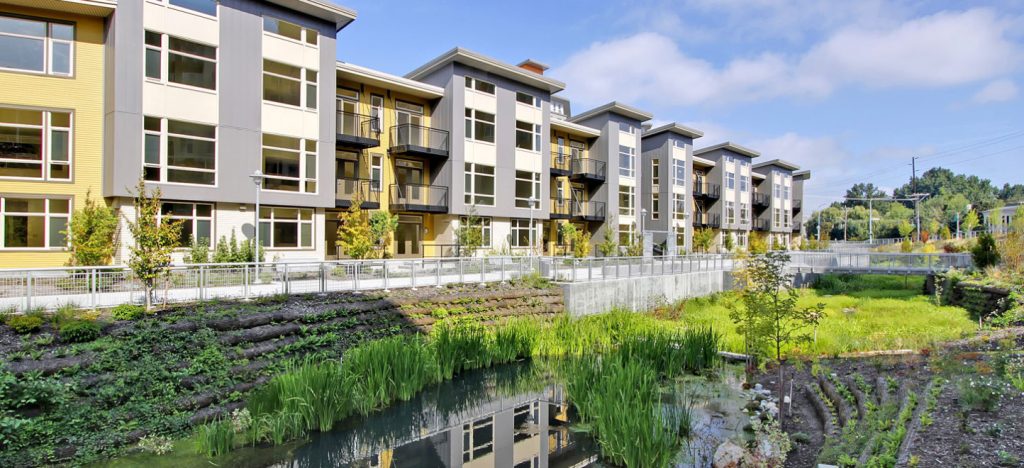 One example of a recent Sponge City concept application is that of the South Thornton Natural Drainage System (NDS) Project in Seattle. This project aims to prevent polluted stormwater from running into Thornton Creek, as well as to provide added green space and street trees, traffic calming, and reduced street flooding. To bring attention to the ecological benefits of natural drainage systems, Seattle Public Utilities and the City of Seattle Office of Arts & Culture (ARTS) even commissioned an artist to create an installation at the site.
An climate friendly development approach with few potential downsides
There are very few downsides of Sponge Cities, although with urban spaces often in contention or earmarked for other uses, projects may face difficulties in finding surfaces where interventions can be applied. Dr. Sieker notes that one of the biggest challenges is political: there must always be buy-in to establish a new intervention, and there remains a process of negotiation with other departments in the city administration to actually get things done.
Nonetheless, in his opinion, Sponge Cities are "the best and cheapest way to adapt to climate change in cities that have a heat problem." With the added benefits of flooding prevention, stormwater pollution removal, and creating more green spaces, Sponge Cities are an excellent urban development approach to add to the toolbox.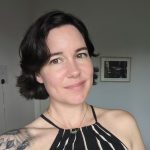 Leah Hamilton (Guest Contributor)
Leah Hamilton is an editor and writer published by The Spinoff, UrbDeZine, and Penguin Random House New Zealand. Leah loves to write about sustainable urban development, data privacy, mental health, and matters of the heart. She spends her time reading, walking her dog, and eating unreasonable amounts of chocolate.