Widely regarded as the biggest weekend in sports, the Superb Owl fills the February niche in the United States' unofficial gluttonous holidays calendar. Between the estimated $16 billion in wagering on the game (including goofy prop bets) to the 18.8 million people expected to call in to work on Monday, the game is one of superlatives. There is at least one household currently working on pulled chicken for the totcho buffet line.
The groundwork for the event was set years ago, when Glendale, Arizona's State Farm Stadium was selected as the neutral site for the game. The 17-year old stadium hosted one previous Super Bowl back in 2008, a mere two years after opening as home for the Arizona Cardinals, who had been playing at the University of Arizona's Sun Devil Stadium. The NFL does not like being a tenant in a college field.
Which brings us to this Sunday Video where former Secretary of Labor Robert Reich does a fantastic explainer on the playbook that billionaires use to extract money from municipalities. Tax waivers and straight up cash abound as the ultra-rich threaten to relocate the teams they aggressively market as part of the community. Like a good neighbor, State Farm is there to put naming rights on the building whose owner wants a municipal hand out.
The video includes a special shout out to union buster Howard Schultz and his relocation of the Seattle Sonics. Enjoy the commercials, everyone.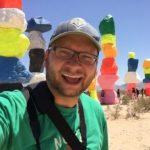 Ray Dubicki is a stay-at-home dad and parent-on-call for taking care of general school and neighborhood tasks around Ballard. This lets him see how urbanism works (or doesn't) during the hours most people are locked in their office. He is an attorney and urbanist by training, with soup-to-nuts planning experience from code enforcement to university development to writing zoning ordinances. He enjoys using PowerPoint, but only because it's no longer a weekly obligation.