Every legally cast vote should count and every voter should feel like they had their say. I think we can all agree on that.
Unfortunately, in Washington's 2020 Democratic Presidential Primary, our state failed to deliver that for our voters. Due to a quirk of our mail-in voting system, one in four ballots cast was meaningless.
The problem was that many people mailed in their ballots early and, between the moment they submitted their ballot and the time votes were counted on our Primary Day, their preferred candidate had dropped out of the race. Thus, these voters were disenfranchised because they mailed in their ballot early — something that we are generally encouraged to do.
The fact that doing the right thing can undermine your vote entirely is a major failure of our voting system. We deserve better.
Fortunately, there is a solution. Ranked-choice voting is already in use in 60 jurisdictions across the country and it allows voters to mark backup choices in case their favorite doesn't have a chance to win.
This is the voting method that we adopted in Seattle just last year, and it's exactly the tool we need to address this major flaw in our presidential primary system.
One main purpose of ranked-choice voting is to create an election system that takes into account both passion and general acceptability – that is, the winner will have the strongest combination of being both positively appealing to the most people and negatively distasteful to the fewest. The result is we get more representative, less divisive elections.
However, in a mail-in state like Washington, ranked-choice voting serves a second and very valuable purpose in our presidential primaries. Those backup choices will also ensure you still have a say if your preferred candidate drops out between the moment you voted and the votes are counted.
This is a logical, straightforward, and necessary improvement to our presidential primary system; and it's urgent that we implement it for the next presidential primary in 2024 to avoid the flaws exposed in 2020.
The good news is, the State House of Representatives is currently considering HB 1592 which would do just that. Not only would it bring ranked-choice voting to our state's presidential primaries, it also spells out exactly how we can implement this upgrade by 2024. HB 1592 is sponsored by Representative Sharlett Mena (D – Tacoma), and has endorsements from a dozen organizations in Washington and the cosponsorship of over 20 other legislators.
There's one problem: The bill needs a hearing if it is to move forward. This normally wouldn't be a problem for a bill with this much support and urgency, but the policy cutoff deadline is Friday and the House State Government and Tribal Relations Committee still hasn't scheduled the bill.
If you feel this bill deserves to be talked about and if you feel that we deserve better than the election system that disenfranchised one in four voters in 2020, then contact your representative about HB 1592 immediately to ask for a hearing! 
We can have more positive, more engaging, and more representative elections when every voter gets their say. Ranked-choice voting is our ticket to that future.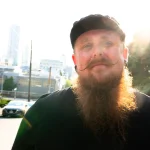 Sean Lafferty is an artist and writer making work which investigates the complexities of individualism, collectivism, communication, and the intersections between them. He lives in Wallingford.