We don't often think of our neighbors down the Pacific Coast as frequent recipients of Seattle-levels of rain. But this winter has been a difficult stretch, with wave after wave of storms damaging homes and piling up (much needed) snowpack. In this video, Heart of the City talks about a particularly dangerous kind of storm, one that has the potential to surpass California's infamous earthquakes as a threat to lives and property. The LA-centric YouTube channel is newer and has some pretty good other videos, particularly the one about the city's weird architecture, so check them out.
An ARkStorm is a theorized winter megastorm, a series of Atmospheric Rivers (AR's) that line up to batter California in a 1-in-1000 (k) year event. Thus Atmospheric River 1,000 or ARkStorm. As we here in Seattle know, those atmospheric rivers can mean business, bringing tropical moisture to the coast as a fire hose. Were they to last 40 days in one of the country's most productive agricultural areas, the impacts would be disastrous.
Now, does this season's rain count as an ARkStorm? Meteorologists are not quite ready to make that determination yet. That said, with climate change increasing the frequency of drenching rains in places that are ill prepared, it is useful to to know what extremes may become more common. And it lets us brush up on the meaning of cubit.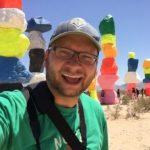 Ray Dubicki is a stay-at-home dad and parent-on-call for taking care of general school and neighborhood tasks around Ballard. This lets him see how urbanism works (or doesn't) during the hours most people are locked in their office. He is an attorney and urbanist by training, with soup-to-nuts planning experience from code enforcement to university development to writing zoning ordinances. He enjoys using PowerPoint, but only because it's no longer a weekly obligation.