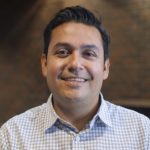 Rubén is a scholar and teacher of rhetoric and writing. His teaching and research emphasize the role everyday use and civic engagement play in making places more livable, accessible, and equitable. In particular, Rubén examines how cities and the institutions that comprise them imagine, plan, and build in ways that promote and/or discourage community and a sense of place.
In recent years, cities in the Northwest have responded affirmatively to calls to make housing more available and attainable through zoning reform. Portland, Oregon, adopted wide reforms in August 2020 that are meant to promote infill by making it easier to build "middle housing," a category that includes smaller...
Recently, I was asked for my definition of an urbanist. In reaching for a definition, I realized that I actually don't have one--certainly not one that captures the contradictions and nuances that most interest me most about urban life and experiences. A Google search revealed to me that a settled-upon...
My summer reading list this year included a debut novel by Seth Fried titled The Municipalists, which CityLab described as "the urban planning Sci-Fi novel you've been waiting for." There are many things to say about this novel, but rather than offer a pseudo-review (other than to say that...
The McMenamins Elks Temple in Tacoma has been open for two weeks. With its five eateries and bars, ballroom, and 45 hotel rooms, this new addition to downtown destination is drawing and will draw hundreds of people from throughout the city and the region. McMenamins has been lauded for...
Backyard cottages are officially a go in Tacoma but what's next? The City of Tacoma has officially adopted new rules which make it much easier to add accessory dwelling units (ADUs) on existing single-home lots. While it is true that Tacoma, like other cities in Washington, already permit attached accessory...
Residents of Tacoma largely support a change to the municipal code that would make it easier for home owners to add a secondary living space on their property. The idea to allow more greater numbers of "Detached Accessory Dwelling Units," or DADUs, was first taken up by the city...
In a previous installment, I wrote about the strain put on sidewalks when cities privatize, sell off, fail to maintain, or don't care to provide proper public spaces in the first place. I argued that the reductions in public space we observe in cities across the U.S. undermines democracy...
Tacoma is growing. City, county, and regional leaders and planners are working to meet this growth with transportation options aligned with state mandates and community needs. The three biggest transit projects looming on the horizon are the Link light rail extension from Federal Way to Tacoma, the extension of...