Sure, that's a pretty picture, but let's face it: Pike/Pine as a corridor sucks. Yeah, there's a lot of lovely buildings and kitschy businesses dotting the length of it, but the streetscape is desperately unbalanced as a multi-modal corridor. Travel along this stretch of the Pike/Pine corridor any Friday evening at 5pm and you'll have your proof: bikes dodging cars and buses, buses stuck in traffic and maneuvering weird turns, motorists trying to find street parking and getting stopped at every block. Bikes lose, buses lose, and motorists lose.
The Pike/Pine corridor consists of three primary segments:
A one-way/couplet system between 1st Avenue and Boren Avenue in Downtown Seattle;
Bidirectional thoroughfare space on each street between Boren Avenue and Broadway in Capitol Hill; and
Bidirectional neighbourhood streets between Broadway and Madison Avenue.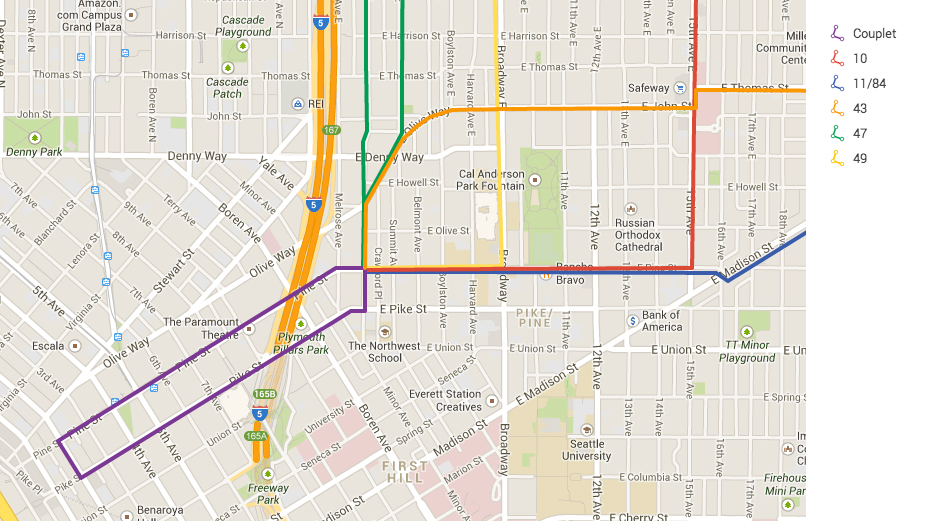 Pike/Pine serves as one of the very few through-street pairs over Interstate 5 from Capitol Hill to Downtown. Naturally, this creates a serious squeeze for moving transit, cyclists, pedestrians, and motorists. Currently, 6 bus routes use the partial Pike/Pine Couplet with all outbound routes from Downtown making a left turn at Bellevue Avenue and right turn at Pine Street (except for the 43 and 47) as illustrated above.
But, there are a number of solutions that we could implement to enhance this corridor. My proposal consists of the following:
Convert the whole length of Pine Street and Pike Street to bidirectional traffic;
A bidirectional trolleybus system on Pine only (plus a turnaround loop on First Avenue). This would require transferring overhead wire from Pike to Pine;
Bus bulbs on Pine to reduce bus dwell times;
A separated cycletrack on the south side* of Pine between First Avenue and Madison Street (a deviation from the Bicycle Master Plan);
Parking removed from the south side of Pine and at bus bulbs wherever in conflict;
One travel lane is removed in Downtown Seattle along Pine; and
No left turns permitted for motorists along Pine, except at First Avenue and Madison Street.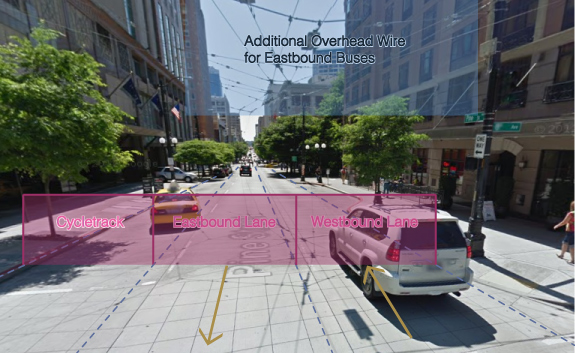 This solution balances the needs of all users by reducing conflicts between cyclists, buses, and motorists. By doing this, we make a safe way for cyclists to go up and down the Hill, speed up buses, and give motorists more options for east-west travel. This is only one possible solution to the Pike/Pine chaos. What are your ideas?
*The south side of Pine has the fewest number of driveway/curb cut conflicts, which makes it an easy place to put a cycletrack in.

Stephen is a professional urban planner in Puget Sound with a passion for sustainable, livable, and diverse cities. He is especially interested in how policies, regulations, and programs can promote positive outcomes for communities. With stints in great cities like Bellingham and Cork, Stephen currently lives in Seattle. He primarily covers land use and transportation issues and has been with The Urbanist since 2014.