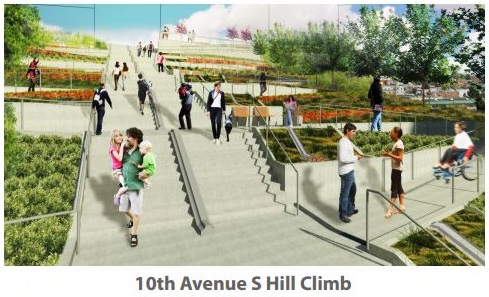 This week, the City of Seattle's Council Transportation Committee had a briefing on a new staircase at Yesler Terrace called the 10th Avenue S Hill Climb. Tom Fucoloro over at the Seattle Bike Blog gave a great run down on the project benefits and design.
The 10th Ave S Hill Climb is largely grant-funded and part of a street vacation deal with the city as part of the large-scale redevelopment of Yesler Terrace that is now underway. Construction on the hill climb is scheduled to begin this year.

When completed, the stairway and gradual ADA ramp will connect Yesler Terrace to Jackson Street, Little Saigon and the International District. It will also likely be a stunning place to hang out and enjoy the stunning view from the south side of a very steep part of First Hill.
Yesler Terrace is on fire and 2014 is a big year for planning and development beyond the hill climb. The First Hill Streetcar, which travels through and stops at Yesler Terrace, will open in October. The old Steam Plant is already being converted and preserved as a community centre. Two projects are now under construction near the intersection of Boren and Yesler. The Seattle Housing Authority (SHA) is sponsoring the development of 1105 East Fir, a project that consists of a large apartment building and 9 townhouses. Together, the project will provide 100 new dwelling units. Immediately next door, Anthem on 12th is a project to construct a 5-storey, mixed-use structure with 119 dwelling units. A number of other projects are being studied and designed for new buildings and a neighbourhood park.
This is all in line with the 15-year revitalisation plan for Yesler Terrace adopted two years ago by the City of Seattle and SHA. To track all this activity, SHA put out this handy interactive PDF flyer to highlight the projects for 2014.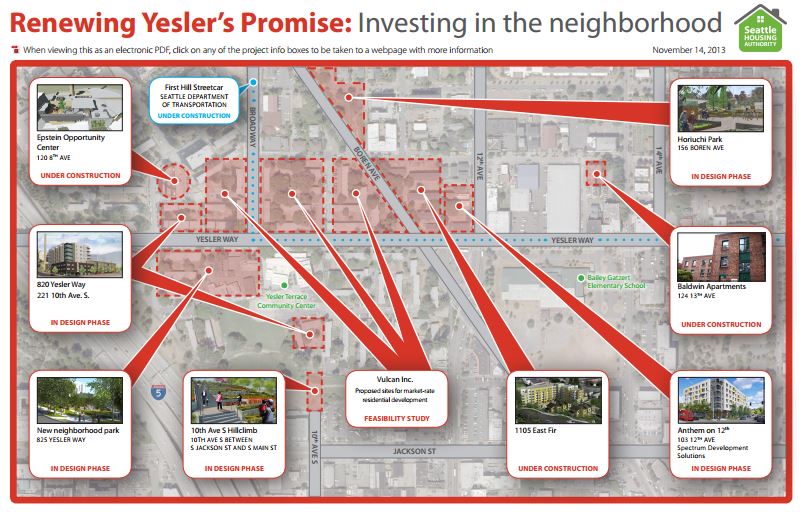 Stephen is a professional urban planner in Puget Sound with a passion for sustainable, livable, and diverse cities. He is especially interested in how policies, regulations, and programs can promote positive outcomes for communities. With stints in great cities like Bellingham and Cork, Stephen currently lives in Seattle. He primarily covers land use and transportation issues and has been with The Urbanist since 2014.