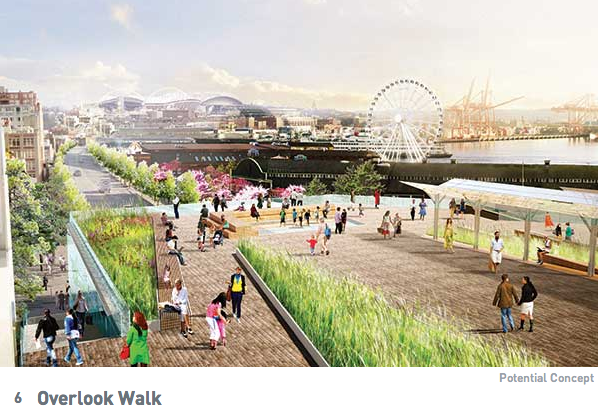 Bertha may be dead in the water, but the Seattle Waterfront is moving full steam ahead. Construction work on the Elliott Bay Seawall is already taking place near Bertha's tunnel area. It's a delicate task when working within just feet of open sea and the walls of a tunnel. With Bertha stopped during the intervening months though, it will make that task much easier. However, the Waterfront redevelopment consists of more than just the seawall.
The centerpiece is the Waterfront redevelopment as a grand promenade and central public space. Some of the concept features of the Waterfront include: a dramatic overlook walk landmass connecting Pike Place Market to the Waterfront, new Green Streets intersecting the promenade, a multi-modal boulevard along the soon-to-be former Alaskan Way Viaduct alignment, and an active Pier 62/63. (If you haven't already seen some of the Waterfront plans, you may want to check out the illustrative concepts.) Much of this work is still in the planning stages and there are some funding challenges ahead. But this week, Seattle will be introduced to these concepts by planners and civic leaders while sharing ideas on how we can make the Waterfront a more vibrant part of the city.
Waterfront Week will hold four events over five days. The week kicks off with a Waterfront 2020 presentation by james corner field operations (lead design team on the Waterfront project) and other civic leaders. The presentation will take a look at the project designs and how they have evolved over the past few years. Later in the week, three other events will be held: a panel discussion on design tools for architects, city planners, and public artists; a second panel discussion focusing on the past, present, and future of play in the art and design of public spaces; and a family-friendly field day along the Waterfront with activities such as games, live music, cruises, a tour of the seawall construction, and more. If you're interested in attending any of these events, you are encouraged to RSVP ahead of time (although it's not required). The week's events run Wednesday through Sunday as follows:
Waterfront 2020
Wednesday, March 5
5.30pm-8.30pm
Seattle Center, Fischer Pavillion
Art, Design & Play: Liane Lefaivre
Friday, March 7
6pm-8pm
Seattle Art Museum, Plestcheef Auditorium
Art, Design & Play: Ideas from Around the World
Saturday, March 8
10am-4pm
Seattle City Hall, Bertha Knight Landes Room
Field Day
Sunday, March 9
10am-4pm
Hillclimb Plaza across the street from the Seattle Aquarium

Stephen is a professional urban planner in Puget Sound with a passion for sustainable, livable, and diverse cities. He is especially interested in how policies, regulations, and programs can promote positive outcomes for communities. With stints in great cities like Bellingham and Cork, Stephen currently lives in Seattle. He primarily covers land use and transportation issues and has been with The Urbanist since 2014.