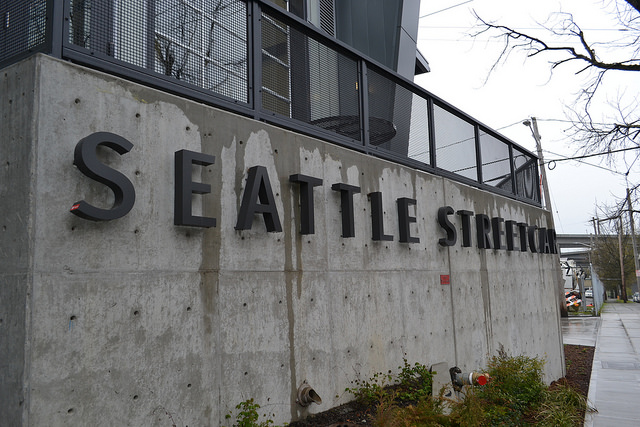 The Seattle Streetcar Maintenance Facility is a newly completed LEED-certified building in the International District that will soon provide operations, maintenance, and training space for King County Metro employees. Streetcar vehicles will access the facility on 8th Avenue South via a single track connecting to the mainline on Jackson Street with the opening of the First Hill line later this year. The building is located in the City-owned maintenance yard between Dearborn and Charles Streets.
YPT Seattle had the opportunity to take a tour last week with the City of Seattle and has shared the photos below to provide a closer look inside this exciting facility.
All photographs are by Nathan Barnett, YPT Seattle Chair for Administration.
Young Professionals in Transportation is a national organization that aims to provide professional development opportunities, fellowship and networking events for young professionals. The YPT Seattle Chapter is designed for everyone that is involved in the transportation sector, including transportation and land use planners, engineers, architects, landscape architects, advocates, and policy makers both in the public, private and nonprofit sectors. This cross discipline focus complements existing professional groups, bringing professionals with multiple perspectives together in a way that is different from discipline-specific groups.