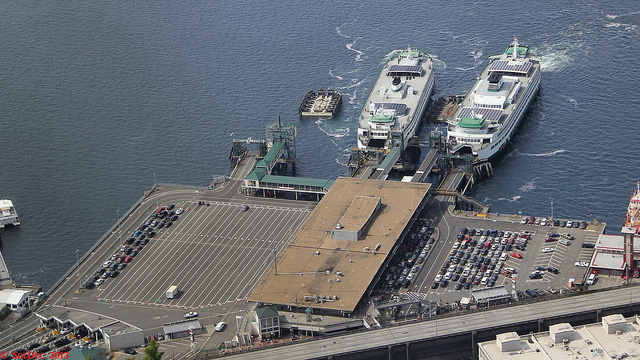 Washington State Ferries is planning upgrades to the Seattle Ferry Terminal, also know as Colman Dock. The existing terminal is outdated, as it was built in the 1960s and last expanded in the early 1990s. The original part of the dock, which is made of unsafe creosote timber trestle is getting replaced. The terminal building is getting completely rebuilt in order to provide more efficient operations for an ever-growing number of walk-on passengers. The passenger-only facility used by the King County Ferry District will receive new access from the main terminal and the Marion Street pedestrian bridge.
The Environmental Assessment was released in mid-April, and now the Washington State Ferries is asking for public input. You can provide you own during the many events organized in the upcoming weeks or submit comment online.
Puget Sound Regional Council (Board Room)
Monday, April 28
1011 Western Avenue, Suite 500, Seattle
4pm–6.30pm
Colman Dock – Main terminal building
Tuesday, April 29
3.30pm–6pm
King County Water Taxi Waiting Area (Pier 50)
Thursday, May 1
3.30pm–6pm
Bainbridge Terminal Building
Monday, May 5
4pm–7pm
Bremerton Terminal Building
Tuesday, May 6
4pm–6pm
Guy is a high school student in Bellevue with a strong desire to become an urban planner. Before moving to Bellevue, he grew up in the Paris metropolitan area where he fell in love with and learned from some of the best rail systems in Europe. Translating his experiences from abroad to Seattle, Guy is now passionate about improving this region's public transit (especially marine-based transportation) and cycling infrastructure. Aside from the technical side of things, Guy also enjoys photography and music.