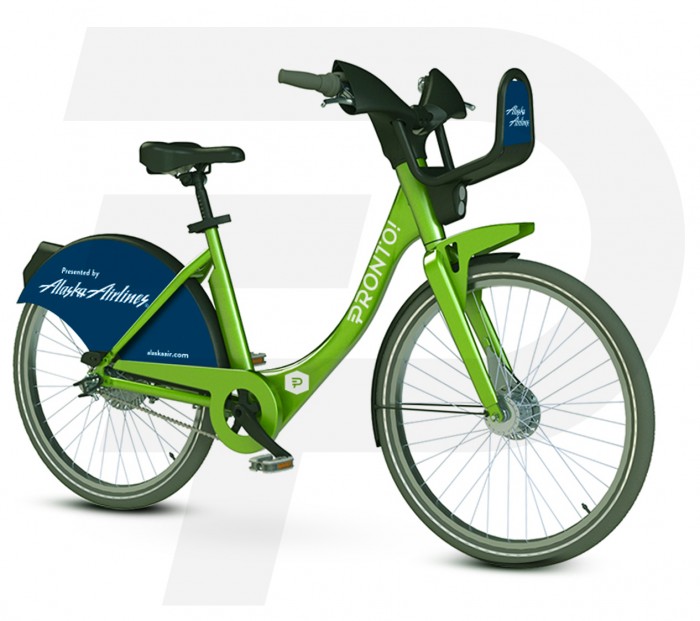 We've been anticipating the launch for the Puget Sound Bike Share (PSBS) for quite some time now, and we still have a while to go yet. But, yesterday we learned some great news from PSBS: the new name of the bike share system and the official sponsor. So, we'd like to welcome you to Pronto! Emerald City Cycle Share presented by Alaska Airlines. Yeah, that's a mouth full, so we'll just go with Pronto!. In a few short months, we will be seeing green and blue bikes with flashy Alaska Airlines fenders peddling around town.
Alaska Airlines' contribution to the program isn't chump change. Over five years, the city's flagship airline will contribute $2.5M to help fund the bikes. But it isn't just Alaska that has stepped up to get this bike share off the ground. Many other companies in the Puget Sound have put their money where their people are. We think this bodes well for future efforts to expand the program beyond the Phase I launch area.
Phase I is scheduled for a September launch, just in time for back-to-school. The initial system will rollout 500 bikes and 50 docking stations across Downtown, Capitol Hill, First Hill, South Lake Union, Seattle Center, Eastlake, and the University District. Last month, we wrote about how you could get involved in picking docking station locations. You still have an opportunity to do this by dropping pins or +1ing the suggestions of others for docking station locations in a simple-to-use crowdsourcing map.
The basics
The new Pronto! website gives plenty of answers to basic questions about the program. In brief, this is what we think you should know:
Cost and time. The program will have three ways in which you can rent the bikes: a 24-hour day pass for $8, 3-day pass for $16, and annual membership for $85. All three pass types come with unlimited 30-minute bike usage. Riders are encouraged to make short bike trips and drop off their bike at a convenient docking station near their destination within this 30-minute usage period. Once you drop off a bike, you can always pick up another if your journey requires it. However, if a rider chooses to exceed 30 minutes of "free" ride time, the rider will be subject to additional fees based upon time (that fee schedule has yet to be released).
Docking. Docking is usually a cinch. Pickup and return of bikes is fairly simply, but depends upon whether you hold a 1-day/3-day pass or membership. Pass holders manage their checkouts of bikes at the docking station kiosk while members have a handy dandy key fob. Occasionally, docking stations may be full, which can be frustrating when you want to return a bike. Luckily, Pronto! will give you a 15-minute time credit if you request it at the kiosk of the full docking station. You can then ride to the nearest one with available docking ports.
Safety. Helmets are required safety gear for cyclists within the corporate limits of Seattle. Pronto! offers rental helmets at docking stations for $2 per use. That seems pretty steep if you're riding a lot, so it may be wise to bring your own or invest in one! (Or you could always be a rebel, but we're not recommending that…) In the event of a serious accident, the Seattle Police Department will return the bike on your behalf (because we know you were so concerned about that).
Technology. Yes, there will be an app for that! Cities all over the world have real-time apps that let you know where the closest bike is, how many bikes are available, and where you can return a bike; Pronto! will be no different. We hope to see an app similar to the one from the Capitol Bikeshare (as pictured above), which has some cool features like predictive bike supply and trends at individual docking stations. We're also certain that there will be a web-based version to help you make your pickups and drop-offs seamless.
If you're interested in getting updates on the rollout and future registration, be sure to get on the Pronto! e-mail list. As things move along, we'll also keep you posted. Happy Bike Month!

Stephen is a professional urban planner in Puget Sound with a passion for sustainable, livable, and diverse cities. He is especially interested in how policies, regulations, and programs can promote positive outcomes for communities. With stints in great cities like Bellingham and Cork, Stephen currently lives in Seattle. He primarily covers land use and transportation issues and has been with The Urbanist since 2014.