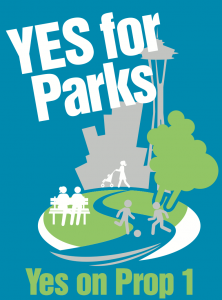 This primary election, Seattle voters will answer a question: do we believe that parks and community centers are an essential service, and a priority to receive stable, long-term funding?
It's a simple question, and a simple "yes" or "no" answer. Seattle Proposition 1 is presented to voters under the predication that yes, in fact, we believe that clean, safe, welcoming parks are a necessity for a growing city. That community centers must be open when they are needed, and receive equitable funding to do the same–not the pay-for-play that we see now. That affordable and relevant programming for youth keeps kids out of trouble, programs for seniors ensure folks can remain active with lifelong recreation, and programs for people with disabilities ensure all residents of our city can participate in making our communities great!
The Seattle Park District is a funding mechanism that dedicates revenue to parks in Seattle, with a focus on addressing the major maintenance backlog, putting in place measures to help in avoiding deferred maintenance in the future, and bringing community center hours and programming as close to 2008 levels as possible. By levying a property tax increase of less than 1%, Proposition 1 puts Seattle in a position to engage in long-term planning, while also being able to respond to immediate needs–things that levies, frankly, do not allow.
The opposition campaign has mastered the fine art of scare tactics. Talking about building landing strips at Cal Anderson Park. Telling people that they will no longer have a vote if there is dedicated funding for parks in Seattle (missing out that the Seattle City Council is not an appointed body). Yammering on about how residents in Seattle just can't trust our elected officials, or government at all. These tea-party talking points and support for Eymanism (putting essential service budgets up for a vote–funding cities a la carte) is unfortunate. The untrue statements and misrepresentations would be astonishing–until you see that the opposition campaign is funded, in large part, by anti-transit and Republican donors, while utilizing a GOP consultant.
As examples, the biggest contributor is Faye Garneau, at $17.5k, who also was a giver to the No On Transit campaign and recently Forward Seattle. Other notable contributors include Jim Coombes (who gave hefty amounts to Eyman's Permanent Offense group), Fremont Dock Co. (a regular opponent of completing the Burke-Gilman missing link) and Glenn Avery (also their treasurer), who is the chair of the 36th District Republicans. Combined, these folks alone are 59% of the $37k raised. Their consultant has been Sharon Gilpin, who works with Republican candidates and conservative business interests, and has also been a donor to Eyman causes.
But let's look at the proposition: Seattle Proposition 1 adopts a series of recommendations made by a group of fifteen Seattle citizens. We came together to look at the revenue structural challenges that we were facing as a city–in light of the Eyman 1% rule and the 2008 recession–and what would be the best option to ensure we left a legacy of clean, safe, welcoming parks that were well cared for, and community centers and programs available to all residents. We looked at levy lid lifts–short, long, and permanent term, a soda tax, a sugar tax, impact fees, and metropolitan park districts, among other, more regressive revenue ideas. Following months of intense work, looking at the needs of our city, and the reality of revenue expectations in light of the State Legislature limiting our options, the best option was a Park District–something even the Municipal League of King County agreed on.
Park levies–like most levies in Seattle–are designed to be capital in nature. From expanding the park system to replacing playgrounds, a levy lid lift is not meant for operations. Washington has a tool to get us out of that cycle, and instead allow Seattle to shift gears and focus on the unglamorous, unsexy needs of parks–boilers, roofs, comfort stations (bathrooms). Providing funding for community centers and affordable recreation programming for all residents. While at the same time being prepared to move the city forward and grow our system in a smart way with growth patterns. The Seattle Park District is that tool.
The opposition campaign against long-term, stable funding for parks in Seattle come to the table with no solutions. The best they come up with is to start the Seattle process all over again, and hope for a different result. Hope that the next group will capitulate to their demands, while ignoring the actual needs of kids in South Park, families in south Beacon Hill, new residents in Lake City, or seniors in Bitter Lake. Ultimately, they just don't believe that our elected officials should have the tools necessary to actually govern, instead believing that micromanaging budgets by the ballot box is somehow a good idea.
The Stranger summed it up nicely: "[T]his is how the democratic process works: We elect leaders who set taxes and build budgets and fund infrastructure, and when they [mess] it up, we vote them out. Vote 'for.'"
Michael Maddux was a member of the Parks Legacy Plan Citizen Advisory Committee. He currently serves on the Parks & Green Spaces Levy Oversight Committee, chairs the Endorsements Committee for the King County Democrats, and is a little league umpire. He lives with his daughter in the Eastlake neighborhood of Seattle.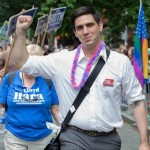 Michael Maddux is a former Legislative Aide/Policy Researcher for Seattle City Councilmember Teresa Mosqueda, and a longtime housing and homelessness advocate.