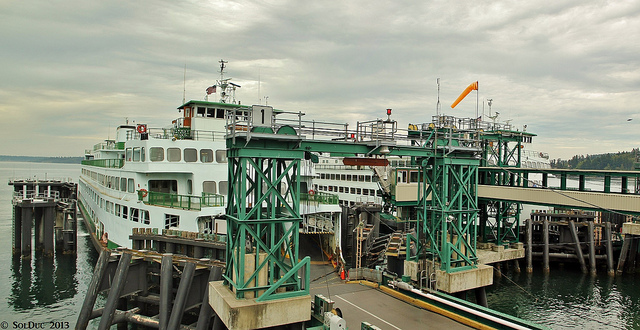 After years of work, Washington State Ferries (WSF) has announced that it will start reservations for vehicles on the Anacortes to San Juans route with the winter 2015 schedule (January 5, 2015). Reservations will be available from Anacortes to all four islands (San Juan/Friday Harbor, Orcas, Lopez, and Shaw) as well as from Friday Harbor and Orcas to Anacortes.
Lopez and Shaw don't have the necessary facilities to handle reservations (staffed tollbooths or terminal personnel), so vehicle space will still be available only on a first come-first served basis. Reservations also will not be available for inter-island traffic. However, reservations already exist on that same routes for commercial vehicles, as well as for all types of vehicles on the Port Townsend/Coupeville (Keystone) and Anacortes/Sidney B.C. routes.
For many, this means the end of long lines on Fridays and Sundays, and more time to spend on the islands. In the summer, waits can range anywhere from one hour to five hours, creating a huge barrier to tourism on the islands. Providing reservations will help the economy on the islands and garner higher customer satisfaction. This will also result in reduced emissions and queuing on local roads. Reservations are a great step forward in improving ferry service to the San Juans without actually getting more ferries out on the water.
Guy is a high school student in Bellevue with a strong desire to become an urban planner. Before moving to Bellevue, he grew up in the Paris metropolitan area where he fell in love with and learned from some of the best rail systems in Europe. Translating his experiences from abroad to Seattle, Guy is now passionate about improving this region's public transit (especially marine-based transportation) and cycling infrastructure. Aside from the technical side of things, Guy also enjoys photography and music.