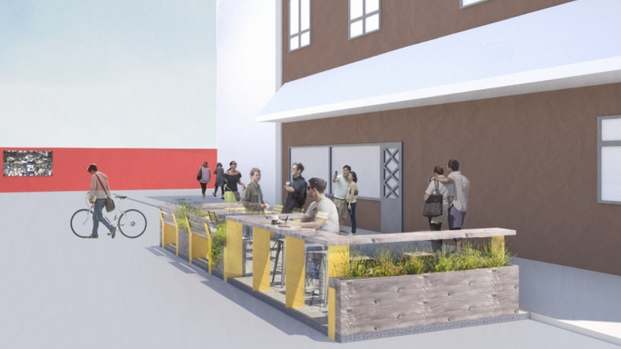 We're big fans of the University District Parklet project and we're happy to report that it's now fully funded. For those unfamiliar with the project, the ~240 square foot parklet will be located on NE 43rd Street and the corner of University Way NE. The location couldn't be much more prime in the University District given its proximity to the retail and restaurant core, university, and local transportation services. The addition of a little more green and usable public space for visitors, employees, and residents alike will go a long way in a neighborhood that deeply needs more options for outside space to socialize, work, sit, eat, and relax.
As we reported earlier this month, folks from the U District Square (UDS) launched a Kickstarter campaign to fully fund the project. The Seattle Department of Neighborhoods had already kicked in a grant for $8,000 to help fund the project, but the rest was up to the community. The goal by UDS was to reach $6,000 in donations by October 24th. And, they surpassed that goal by a healthy $500.
On Friday, the U District Square group released a project update saying:
With over a hundred backers, we surpassed our fundraising goal on Kickstarter and just raised $6,500 to complement the funding we received this summer from Seattle's Department of Neighborhoods. The U District's first parklet is now funded and may proceed…

Next steps will be to begin fabrication of the custom elements of the parklet for on-site assembly on NE 43rd Street at the Ave, in the U District of Seattle. If you wish to join us for community construction day, be sure to sign up for updates on the parklet. Then be sure to come visit the parklet once launched for a coffee, lunch or ice cream.
With a $14,000 budget, beating their goal by $500 isn't exactly huge, but it does secure the project. Hopefully with a bit of extra float in the budget, UDS can rollout a few additions to the project like more planters boxes to expand the public space around the parklet or choose superior materials and features for the parklet. The community construction day will take place in November with the parklet fully usable by December. If you're interested in helping out, get in contact with UDS.

Stephen is a professional urban planner in Puget Sound with a passion for sustainable, livable, and diverse cities. He is especially interested in how policies, regulations, and programs can promote positive outcomes for communities. With stints in great cities like Bellingham and Cork, Stephen currently lives in Seattle. He primarily covers land use and transportation issues and has been with The Urbanist since 2014.