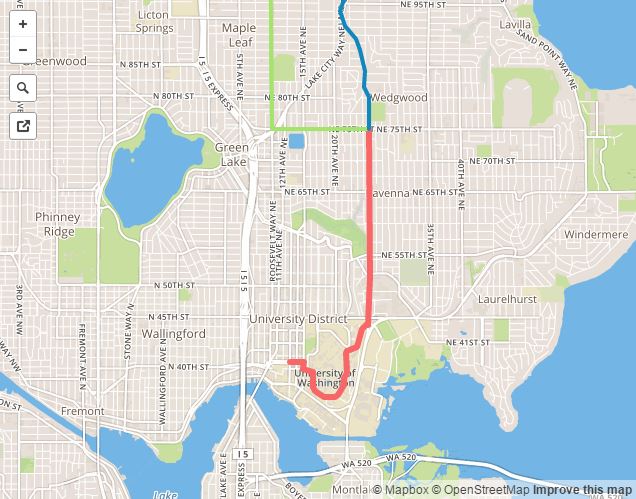 25th Ave NE is a minor North-South arterial in North Seattle that links University Village with Lake City Way. The street is being used by Metro routes 372 and 68. Route 372 links UW with Lake City, Kenmore, Bothell and Woodinville along a direct route along 25th Ave NE and SR 522. Route 68 links UW with Northgate via 25th Ave NE, NE 75th St, Roosevelt Way NE, NE Northgate Way and 5th Ave NE. Frequency on each route is 30 minutes on weekdays, with additional runs during peak hours. Route 372 combines with Sound Transit route 522 between Lake City and Woodinville to provide 15-minute headways while route 68 does not combine with any other route.
Both routes are high-performing, with route 68 having a ridership of 2,300 riders daily and route 372 5,300 riders a day (in 2013).
The Vision
Today, the combination of both routes gives very uneven 10-20-10-20 minute headways. In order to provide frequent 15-minute service, route 68 trips would need to be modified to depart each terminal about 5 minutes later. Route 372 would also need to be modified in order to serve two additional stops each way on 25th, at NE 65th St and NE 70th St. Adding these two stops to route 372 would only add seconds to each trip, but serve more riders (especially those heading to or from Lake City, which cannot use the 68).
The result would be service at least every 15 minutes between UW and NE 75th St from 6am to 6pm on weekdays, adding 2.8 miles of bus lines to the Seattle frequent transit network.
| | | | |
| --- | --- | --- | --- |
| | 68/372 Combined | 68 | 372 |
| Off peak | 15 | 30 | 30 |
| Peak | 7.5 or better | 15 | 9-15 |
| Evenings | 30-60 | – | 30-60 |
| Saturday | 30 | 30 | – |
| Sunday | – | – | – |
Benefits
Not only would this provide frequent service between the Ravenna Neighborhood and UW, but it would also make for a relatively easy transfer to University Link at UW with a new bus stop at Rainier Vista and Stevens Way. This would connect Ravenna with Downtown, Capitol Hill or anything along Link with easy to understand, frequent transit. For those that are not able to walk the .2 miles to UW Station, a same stop transfer to routes 71/72/73 would still be available on Campus Parkway.
Potential Enhancements
Adding Sunday service on the 68 would go a long ways towards making the corridor usable every day, since there currently is no Sunday service. Half-hourly evening service on both the 68 (starting from scratch) and the 372 (adding a couple trips) would also increase the span of frequent service on weekdays. Adding evening service on the 68 on weekends would also improve the utility of the corridor. And all of the improvements could be done using money from extra service hours from Prop 1.
Ridership does not yet indicate the need for frequent service on weekends, however if it grows (as is expected on a direct, frequent corridor), service could be improved to 20 or even 15 minute frequencies.
Road Diet
Separately from the frequent service project, a road diet should be considered for 25th Ave NE. The streets  currently has two lanes in each direction with one being a parking lane except during rush in the peak direction (southbound in the morning, northbound in the afternoon). However, the street only carries about 12,000 vehicles per day, which is below Seattle's threshold for a Road Diet.
A good fit for the road would be narrower lanes (10 ft instead of 11-12), one per direction, a center turn lane, a parking lane on one side of the road (possibly alternating) and wider sidewalks. The parking lane would be replaced with a bus bulb (a curb extension for buses to stop in-lane) at bus stops. Bicycling infrastructure is not included because the bike master plan identifies 27th Ave NE as a better street for bike travel through the corridor, and plans to upgrade the street to a neighborhood greenway.
The road diet would be applied from Blakeley Street (Burke Gilman Trail) to NE 75th St. The street sees higher traffic and lower parking demand south of Blakeley and is already a complete street north of NE 75th.
Guy is a high school student in Bellevue with a strong desire to become an urban planner. Before moving to Bellevue, he grew up in the Paris metropolitan area where he fell in love with and learned from some of the best rail systems in Europe. Translating his experiences from abroad to Seattle, Guy is now passionate about improving this region's public transit (especially marine-based transportation) and cycling infrastructure. Aside from the technical side of things, Guy also enjoys photography and music.