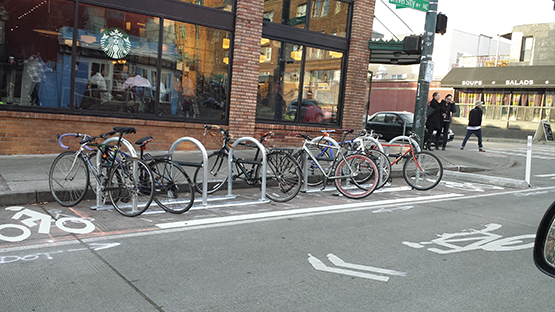 As part of an effort to promote cycling in Seattle, the Seattle Department of Transportation (SDOT) is offering free bikeracks to city property owners. Commute Seattle says that the end of the application period is rapidly approaching with January 31 being the last day.
Through its City's Bicycle Program, SDOT will install 50 public bicycle parking racks near buildings with high demand for bicycle parking at no cost to property owners.  If you're interested, just fill out this simple request form. The city will prioritize locations that are bound by Transportation Management Plans (TMPs) and/or those that participate in the city's CTR program, and who do not currently have public bicycle parking at their building. For more info about public bicycle parking, including examples of bike racks, see SDOT's Bike Parking Page. All racks associated with this program will be installed no later than June 2015.

If you have questions, please contact Mark Melnyk at mark.melnyk@seattle.gov or (206) 684-5017.
Meanwhile, SDOT reports that performance testing of the future Czech-built streetcars is going well, especially for off-wire battery testing. Six new streetcars using this technology will serve the First Hill Streetcar Line from Pioneer Square to North Capitol Hill. Portions of the alignment, due to trolleybus wire conflicts, require that the streetcar go off-wire and instead use battery power to propel the vehicles. The opening of the First Hill Streetcar has twice been delayed with SDOT saying that operational service postponed at least until August.
The first performance tests of the new streetcars on order for the First Hill Streetcar line were completed in December. In addition to testing acceleration and braking, the performance tests featured off-wire operation powered by a rechargeable battery system, known as the On-Board Energy Storage System (OESS). When operating on the First Hill Streetcar line, the streetcars will be powered by the OESS on each inbound trip from Capitol Hill to Pioneer Square (2.5 miles). The batteries will be recharging whenever the streetcar is braking, and will also recharge on the outbound trip from Pioneer Square to Capitol Hill, while being powered from the overhead wires (known as the Overhead Contact System, or OCS).

Streetcar battery drive testing in the Czech Republic, courtesy of SDOT.

Initial tests were performed on a test track at the factory where the first streetcar was completed in the Czech city of Ostrava. The streetcar operated off-wire for 3 miles, using 25% of the battery capacity of the OESS. Subsequent tests were performed on the Ostrava streetcar system. This allowed for uphill and downhill operation and simulation of traffic conditions that may be encountered in Seattle. During this testing, the streetcar operated on battery drive for distances as great as four miles and durations as long as 37 minutes. The testing also demonstrated that batteries recharge rapidly from regenerative braking and during operation on the OCS.

The test results indicate that the OESS will be more than adequate for the requirements of the First Hill line, and can also be used for significant segments of the planned Center City Connector streetcar extension.

Stephen is an urban planner with a passion for sustainable, livable, and diverse cities. He is especially interested in how policies, regulations, and programs can promote positive outcomes for communities. With long stints in great cities like Bellingham, Cork, and Seattle, Stephen currently lives in Kenmore and primarily covers land use and transportation issues for The Urbanist.