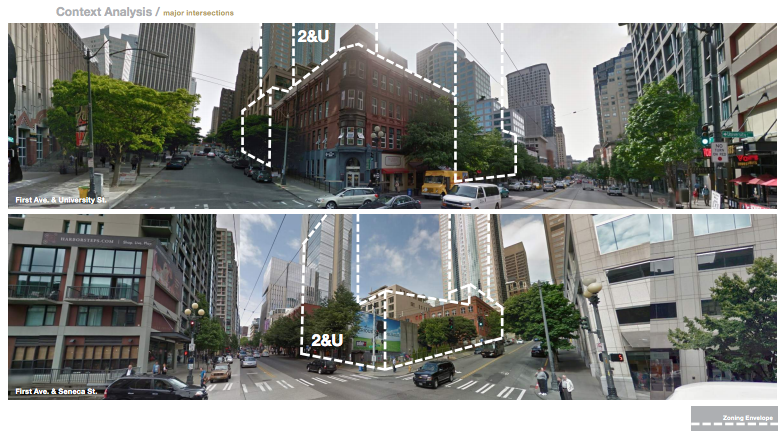 Seattle could soon be seeing another tree-like tower dot the skyline. Skanska USA, a large national development firm, has partnered up with the architects of Pickard Chilton to build a new 34-story skyscraper and podium structure in Downtown Seattle's West End. Called 2&U, the project will sit on three prominent corners between the streets of 1st Ave, Seneca St, 2nd Ave, and University St. But don't worry, the Diller Room and its humble brick building aren't going anywhere.
The developer hopes to create 690,000 square feet of new Class A office space and approximately 30,000 square feet of ground floor retail. While the street vacation of the alleyway is proposed, the developer plans to compensate for this by providing through-block pedestrian connections that would link University St and Seneca St in a diagonal fashion while other openings would be provided east of the Diller Room and on the corner of Seneca St and 2nd Ave. The project manages to achieve this by creating an open-air pathway and central courtyard on the site. Cantilevered above the open space, retail buildings, and pathways would be the towering office space. Think of it as a grandiose arcade.
Of course, the plaza space is not the only public-oriented feature. A new south-facing rooftop garden space would be accessible from paths snaking from the higher grounds of Seneca St and 2nd Ave, and the courtyard. The northeast, southeast, and southwest corners would all see landscaping and passive open space treatments to give some measure of breathing room for passerby, shoppers, and office workers.
The zoning for the site is a mix. The eastern half has the benefit of DOC1 U/450/U zoning (Downtown Office Core) with a maximum height 450 feet. The western half has a lesser zoning type of DMC 240/290-400 (Downtown Mixed Commercial). Given that the tower will be focused one the eastern half, the zoning of its western half is of little important. Downtown development regulation generally require separation of towers on the same block, so it wouldn't be possible for the developer to much more than they're proposing.
The developers have considered the access issues for the site well. All vehicular access to the development site has been focused on Seneca St. Those wanting to park can enter and exit the underground parking garage from this bi-directional street. Meanwhile, building services like truck loading and trash pickup will also be located in the same area. 500 parking stalls would be constructed on five floors of underground parking.
A suite of significant departures from code are proposed, with superior building design and user experience being the basis for the departures. One of the proposed departure consists of corner landscaping and deep building setbacks. Under the Land Use Code, a structure would normally be required to be have a smaller setback from the sidewalk. Other departures include reduced modulation and increased upper floor building width (no stepping back). However, the developer feels that features like these will enhance the quality of the overall structure by giving it a more earthy and shaped feel.
For all the good that this project may be, some really high quality masonry buildings will have to say goodbye to Downtown. The Galland Building stands prominently on the corner of University St and 2nd Ave. The building has a very attractive whitewashed facade and stands five stories tall. The building still serves as an office building. Meanwhile, the Seneca Building, a three-story retail building, is stellar example of red brick masonry common of the early 1900s. The beautiful blue transom and window box panelling will be sorely missed.
How To Get Involved
If you're interested in attending the community design review meeting for this project, you can do so tomorrow night. The Downtown Design Review Board will meet at City Hall in Room L280, located at 600 5th Ave. The 2&U design review meeting begins at 5.30pm. Alternatively, if you wish submit comments in written form, you can do so by e-mailing Garry Papers, Project Planner, at Garry.Papers@seattle.gov and the Department of Planning and Development (DPD) at PRC@seattle.gov.
For more design review materials and upcoming meetings, see DPD's design review page.

Stephen is a professional urban planner in Puget Sound with a passion for sustainable, livable, and diverse cities. He is especially interested in how policies, regulations, and programs can promote positive outcomes for communities. With stints in great cities like Bellingham and Cork, Stephen currently lives in Seattle. He primarily covers land use and transportation issues and has been with The Urbanist since 2014.