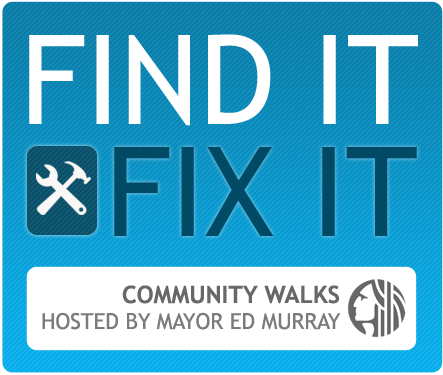 On Saturday, Mayor Ed Murray and other city officials will be in the University District for a community walk on February 21. Billed as a "Find It, Fix It" walk, Mayor Murray wants to meet members of the community and talk about ways that the neighborhood could be improved and get people in touch with the right departments in order to do that.
The Mayor first tried out the Find It, Fix It walking series this past summer after a string of deadly shootings rocked neighborhoods throughout Seattle. Local residents across Seattle have been able to express their concerns and desires to the Mayor on these walks by discussing a wide array of issues such as crime hotspots, the need for new crosswalks and trash cans, broken sidewalks, or just fixing the streetlights. The response to these community walks has been very positive.
Here's the planned route for this week's walk:

You can join this walk from 11am to 1pm on Saturday, February 21. The walk starts at at the corner of NE 45th St and Brooklyn Ave NE.

Stephen is a professional urban planner in Puget Sound with a passion for sustainable, livable, and diverse cities. He is especially interested in how policies, regulations, and programs can promote positive outcomes for communities. With stints in great cities like Bellingham and Cork, Stephen currently lives in Seattle. He primarily covers land use and transportation issues and has been with The Urbanist since 2014.