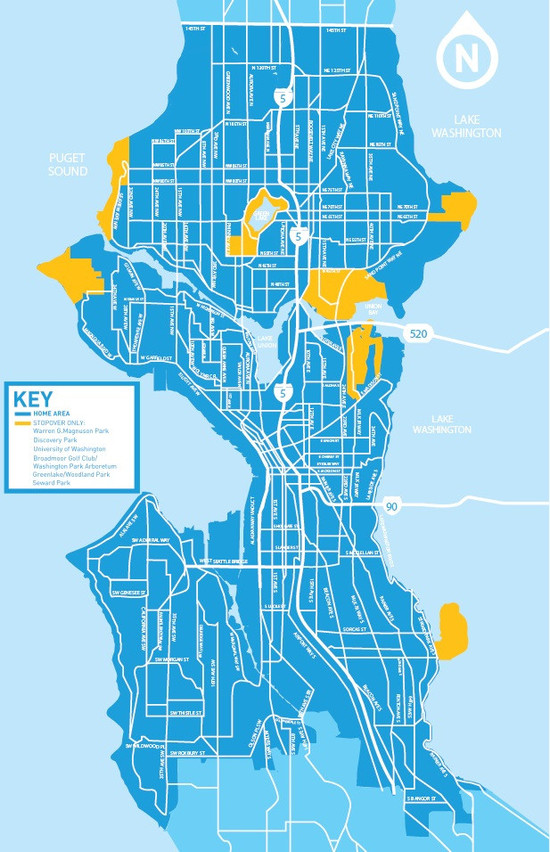 As of today, Car2Go has expanded their "home area" for Seattle. Back in January, the Seattle City Council approved new legislation regulating and permitting carsharing programs like Car2Go. The legislation did two key things for consumers and carshare operators alike: it increased the maximum free floating permit cap to 750 vehicles under one operator and required an operator to serve the entire corporate area of Seattle within 2 years from first permit issuance.
Before the legislation, Car2Go was capped at 500 free floating vehicle permits and only served portions of Seattle below 130th/125th Street in North Seattle and above Morgan Street/Sylvan Way/Dunmar Way in West Seattle, Michigan Street in SODO, and Orcas Street in South Seattle.
Today's expansion means that members will now see 750 vehicles in service–with 250 vehicles being added to the fleet quickly–and be able to freely travel throughout all of Seattle. Parking rules have also changed, which should serve Car2Go members even better. Car2Go members can continue to park in non-restricted and Restricted Parking Zones, but the big change is in time-limited spaces. Members can now park in 1 hour maximum spaces as long as they don't come with restrictions like "Bus Lane 3PM-6PM", "Commercial Loading Zone", "30 Minute Passenger Load Only", or other special restrictions.
For those living a car-free or car-lite lifestyle, Car2Go's service area expansion should be welcome news.

Stephen is a professional urban planner in Puget Sound with a passion for sustainable, livable, and diverse cities. He is especially interested in how policies, regulations, and programs can promote positive outcomes for communities. With stints in great cities like Bellingham and Cork, Stephen currently lives in Seattle. He primarily covers land use and transportation issues and has been with The Urbanist since 2014.