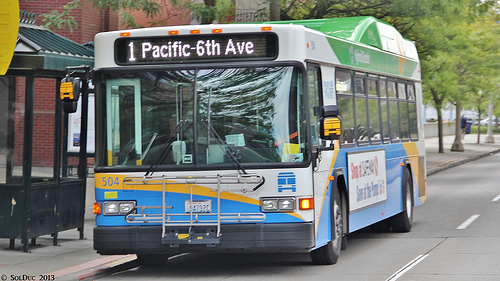 On March 9th, Pierce Transit's Board of Commissioners approved a new budget that will increase service hours across the Pierce Transit bus network. 12,000 hours are being added in addition to the previously approved 4,000 new hours for 2015. This will net a total of 16,000 of new service hours that will restore some evening and weekend service that was lost during the economic crisis. Pierce Transit intends to boost weekday frequency on Routes 1, 402, and 500 while also combining two routes (Routes 204 and 410) into new Route 4. The new services will go in effect on June 7 with the summer service change.
Rick Talbert, Pierce County Councilmember and Chair of the Pierce Transit Board of Commissioners, highlighted the significance of the changes saying that: "Nearly every Board meeting we hear customers testify that they can get to work on our buses but cannot get home because they don't run late enough. While this is modest growth in service hours, it does begin to address the challenges our customers face every day."
Pierce Transit was able to add 12,000 service hours due in part to rising sales tax revenues, but also by eliminating three vacant positions and a capital project. In this round of service increases, there is a strong emphasis on the weekend, evening, and frequency investments because of high customer requests for these improvements. Network expansion will not be a feature of this service change. In total, 16 Pierce Transit routes (of 40) will receive increased weekend services. Weekday frequency increases will be focused on Route 1, 402, and 500.
New Route 4 is a combination of today's Routes 204 and 410. Both of these routes run along E 112th St with Route 204 operating between the Lakewood Transit Center and the Parkland Transit Center, and Route 410 between Pierce College and the Parkland Transit Center. The new route will not make the deviation to the Parkland Transit Center. Instead, it will continue along E 112th St to provide one-seat ride along the length of the corridor. With service improvements across the network, this should still make make transfers a viable option to routes like the 1, 45, and 55.
Route 425 (aka the "Puyallup Connector"), which runs from Downtown Puyallup to South Hill, will become a permanent route. Previously, the route was established as a 12-month demonstration route offering frequent, daily service along its corridor. This service will continue to provide a seamless connection to key employment centers just beyond the mall and south of the city center while also giving great access to key connecting transit services.

Stephen is a professional urban planner in Puget Sound with a passion for sustainable, livable, and diverse cities. He is especially interested in how policies, regulations, and programs can promote positive outcomes for communities. With stints in great cities like Bellingham and Cork, Stephen currently lives in Seattle. He primarily covers land use and transportation issues and has been with The Urbanist since 2014.