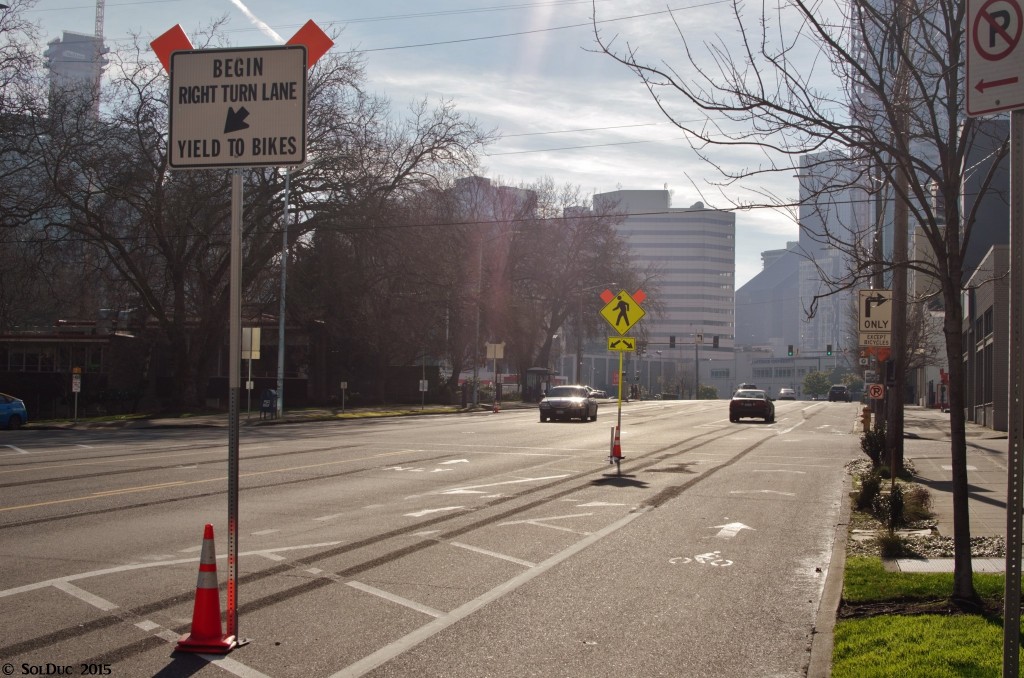 The protected bike lane built by the City of Seattle on Dexter Ave in South Lake Union (located between Republican Street and Denny Way) has created a challenging situation for parking despite the best of intentions. The parking lane is now further away from the curb while the bike lane is immediately next to the curb. The opposite is true on many other Seattle streets where parking is next to the curb and bike lanes are sandwiched between parked cars and traffic lanes.
When installing the Dexter Ave bike lane, the City did not place plastic posts between the bike lane and the parking lane. This makes it very unclear as to where the bike lane is, which has led to some clashes between cyclists and drivers. It has also led to unnecessary delay for bicyclists (I personally stopped and told four drivers that they were parked in the bike lane on Sunday afternoon).
Even though the City has installed signs telling drivers where to park, the signs are quite small. Add to the fact that the bike lane is essentially the same width of the parking lane and has small bike lane markings (see photo above), it naturally makes it hard to discern from any other parking lane. Drivers shouldn't always be blamed for their mistakes due to this unclear signage and redesign of the right-of-way. The Seattle Police Department has said that they will insist more on enforcing the rules of the road, but most people in this case do not actually think that they are doing something wrong. Fixing the design of the bike lane and street will help to ensure that most people park in the correct place.
Separating the bike lane from the parking lane with plastic posts (sometimes referred to as "bollards") will make it clear that people driving are not supposed to cross it and park in the bike lane. This system doesn't always work out — some people still manage to park in the bike lane on 2nd Ave and Broadway — but putting up plastic posts will keep 99% of parking offenders where they should be, thus making the bike lanes actually protected. It should also be mentioned that the Dexter Ave bike lane is intended to be protected by parked cars, but since the road has such a low parking utilization rate, the lane isn't adequately protected most of the time. Adding posts would solve this problem as well.
Guy is a high school student in Bellevue with a strong desire to become an urban planner. Before moving to Bellevue, he grew up in the Paris metropolitan area where he fell in love with and learned from some of the best rail systems in Europe. Translating his experiences from abroad to Seattle, Guy is now passionate about improving this region's public transit (especially marine-based transportation) and cycling infrastructure. Aside from the technical side of things, Guy also enjoys photography and music.