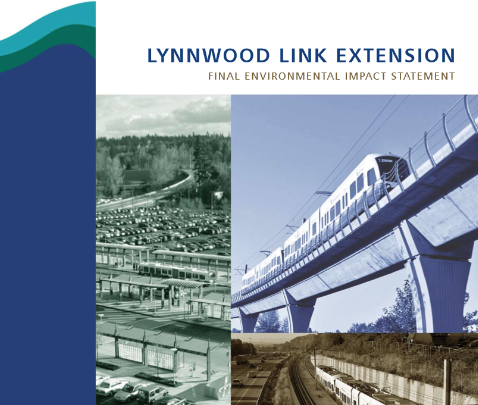 Now that Lynnwood's FEIS has been published, transit nerds can get a look at the likely outcome for station locations, cost and alignment. Here are the big takeaways:
Segment A (Preferred Alternative)
Two stations at NE 145th and NE 185th – 130th station would be an addition.
Estimated 2035 ridership of 12,600 – extra 400 riders if 130th is added.
Mixture of elevated and at-grade alignment on the east side of I-5.
Cost: $730-$840 million (2014 dollars) + $30 to $50 million more for a third station
Segment B (Preferred Alternative)
One station at Mountlake Transit Center – 220th station would be an addition.
Estimated 2035 ridership of 5,100 – extra 200 riders if 130th is added.
Mostly elevated with an I-5 cross over south of the Community Transit park and ride at Mountlake Terrace.
Cost: $450-$510 million (2014 dollars) + $50 million more for 220th St station.
Segment C (Preferred Alternative)
One station at Lynnwood Park-and-Ride
Estimated 2035 ridership of 17,900 – minus 500 riders if optional stations in Segments A and B are added.
Mixture of elevated and at-grade alignment on the west side of I-5.
Cost: $450-$510 million (2014 dollars)
The preferred alternative would have total costs of $1.5 to $1.7 billion (assumed 2014 dollars).
Here are the biggest quotes regarding 130th station:
Among the station pairing choices, alternatives featuring a NE 130th St station as part of a three-station configuration in Segment A (A5, A10 and A11, and an option for the preferred alternative) rather than two stations (preferred alternative, A1 and A3) would have more access points but longer travel times and higher costs. Three stations could add about 400 daily boardings in Segment A because some users in north Seattle would find the NE 130th station more convenient to use than the Northgate Station. While this is an increase in project ridership, it would not increase overall Link system ridership. Any three-station pairing would have about the same ridership and effects as any two-station combinations.
The NE 130th St station (A3, A7, A10 and A11) would not appreciably increase environmental impacts or ridership compared with alternatives that do not include this station; it would mostly attract riders who would otherwise use the NE 145th or Northgate Stations. While the NE 130th St station would increase costs, it could be paired with either a 145th or 155th St station with little difference in other effects.
But there is hope for 130th and 220th!
Project costs were major considerations for the Sound Transit Board when it identified a Preferred Alternative for the FEIS, which included four stations out of a possible six. However, the Board also requested further study of two stations as options for the Preferred Alternative.
But then there is the current financial plan that still puts the two additional stations in jeopardy:
Sound Transit's financial plan currently includes $1.322 billion for this project (as indicated in Sound Transit's 2013 Transportation Improvement Program). Additional funding or cost reductions (including those that may be found through advanced design to reduce risk assumptions and related contingencies) would be needed for all of the alternatives.
ST2 was a $17.8 billion system expansion. Unfortunately, the Great Recession required Sound Transit to reduce their revenue forecasts through 2023 by 30%. That is probably why the current 2013 fiscal plan is $1.322 billion with the preferred alternative being $1.5 billion on the low end. With a greatly improved economy in the Central Puget Sound region, perhaps new forecasts will show more optimistic revenue collection. Our booming economy might just help get those stations on the final design as we march closer to 2023 and full ST2 build-out!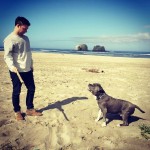 Caelen is a third generation son of Ballard. When he was in high school, his parents moved the family out to beautiful Bainbridge Island where he found himself missing urban life--homesickness for Seattle continued on into his college pursuits. Classically trained in structural engineering with an emphasis in earthquake design, he loves steel, glass, and concrete. He primarily writes about Ballard land use (hopefully home to future TOD) and Sound Transit packages, both emphasizing long-range planning.