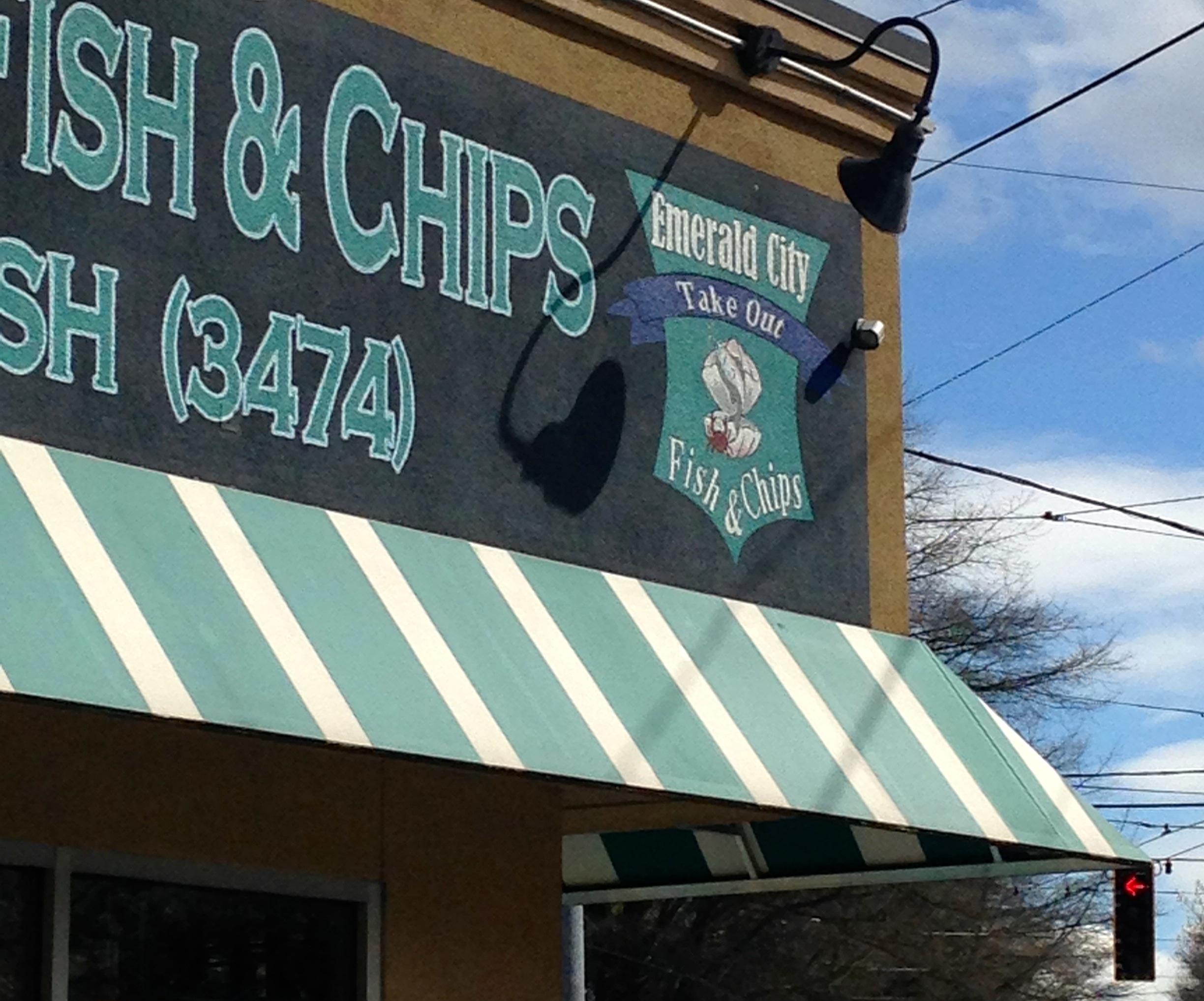 The stop has no number written on the outside. It's exposed. But on this day, this Saturday afternoon, the weather is fine. The sun breaks.
Two picnic tables are outside, southwest facing. They hope the sun returns so that they can be social again, meet new people. The tables. When the sun has a more forceful shine, they get all the activity that they can handle.
Once I walk in, I notice the late lunch crowd. Everyone is keeping to themselves in ones and twos. They do not look like regulars but they are trying the place out. They slow eat. Checking each piece like, 'Is this the one that might disappoint as so many other fried places?' Once the question is answered, I notice the people relaxing, speeding up. The pieces disappear from cardboard trays. They slow down now only to savor flavor or to enjoy the crunch of exterior and the soft of interior.
You purchase by the piece at Emerald City Fish & Chips. Fries. Slaw. What caught me was remoulade. Not tartar sauce. But remoulade. Right there, they sell me, on their stubbornness. Because they've probably got to tell people all day long what remoulade is and why they call it that instead of tartar. They've got to be patient about it, and dogged. That spirit of just a little bit different spreads to everything else for me once I see it. I start to read the Specials as special.
Frying is one of the most forgiving of the culinary arts but it too has its limits. Our cook knows this and so waits for each order. He fries on the spot. He cooks my short order quickly. Fish and chips. Crispy. My are they so!
While sitting at the picnic table, a truck from Blue Streak Towing pulls up. His got a big smile on his face. He is about to get that lunch, I presume, he postponed to answer that distress call for a failed battery, a flat-tire. I say hello and he returns mine with his own.
I can see my northbound Seven coming down. No need to panic or have to check the phone. Pretty regular is the Seven on a Saturday afternoon. It's only later, on a desktop screen, indoors, that I recognize the Stop number as 8360.