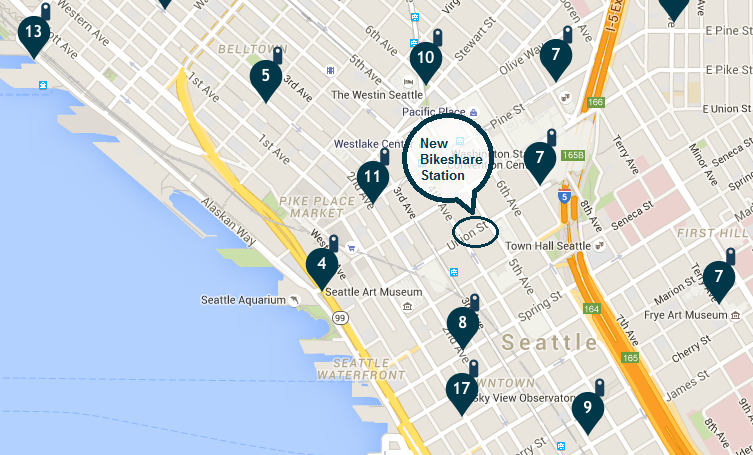 Pronto Cycle Share plans to open another bikeshare station tomorrow (July 22nd), this time in Downtown Seattle. The new bikeshare station will bring the network total to 53 stations. Pronto's new station will be located on the south side of Union St between 3rd Ave and 4th Ave. Earlier this year, Pronto made a number of Downtown station changes, including 2nd Ave and University St (Benaroya Hall) to 2nd Ave and Spring St and 3rd Ave and Pike St to 2nd Ave and Pine St. For many riders, the reshuffling of these stations resulted in longer walking distances within the Downtown office and retail core.
Yesterday, I spoke with Holly Houser, Executive Director of Pronto, to find out more about the new bikeshare station. Houser said that the station came about, in part, due to a "hole" in the Downtown network and extra bikeshare equipment on hand. Her organization approached the Seattle Department of Transportation's Street Use Division to identify the most suitable locations for a new station. Three preferred candidate locations were identified, including the Union St and 4th Ave location. Pronto staff also reached out to local businesses and property owners to gather feedback. According to Houser, there was strong support for the station from many nearby businesses for a new station in the area.
Pronto has exercised a site agreement with Wright Runstad, a local development and property management company, to locate the station on Rainier Square property. Wright Runstad holds an 80-year lease on the land and plans to redevelop the site in near future with the new Boot tower. Houser said that construction staging may eventually force a move of the bikeshare station down the road. If and when that happens, the bikeshare station will likely be redeployed a block south to University St and 4th Ave where site construction won't impact bikeshare operations. But in the interim, Pronto riders will find the station housed on Union St.
When the station goes live tomorrow, the online Pronto interactive map will reflect the new station location and real-time bike availability. This data will also be pushed out to apps that source their data from Pronto.
UPDATE: Installation has been postponed until Monday, July 27th.

Stephen is a professional urban planner in Puget Sound with a passion for sustainable, livable, and diverse cities. He is especially interested in how policies, regulations, and programs can promote positive outcomes for communities. With stints in great cities like Bellingham and Cork, Stephen currently lives in Seattle. He primarily covers land use and transportation issues and has been with The Urbanist since 2014.