As previously covered, the Lake2Bay Public Realm Study is investigating ways to create a quality pedestrian connection between the new waterfront, downtown, Seattle Center and Lake Union. After multiple public outreach efforts the Lake2Bay Coalition commissioned architecture firm Walker Macy to create a concept plan with specific proposals for each segment of the route.
There are five core segments: Bayside, Broad Street Terraces, The Center, Power Line, and Lakeside Landing.
Bayside
The Waterfront Seattle project today covers the right of way along Alaskan Way from Railroad Way to around Virginia Street. The area north of Virginia will receive a major overhaul after the current waterfront project is finished. There are, however, opportunities to improve the public realm in the interim without a large spend on a complete redesign. This proposal aims to achieve that:
Widened pedestrian space
2-way cycle track
Areas for cruise-ship & Clipper drop-off
Parking on the east side of the street
Multi-use trail with stormwater infiltration on the east side
There is also the possibility of new art to be installed on pedestrian bridges or as an interpretation of pedestrian crossings in the street.
Broad Street Terraces
Vehicle traffic on Broad Street has dropped since last year when it was permanently closed east of 5th Avenue North to accommodate the widening of Mercer Street. Previously, Mercer and Broad functioned like a one-way couplet as Mercer was eastbound-only and Broad predominantly handled the westbound traffic.
More changes are expected once the SR-99 tunnel is finished and the viaduct demolished. Elliot and Western will become the primary connection to the new Alaskan Way and less traffic is expected to use Broad to access Alaskan Way. The Lake2Bay Broad Street Mobility Plan forecasts the following traffic volumes:
Traffic drops are particularly significant near Elliot, 1st Avenue and Denny Way.
This enables us to reconfigure part of the right of way for more pedestrian oriented uses.
Wider sidewalks (yellow)
Gardens, stormwater infiltration, view terrraces and seating (green)
Bike lanes (blue)
Here's how it all fits together:
Note that a protected bike lane is provided only uphill as it presents the largest difference in speeds between motorized vehicles and bicycles.
The terraces are a particularly interesting feature as they practically extend Olympic Sculpture Park providing new seating areas with great views:
The Center
As mentioned above, traffic on Broad near Denny Way will see one of the highest relative drops. First the Broad Street triangle can be expanded to hold new interactive art that signifies the entry into Seattle Center:
And Broad Street east of Denny can be reconfigured to provide active civic space and bike lanes:

Furthermore the concept plan recommends installing art under the monorail tracks to make the space more inviting. Here's a sample of such art:
Power Line
Thomas Street connects the terminus of Broad Street at Seattle Center with Westlake Avenue and Terry Avenue, which serve as a final connection to Lake Union Park. It is already a designated Green Street and serves very low traffic volumes. Here is the proposed reconfiguration:
Part of the street borders a Seattle City Light sub-station. While the site does not naturally lend itself to activate it poses an opportunity for interesting art on the fence or even on the equipment if City Light agrees with it.
If City Light objects to any physical modifications to their equipment, they may still allow projecting different colors on their equipment at night which would also serve to create a very interesting space.
Lakeside Landing
Terry Avenue serves as the final connection to Lake Union and already has a separate concept plan in progress and mostly developed.
New suggestions from Lake2Bay for this area include:
Murals on blank facades where they exist (e.g. Opera building)
Pavement art to signify the connection to Lake Union
Actor's spotlight near opera as activation
A continuum of form and function
Each segment of the corridor is expected to have its own specific set of vegetation, pavement materials and street furniture that identifies it.
Next Event
Lake2Bay is also with architecture and design firm Framework on a plan for Belltown and Denny Triangle. The final presentation is on Thursday:
Belltown & Denny Triangle Connected Public Realm Plan
When: Thursday, July 23, 5-7pm
Where: Tilikum Place (Fifth & Denny)
Food will be available.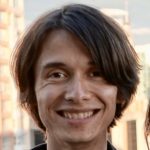 Anton has been living in the Pacific Northwest since 2005 and in Seattle since 2011. While building technology products during the day, his passion for urban planning and transportation is no less and stems from a childhood of growing up in the urban core of a small European city.