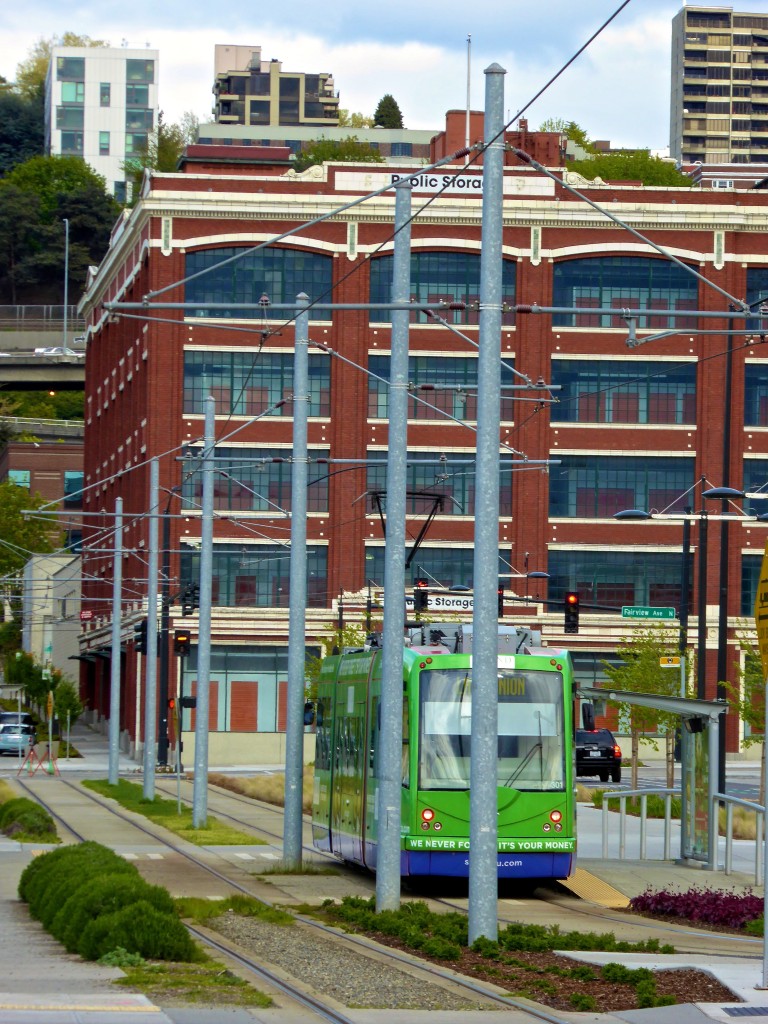 Questions and answers about accessing cities and neighborhoods once spoke the language of exit ramps, street widening and parking adequacy. Now, different conversations, and varied imagery, create diverse story lines, where urban policy and citizen activism converge. Photographs are one tool to illustrate the diverse meanings and examples of "access" to urban settings today.
Access now means many things—depending on context—including transportation modes; sustainability and the shared economy; public safety and particular approaches to community participation; and aspects of social equity.
The following photographs address a small cross-section of access examples. I have chosen to focus on my home city—Seattle—rather than a showcase of national and international illustrations. Even with only four photographs, a single-city focus shows a sampling of access challenges and solutions within one geographic area.
The Streetcar Mode Makes Neighborhood
The Lake Union Streetcar has evolved from a low-use ambassador for redevelopment of South Lake Union into a bonafide transportation mode between downtown Seattle and a mixed-use neighborhood. The Streetcar provides color, flair, and distinct contrast with new construction and adaptive reuse of pre-existing buildings. These characteristics offer a photographic symbol of transportation access and the virtues of mixed use in a rapidly changing city.
Shareable Movie Night in Madrona: Urbanism Without Effort
A sustainable city need not depend on governmental programming—or private, shared economy vendors—to rediscover the benefits of a neighborhood accessible to all. In a residential alley in Madrona every summer—premised only on a group email between neighbors, and innovative use of a driveway cut and a retaining wall—people gather for potluck food and a double-feature movie night. In an era of bucket-list, prescribed solutions, we often forget the strength of spontaneous community expression.
Public Safety Through Proximity on Pine Street
Redeveloping storefronts along Pine Street amplify the walk, and access, from Capitol Hill to Seattle's downtown core. Here, a literal version of Jane Jacobs' "eyes on the street" blends the public and private domains and enhances the pedestrian and restaurant experiences. This photograph shows how sidewalk activation becomes both "way" and "way-station".
Design for Equity Near MOHAI
Finally, in a new City park next to Seattle's recently relocated Museum of History and Industry (MOHAI), a well-used water feature, accessible to all, drives community. The linear water route provides a "here and there" for participants. Meanwhile, unpredictable water-jet timing provides a spontaneous adventure along the path.
This is a cross-post from myurbanist. Images composed by the author in Seattle. © 2009-2015 myurbanist. All Rights Reserved. Do not copy.