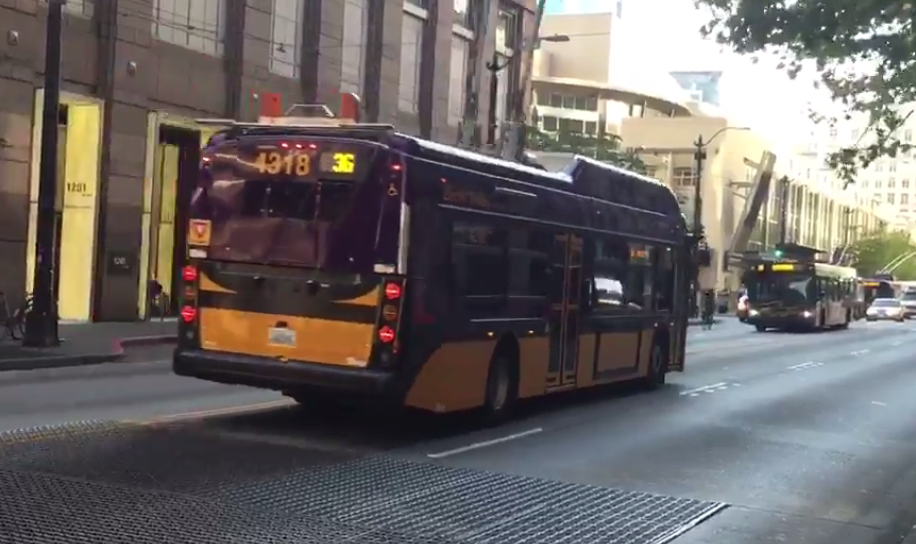 It's soooo pretty! New ETB!! @kcmetrobus @seattledot pic.twitter.com/iMGLH0SepH

— The Urbanist (@UrbanistOrg) August 20, 2015
Five new 40-foot electric trolleybuses are now rolling on the streets of Seattle, but more are soon to come. Their christening was marked by extensive fanfare by media and transit enthusiasts alike. The buses are greener, quieter, more roomy, and operationally better than their vintage counterparts. With all-electric capabilities, the buses are able to go off-wire for limited distances using onboard battery power. Electric trolleybuses make up a surprising amount of King County Metro Transit's daily ridership and network. Over 74,000 (20%) of Metro's 421,000 daily riders board a trolleybus, yet only 12% of the bus fleet consist of trolleybuses.
In total, Metro plans to deploy 174 new trolleybuses (110 40-foot buses and 64 60-foot articulated buses) to the network over the next two years. As buses are deployed, Metro will begin retiring older trolleybuses operating today. Metro is using New Flyer's current Xcelsior low-floor models similar to those seen on the Translink trolleybus network in Vancouver. In fact, way back in 2010, Translink let Metro borrow one of them for a day just to test out. Replacing the whole trolleybus fleet is estimated to cost around $186 million. The City of Seattle has agreed to purchase 14 of the buses as part of promised service increases under last year's Proposition 1.
While many long-time trolleybus riders are cheering the new air conditioning of the buses, I think the best new feature is the backdoor sensors. Passengers wanting to exit out the backdoors by touching the doors sensors. More importantly, the days of "BACKDOOR" screams on may be coming to an end on these buses (something I begged for last year). But the low-floor boarding and lack of pungent smells will also be welcome changes to passengers as well.
Until the weekend, the new purple trolleybuses will be operating exclusively on King County Metro Routes 1, 2, 3, 36, and 70. After that, the trolleybuses will end up in regular rotation across all trolleybus routes.

Stephen is a professional urban planner in Puget Sound with a passion for sustainable, livable, and diverse cities. He is especially interested in how policies, regulations, and programs can promote positive outcomes for communities. With stints in great cities like Bellingham and Cork, Stephen currently lives in Seattle. He primarily covers land use and transportation issues and has been with The Urbanist since 2014.