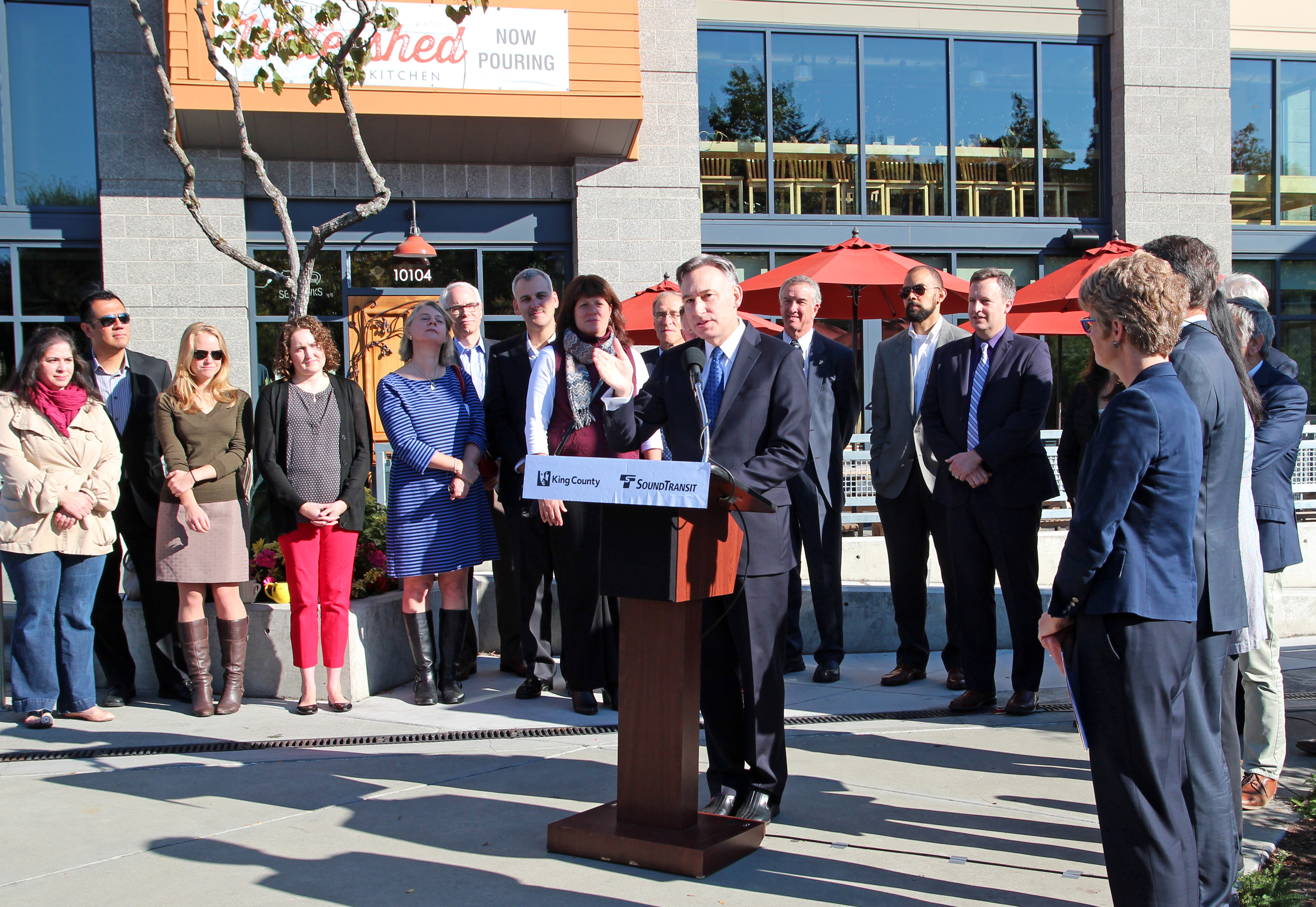 Transit centers across the region could see a huge boost in affordable housing over the coming years. Under a new regional initiative, some 700 affordable workforce housing units could be developed on or near light rail stations. King County Executive and Sound Transit Board Chair Dow Constantine revealed the $83 million plan yesterday. A central goal of the initiative is to create walkable and economically diverse communities around light rail stations.
The initiative is essentially a cooperative program that will be developed between King County and Sound Transit, although it's likely that other regional agency partners will be involved as it progresses. The Executive's initial plan identifies three potential funding streams:
King County Housing Bonds. Using new taxing authority, the Executive will introduce a measure to increase the lodging tax and create or preserve some 500 units of affordable workforce housing. The measure is estimated to generate up to $45 million in revenues over the next six years if passed by the King County Council.
REDI Funds. Another $18 million is already committed to the Regional Equitable Development Initiative (REDI) Fund, a revolving loan program that provides strategic acquisition of land and buildings for affordable transit-oriented development. Up to 200 units of workforce and mixed-income housing could be created over the next five years.
Sound Transit 3. In the recent statewide transportation package, legislation requires* the creation of funding for affordable housing** near light rail stations should Sound Transit 3 gain voter approval next year. The Executive plans would dedicate an additional $20 million toward a REDI-like revolving fund over the next four years.
Taken as a whole, this represents a substantial public investment that will spur more than just 700 affordable housing units around transit centers. King County Housing Bonds and REDI Funds alone could produce the requisite number of affordable housing units to meet the Executive's goal. Sound Transit 3 funding could be an added bonus. By delivering up to 220 or so units, Sound Transit 3 could increase the affordable housing number to 920 units***. And while funds are specifically targeted at affordable housing units, there's ample room for coordination with private developers to create whole communities that range in income levels.
This initiative is in line with work that King County and Sound Transit are already doing. Many affordable and mixed-income transit-oriented development projects have been completed by the two agencies in recent years, including: Redmond Downtown Transit Center, Renton Metropolitan Place, Thornton Place at Northgate, and Village at Overlake Station. But more is also on the way with projects at South Kirkland TOD, Capitol Hill Station, Othello Station, and Northgate.
Affordable housing units under the program could begin to become available to individuals in the next two to five years. As this initiative unfolds, the Executive will work with the King County Council to determine where the housing investments go.
*Sound Transit must contribute at least $4 million annually over a 5-year period to fund affordable transit-oriented housing with contribution beginning by the third year.
**Under state law, affordable housing must be provided to those making 80% of the area median income or less.
***Based upon the $90,000 average unit cost estimated for King County Housing Bonds and REDI Funds.

Stephen is a professional urban planner in Puget Sound with a passion for sustainable, livable, and diverse cities. He is especially interested in how policies, regulations, and programs can promote positive outcomes for communities. With stints in great cities like Bellingham and Cork, Stephen currently lives in Seattle. He primarily covers land use and transportation issues and has been with The Urbanist since 2014.