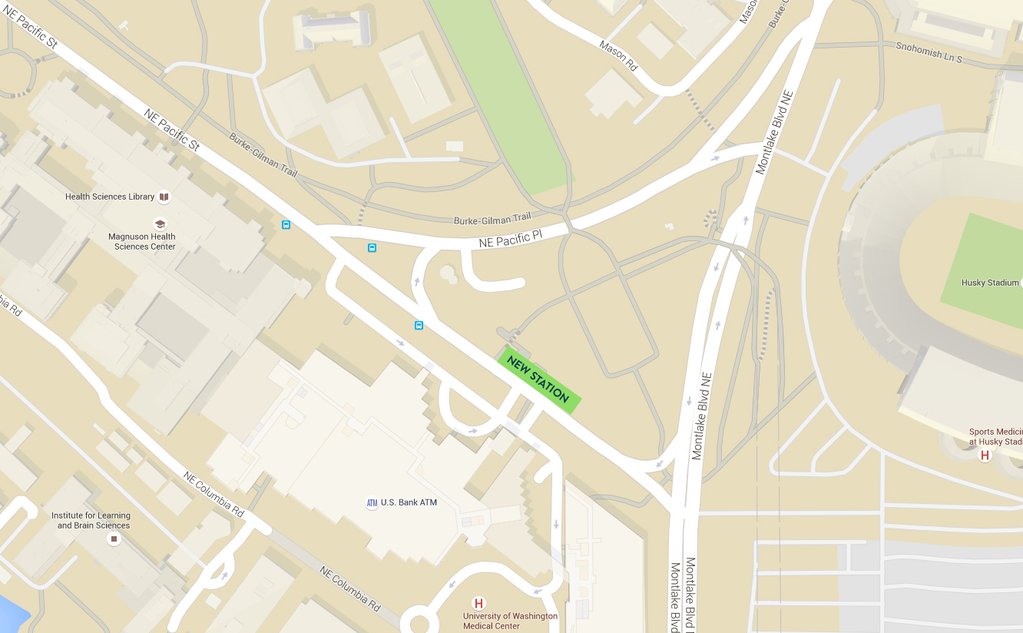 Pronto made a very quiet bike share station change last week. A new station is now located at the Montlake Triangle. The station has capacity for 14 11 bikes and was originally located next to McCarty Hall, a University of Washington dormitory in the northern portion of campus. The move should greatly improve access for Pronto riders due to major destinations and facilities within walking and biking distance:
Two major bus stops are located within a half block of the bike share station;
The UW Medical Center and other health science buildings are directly across the street;
Montlake Triangle has direct access to the Burke-Gilman Trail; and
Husky Stadium and UW athletic centers are just across Montlake Boulevard.
This station change is especially useful for employees and visitors at UW Medicine who are likely to make trips along the Burke-Gilman Trail or go to and from the heart of the University District. Previously, the nearest station was located on NE Columbia Rd between the Ocean Sciences Building and west wing of the Magnuson Health Sciences Center. The walk isn't exactly short (4 minutes) and rides in and out require crossing busy streets with steep inclines. That station will remain, but for many the new station will be in a more obvious and direct location.
For bus riders who might want to switch to Pronto here, the benefits could also be huge. Those who may otherwise walk to the main University of Washington campus will now be able to bike across. And residents and employees near the University Village and Children's Hospital Pronto bike share stations have another choice over lengthy walks or bus rides.
Admittedly, the only real downside of this bike share station location is that it will still be a 4-minute walk to the University of Washington subway station opening early next year.

Stephen is a professional urban planner in Puget Sound with a passion for sustainable, livable, and diverse cities. He is especially interested in how policies, regulations, and programs can promote positive outcomes for communities. With stints in great cities like Bellingham and Cork, Stephen currently lives in Seattle. He primarily covers land use and transportation issues and has been with The Urbanist since 2014.